Crater Lake, Oregon, USA
Lake Locations:
USA - West - Oregon - Southern -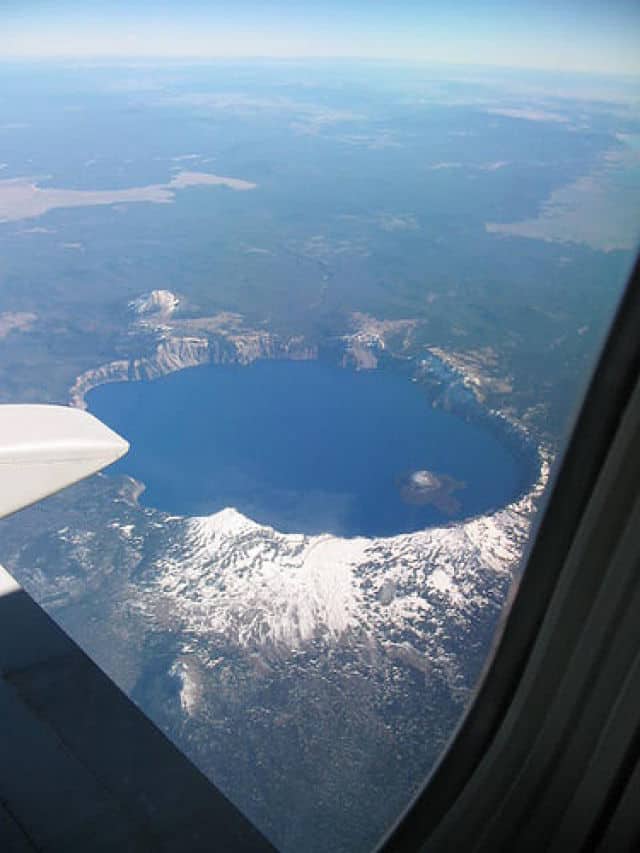 Crater Lake is on the crest of the Cascade Range in southern Oregon, about 100 miles from the ocean, and is the centerpiece of Crater Lake National Park. Crater Lake's gorgeous deep blue water highlights its amazing depth of 1943 feet – the deepest lake in the United States and seventh deepest freshwater lake in the world. Visitors can enjoy camping, fishing, hiking, wildlife viewing, cross country skiing, and scuba diving. A tour boat provides on-water sightseeing.The path to the boat landing is somewhat steep, so prepare for a 2.2 mile round trip. The season for much of the outdoor activity is July through September, although there is snowshoeing and cross country skiing in the winter. Visitors should prepare their cars for snowy conditions from October through June; heavy snows occur during that period. The northern entrance road opens in mid-June, and the beautiful scenic Rim Drive opens in early July.
Crater Lake was formed some 7700 years ago by a hugely destructive volcanic eruption ultimately leaving a 'caldera' (scooped out bowl). Over time the caldera filled with water creating Crater Lake. There are no inlets or outlets to Crater Lake. With water input of an annual snowfall averaging 533 inches balanced by evaporation and seepage, the lake level remains constant within plus or minus eight feet. The depth of Crater Lake was first measured as 1996 feet in 1886 with a crank reel of piano wire. This measurement is surprisingly close to the accepted accurate measurement of 1943 feet by sonar. Crater Lake was given National Park status by President Theodore Roosevelt in 1902, Crater Lake Lodge opened in 1915, and the Rim Drive was completed in 1918.
Crater Lake National Park has two visitor centers – Steel Visitor Center, two miles North of SR62, and Rim Village Visitor Center on the south side of the lake. Both have natural history displays, conducted tour information, points of interest and road conditions.
Visitor accommodations range from the beautiful, historic Crater Lake Lodge overlooking the Lake to Mazama Campground's 211 campsites. Backcountry camping is allowed with a permit, and Lost Creek Campground is a secluded 16 campsite location. Ranging from easy to strenuous, there are 90 miles of hiking trails in the area, many hikable in a day. The 33 mile Rim Drive provides a most spectacular scenic bicycling trip for the enthusiast. Certified scuba divers find the waters fascinating, but permits (free) are required and visitors must carry all their equipment down the Cleetwood Trail (1.1 miles).
Shoreline fishing is a popular pastime at Crater Lake, but private fishing boats are not permitted. The rainbow trout and kokanee salmon put up enough of a fight to tire any angler. Fishing only with artificial bait is allowed, so that other species are not introduced into the lake. Check with the National Park Service for current fishing requirements.
Crater Lake is a great vacation destination offering fine outdoor activities. It is a 'must' stop for anyone in the southern Oregon area.
Things to do at Crater Lake
Vacation Rentals
Fishing
Boating
Scuba Diving
Camping
Campground
Hiking
Biking
Cross-Country Skiing
Snowshoeing
Wildlife Viewing
National Park
Fish species found at Crater Lake
Kokanee Salmon
Rainbow Trout
Salmon
Trout
---
Crater Lake Photo Gallery
Crater Lake Statistics & Helpful Links
At LakeLubbers.com, we strive to keep our information as accurate and up-to-date as possible, but if you've found something in this article that needs updating, we'd certainly love to hear from you!
Please let us know about it on our Content Correction form.
Spread the word! Share our Crater Lake article with your fellow Lake Lubbers!