Clear Lake, Iowa, USA
Lake Locations:
USA - Midwest - Iowa - North Central -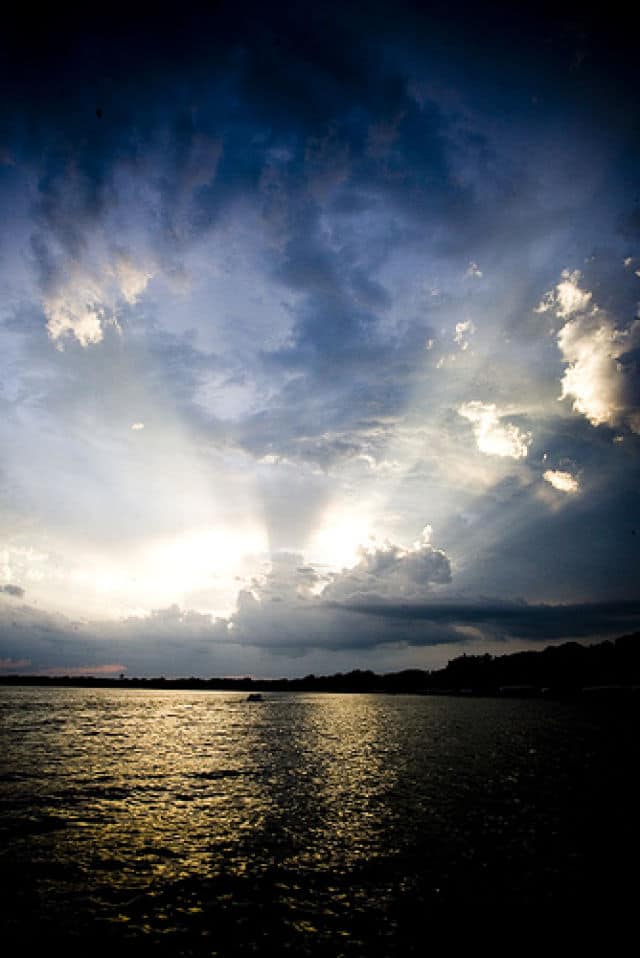 Clear Lake is located in Cerro Gordo County in northern Iowa. At 3,684 acres it is one of the largest natural lakes in the state. Clear Lake is one of thirty-four naturally occurring glacial lakes in the state of Iowa and was formed by the movement and melting of huge sheets of ice approximately 14,000 years ago. Today, the lake is home to a thriving community of nearly 8,000 residents and is a popular destination for fishing, sailing, and camping.
Local residents long ago discovered the appeal of Clear Lake, and homes have been built on the lake's shores since the late 1800s. The Des Moines Register has awarded the town of Clear Lake the title "Best Iowa Lake Town." The population of Clear Lake nearly doubles during the summer months with the influx of tourists and seasonal residents looking to enjoy the cool lake waters. The town of Clear Lake is also known for being the site of the 1959 plane crash that claimed the lives of rock-and-roll greats Buddy Holly, Richie Valens, and J.P. "The Big Bopper" Richardson. The three performed their last concert at the Surf Ballroom in Clear Lake, still in operation as a musical venue and reception hall.
Boating is a popular pastime at Clear Lake. The elevation of the lake, which is the highest point in Cerro Gordo County, provides the lake with plenty of wind and makes it one of the best spots for sailing in the Midwest. The Clear Lake Yacht Club regularly hosts events at the lake, and in the summer months races are held each weekend on the five-mile long lake. The lake is also a great place for windsurfing, water skiing, and jet skiing. And what would a day at the lake be without fishing? Clear Lake is home to 30 species of fish and is stocked regularly with walleye, channel catfish, northern pike, muskie, and flathead catfish. The lake has a total of fifteen public docks, as well as commercial marinas providing boat rentals, so visitors have no shortage of ways to take to the water. Visitors can even take a scenic tour of the lake on the local double-decker ferry boat.
Adjacent to Clear Lake are two state parks that are perfect places for camping, hiking, picnicking, and swimming. Clear Lake State Park, on the southern shore of the lake, offers 55 acres of grassy hills dotted by majestic oak trees. There are 10 acres of dedicated picnic areas equipped with tables and grills. Campers can take advantage of the 215 campsites with restrooms, showers, and electric hook-ups. The 900 foot sandy swimming beach is a perfect place to take a dip when the weather is hot. Nature lovers will appreciate the park's undisturbed woodland areas, home to owls, squirrels, rabbits, songbirds, and deer. The 3 acre Woodford Island is a dedicated wildlife area and is also a scenic spot for fishing. On the northwestern end of the lake, McIntosh Woods State Park is one of the most-used boating accesses for the lake. This park also has designated areas for camping and swimming, as well as a one-mile nature trail. A unique feature of this park is the availability of two yurts for rent. These dome-like structures are patterned after those of nomads in Central Asia and provide campers with an alternative to the traditional tent.
In addition to lake related activities, the town of Clear Lake offers its visitors several venues for golfing, shopping, and dining. Residents here are proud of their town, and extend a warm welcome to those who come to visit. With its family-friendly activities and Midwestern charm, Clear Lake is sure to captivate all who travel there.
Things to do at Clear Lake IA
Vacation Rentals
Fishing
Boating
Sailing
Swimming
Beach
Jet Skiing
Water Skiing
Golf
Camping
Picnicking
Hiking
Wildlife Viewing
State Park
Shopping
Fish species found at Clear Lake IA
Catfish
Channel Catfish
Flathead Catfish
Muskellunge
Northern Pike
Perch
Pike
Walleye
---
Clear Lake IA Photo Gallery
Clear Lake IA Statistics & Helpful Links
Spread the word! Share our Clear Lake IA article with your fellow Lake Lubbers!