Big Creek Lake, Iowa, USA
Lake Locations:
USA - Midwest - Iowa - Central -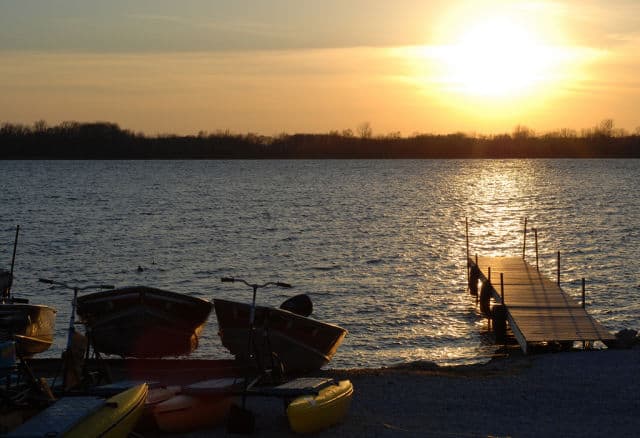 Big Creek Lake is located about 11 miles north of Des Moines, Iowa near the town of Polk City. The lake was created in the 1970s by the Army Corps of Engineers as part of the Saylorville Project, a flood control project that also created nearby Saylorville Lake. The project originally called for flooding a portion of adjacent Polk City, including a historic cemetery, to create one large reservoir. Luckily, the revision of the project to include a second dam created both the 5,400 acre Saylorville Lake and the 883 acre Big Creek Lake, preserving Polk City and providing its residents with multiple opportunities for recreation.
Big Creek Lake offers some of the best fishing in central Iowa, especially for walleye. The lake is also home to bluegill, channel catfish, crappie, largemouth bass, smallmouth bass, and muskie. To maintain a healthy fish population, the Iowa Department of Natural Resources places a length restriction on catches of some game fish. Catches of walleye smaller than 15 inches, bass smaller than 18 inches, and muskie smaller than 40 inches must be released back into the lake, and walleye has a bag limit of three per day. Fishing is possible at the lake year-round, with ice fishing being a popular winter pastime.
Anglers and recreational boaters alike can access Big Creek Lake at one of the five paved boat ramps–three on the west side of the lake and two on the east side of the lake. A commercial marina also provides boat rentals ranging from pontoons to canoes. The lake has no horsepower or size restrictions, but boaters must operate at "no wake" speeds. Sailing is popular at Big Creek Lake, especially if water levels at the larger Saylorville Lake are too high. Sailboat rigging zones are conveniently located at all of Big Creek Lake's boat launch areas.
The town of Polk City prides itself on being a "City for all Seasons," and Big Creek Lake definitely offers year-round interest. The lake is bordered by Big Creek State Park, a 3,550 acre park and wildlife refuge. On a warm summer day the park is a popular destination, with picnic areas and a playground overlooking the water. A swim beach provides a perfect place to cool off when the weather is hot. The twenty-six mile paved Neal Smith Trail stretches south all the way to Des Moines and is ideal for jogging, cycling, and rollerblading. Cyclists can also take advantage of the Central Iowa Bike Route, a scenic ninety-one mile bike trail that connects Big Creek State Park to Ledges State Park and Springbrook State Park. In the winter, the trails become a haven for snowmobiling and cross-country skiing. Although Big Creek State Park is a wildlife refuge, hunting for waterfowl is allowed on Big Creek Lake itself, and there are designated locations around the lake where hunting is permitted and rabbit, pheasants, deer, and squirrel are plentiful. Camping is available at several campgrounds on nearby Saylorville Lake.
More than two million visitors a year travel to Big Creek Lake and its big cousin, Saylorville Lake in Polk City. Come see for yourself why this "City for all Seasons" has become such a popular vacation spot for so many.
Things to do at Big Creek Lake IA
Fishing
Ice Fishing
Boating
Sailing
Swimming
Beach
Canoeing
Camping
Campground
Picnicking
Hiking
Biking
Cross-Country Skiing
Snowmobiling
Hunting
Wildlife Viewing
State Park
Playground
Fish species found at Big Creek Lake IA
Bass
Black Bass
Bluegill
Catfish
Channel Catfish
Crappie
Largemouth Bass
Muskellunge
Perch
Pike
Smallmouth Bass
Sunfish
Walleye
---
Big Creek Lake IA Photo Gallery
Big Creek Lake IA Statistics & Helpful Links
Spread the word! Share our Big Creek Lake IA article with your fellow Lake Lubbers!