Chemong Lake, Ontario, Canada
Lake Locations:
Also known as:  Lake Chemong, Lake Chemung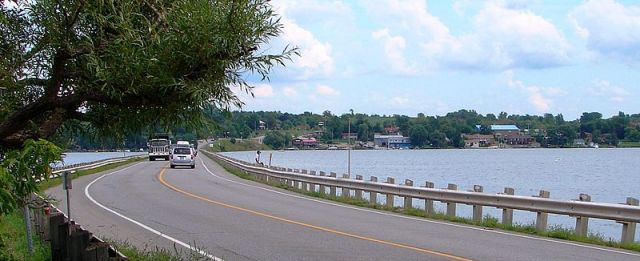 Chemong Lake is the largest lake in the Kawartha Chain of Lakes, covering more than 5,630 acres. This lake holds historical significance for the residents in and around Peterborough, Ontario. Stretching almost nine miles in length, the lake was a major obstacle to travel for early settlers before there were roads or bridges built. Those with access to boats used the lake and the connecting waterways to travel throughout the region. Chemong Lake connects with other lakes in the Kawartha region, and became part of the famed Trent-Severn Waterway system of locks and canals. Now, Chemong Lake's miles of shoreline and many islands constitute highly prized water frontage for cottagers and year-round residents. The large number of pleasure craft passing through the lakes each summer means business is always booming for the several marinas and lakeside retailers. Chemong Lake, along with connected Buckhorn and Pigeon Lakes, are called the 'Tri-Lakes' system and host more fishing tournaments than any other group of lakes in the Kawartha region.
Tournament anglers are most often after the largemouth bass in the lakes, but other fishermen are just as happy to snag smallmouth bass, walleye, perch, muskellunge or panfish. The long stretch of water provides plenty of boating recreation, including sailing, power boating, water skiing, tubing and pontooning. Boats anchored in the lee of an island may be fishing or taking a break to dip in the shallows. Since the early development of the Trent-Severn Waterway in 1824, the Chemong Lake community has had plenty of time to develop amenities for visiting boaters. Bait shops, marinas, boat rentals, boat-accessible restaurants and even boat-in bed-and-breakfasts dot the shoreline. Villages along the shore usually offer beach areas and park lands adjacent to the lake.
Only five miles from the major city of Peterborough, Chemong Lake receives many visitors from the surrounding area throughout the year. Many head to the beach offered at the Selwyn Beach Conservation Area. Here, visitors enjoy picnicking, swimming, horseshoes and badminton. In winter, the area offers cross-country skiing, snowshoeing, snowmobiling and ice skating. There are events and festivals going on year-round at the small villages around the lake, including the Chemong Lake Triathlon. The BEL (Bridgenorth Ennismore Lakefield) Rotary Polar Plunge has been an annual event for over 30 years and the site of great hilarity as the intrepid swimmers brave frigid temperatures to take their annual dip from the edge of the ice to raise funds for charity. The area is filled with hiking paths and mountain biking trails and is the perfect location to get off the water and enjoy a little dry-land exercise.
Tucked between towering rock walls in some areas, Chemong Lake can be treacherous to the uninformed boater. Parks Canada operates the Trent-Severn Waterway and provides navigation charts that cover the most difficult areas and explain the location and operation of the many locks that allow boats to access differing water levels. Although Chemong Lake was originally a smaller natural lake, dam construction along the Kawartha system raised water levels and left some areas with barely submerged rocks. Good navigational maps are a necessity for those with larger boats. Smaller boats can go nearly anywhere on the lake, and canoes and kayaks often ply the near-shore waters and the Harrington Narrows leading to Buckhorn Lake. It's easy to understand why so many have built their dream cottage along Chemong Lake, and why seasonal rentals are in such high demand.
Early in Chemong Lake's history, locals made efforts to solve their lake-crossing problems by use of a floating log bridge that stretched nearly a mile from shore to shore. Although ingenious and in use for many years, the bridge was finally replaced with the James A. Gifford Causeway connecting east and west shores via the towns of Bridgenorth and Ennismore. Although many seasonal residents swell the summer population, a strong group of year-round residents provide all of the services of a much larger community such as medical care, schools, and parks. With Peterborough only five miles away, big city entertainment and shopping are close enough to be easily accessed. There are a number of golf courses, museums, arts venues and major shopping options located in the city. And the famous Peterborough Liftlock is a must-see engineering marvel that even non-boaters will enjoy. The hydraulic lift lock is the highest in the world and has been in operation for over 100 years. A visitors' center on-site provides exhibits and films of the building and operation on this important lock on the Trent-Severn Waterway.
Lake Chemung is the official First Nations spelling of the lake. The word chemung means muddy place, an apt description of the wetlands that existed before the Trent-Severn water structures raised water levels. There's nothing muddy about Lake Chemung now; it's a beautiful expanse of water teeming with fish and visiting boaters. Visitors to the area will find all types of lodgings readily available, from many bed-and-breakfasts to hotels, motels, inns and cottage rentals. Seasonal or weekly rentals are in high demand, and reservations should be made early to assure a spot. Campgrounds and RV parks are also found along the shore. When repeat visitors fall in love with Chemong Lake, real estate is often available on the water. Other properties can be found with water views. What could be better than being close to city services, with water views that allow you to feel like you are the only soul on the lake?
Things to do at Chemong Lake
Vacation Rentals
Fishing
Fishing Tournaments
Boating
Sailing
Swimming
Beach
Canoeing
Kayaking
Water Skiing
Tubing
Golf
Camping
Campground
Picnicking
Hiking
Ice Skating
Biking
Cross-Country Skiing
Snowmobiling
Snowshoeing
Museum
Shopping
Fish species found at Chemong Lake
Bass
Black Bass
Largemouth Bass
Muskellunge
Perch
Pike
Smallmouth Bass
Walleye
---
Chemong Lake Photo Gallery
Chemong Lake Statistics & Helpful Links
Spread the word! Share our Chemong Lake article with your fellow Lake Lubbers!