Mazinaw Lake, Ontario, Canada
Also known as:  Upper Mazinaw Lake, Lower Mazinaw Lake
Welcome to the ultimate guide for history, statistics, local fun facts and the best things to do at Mazinaw Lake.
If you're considering Mazinaw Lake vacation rentals, we've made it super easy to explore accommodations and nearby hotels using the interactive map below. Simply click on a listing to compare similar properties, best rates and availability for your dates. Or keep scrolling to read our Mazinaw Lake guide!
Mazinaw Lake visitor and community guide
Amazing Mazinaw Lake holds court as the headwaters of Canada's Mississippi River in eastern Ontario. This beautiful sprawling lake has alternately delighted and intimidated those who ventured onto its waters for hundreds of years. First Nations tribes spoke in hushed terms of Mishipashoo, legendary lake monster of this deep narrow lake, and offered tobacco as a blessing for safe crossing. Considered the second-deepest lake in southern Ontario, Mazinaw's lake monster sightings appear to have died out in the last hundred years but not before being reported as factual by several European settlers to the area.
The fact that the First Nations tribes considered the lake sacred is reflected in the huge number of pictographs painted on the rock cliffs at 'the narrows', where the north and south basins separate and spectacular acoustics produce unusual echoes. These red ochre paintings are over a thousand years old and indirectly gave the lake its name: Mazinaw is derived from Mazinaabikinigan-zaaga'igan, meaning "painted-image lake" in Algonkian. The pictographs form the largest visible collection in Canada. Mazinaw Rock, the soaring cliff on the eastern shore rising 328 feet above the lake's surface, has often been called Canada's Gibraltar.
This awe-inspiring scenery, coupled with early 4000 acres of water reaching depths of 476 feet, make Mazinaw Lake a highly-desirable destination for visitors and seasonal residents. Over 300 cottages and homes, several resorts, a couple of marinas and a few campgrounds grace the lakefront. Those on most of the eastern shore can only be reached by water. Although heavily logged in the late 19th century, the land proved unsuitable for farming, and most has reverted to second-growth forest. The many arms, bays and inlets form a rugged, irregular shore where it is easy to lose oneself in solitude and communication with nature.
An all-sports lake, Mazinaw is friendly to waterskiing, tubing, wakeboarding, pontooning, power boating and paddle boats. A water control dam at the outlet at the south end of the lake keeps water depths controlled at 'the narrows' to make sure both basins are passable during late summer dry spells, but allows for a small winter draw-down. The rugged shoreline is ideal for exploring by kayak or canoe. Located east of Kawartha Lakes, west of the Rideau Lakes, and only two hours north of Belleville and Kingston, Mazinaw Lake is the ideal spot for summer vacations and winter ski weekends. With Ottawa only three hours to the northeast, Mazinaw Lake has become a very desirable location for those working in the nation's capital.
Fishing is a big draw to Mazinaw Lake. The deep lake holds a healthy population of lake trout, increasingly rare as a fishery. The cold water fishery also supports walleye, smallmouth bass, largemouth bass, musky, northern pike, perch, sunfish, lake whitefish, rock bass, lake herring, lake chub, pumpkinseed, white sucker and burbot. Appropriate licensing requirements and creel limits are in effect. The local marinas rent fishing boats and motors, sell gas, bait and tackle. In winter, ice fishing in the bays and coves is popular and usually productive. It isn't unusual to see snowmobilers, cross-country skiers or snowshoers along the edges of the lake. Hunting is popular in season, particularly for large game such as moose, whitetail deer or black bear. Resorts in the area are often open year-round to accommodate ice fishermen and winter sports enthusiasts, so there is no true 'off-season' at Mazinaw Lake.
One of Canada's favorite parks encompasses 16,415 acres along Mazinaw Lake's shoreline. Located near 'the narrows', Bon Echo Provincial Park offers camping, both full-facility and back-country, miles of hiking trails, fishing, sandy swimming beaches, a visitors' center, a boat launch, park store, canoe and kayak rentals, biking and a gift shop with art gallery. Pontoon cruise boats run regularly to 'the Rock' and other points of interest. Children's and adults' educational and interpretive programming is regularly scheduled. The non-profit Friends of Bon Echo Park sponsor the annual art exhibition and sale of original Canadian art. The lake and cliffs were a favorite scenic subject of Canada's renowned 'Group of Seven' artists. The spectacular scenery still invites artists and photographers to visit the area regularly. Other events are produced by the 'Friends' to entertain and enlighten visitors to the history, ecology and natural environment of the Mazinaw Lake area. The park is home to some large old-growth cedars and is a nesting ground for the endangered peregrine falcon. It is not uncommon to see animals such as deer, moose, black bears, red fox and coyotes in the park.
A famous section of the granite cliff overlooking the lake holds a stanza of Walt Whitman's famous "Song of Myself" chiseled in large letters. The park's original owner, Flora MacDonald Denison, operated an inn here in the early 20th century that functioned as an artists' colony; she was a devotee to Whitman's works. She hired workmen to chisel the words into the rock face. This section of the rock is known as 'Old Walt' and was dedicated in honor of the poet in 1919. Rock climbers enjoy climbing the steep face of the cliff, but are forbidden to climb near either the pictographs or the inscription.
Visitors to Mazinaw Lake will find plenty of other activities and historical sites in the area to pique their interest. Nearby are horseback riding stables and trails, ATV trail rides, golf courses, tennis courts, and tours of natural limestone caves. Not far south of the lake the Cloyne Pioneer Museum and Archives is located near Cloyne and contains remnants of the buildings, tools and objects of everyday living used by the first settlers to the area. Downhill ski areas are within easy driving distance. Other small villages in the area offer supplies, local festivals and local color.
Mazinaw Country, as it is often called, has a little bit of everything, from quaint bed-and-breakfasts to small cafes and farm markets. Real estate is often found along the lakefront or on small water bodies nearby. As for lodgings, several property owners rent their private cottages or housekeeping cottages along the lake. Many of the resorts also have campgrounds. There is little in the way of modern chain hotels except in the larger cities along Lake Ontario. That is as it should be; this is 'cottage country' and the proper way to enjoy it is with a cottage at Mazinaw Lake.
Custom Mazinaw Lake house decor
Read our full review of these personalized lake house signs.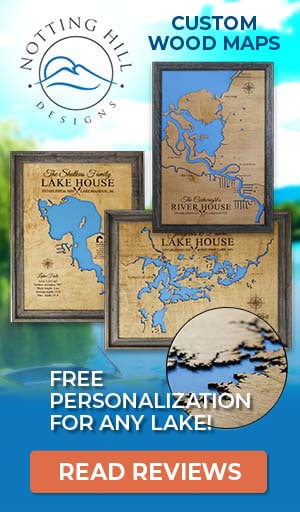 Things to do at Mazinaw Lake
Vacation Rentals
Fishing
Ice Fishing
Boating
Swimming
Beach
Canoeing
Kayaking
Water Skiing
Wakeboarding
Tubing
Golf
Tennis
Camping
Campground
Hiking
Biking
Downhill Skiing
Cross-Country Skiing
Horseback Riding
Hunting
Wildlife Viewing
Provincial Park
Museum
Fish species found at Mazinaw Lake
Bass
Black Bass
Burbot
Carp
Lake Trout
Largemouth Bass
Northern Pike
Perch
Pike
Pumpkinseed
Smallmouth Bass
Sucker
Sunfish
Trout
Walleye
Whitefish
---
Best hotels and vacation rentals at Mazinaw Lake
The Mazinaw Lake map shown above is a simple and stress-free way to search for trip accommodations. But if you want to take a deeper dive to find the ideal waterfront home, cabin, condo, hotel or resort, visit our favorite lodging partners by clicking the buttons below.
Note: These are affiliate links so we may earn a small commission if you book through them. While there is no extra cost to you, it helps provide resources to keep our site running (thank you)! You can read our full disclosure policy here.
---
Mazinaw Lake photo gallery
New photos coming soon!
Mazinaw Lake statistics & helpful links
We strive to keep the information on LakeLubbers as accurate as possible. However, if you've found something in this article that needs updating, we'd certainly love to hear from you! Please fill out our Content Correction form.
Advertise your Mazinaw Lake vacation rental
LakeLubbers will soon offer homeowners and property managers the opportunity to to showcase their vacation rentals to the thousands of lake lovers searching our site daily for accommodations. If you'd like additional details, please contact our advertising team here.
Looking for the Mazinaw Lake forum?
LakeLubbers previously offered visitors the ability to create accounts and participate in lake forums. When we overhauled the site's content management system in 2021 we had to disable those features. We're evaluating options and welcome your comments and feedback here.
We also encourage you to join our lake-lovin' community on Facebook and Instagram!
Spread the word! Share our Mazinaw Lake article with your fellow Lake Lubbers!