Chautauqua Lake, New York, USA
Lake Locations:
USA - Mid-Atlantic - New York - Chautauqua-Allegheny -
Also known as:  Lake Chautauqua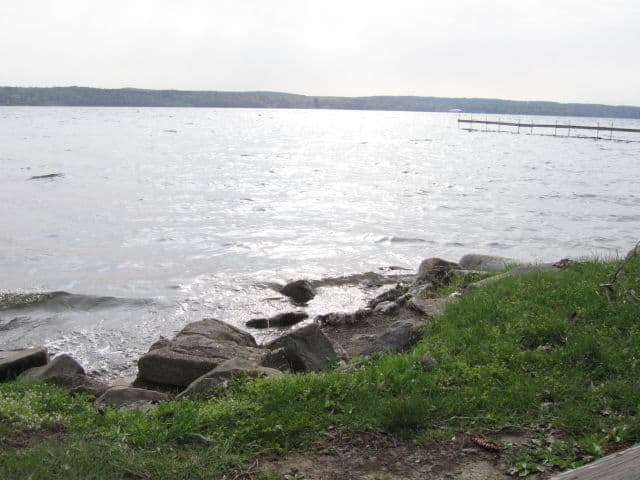 Chautauqua Lake, located in idyllic Western New York state, has been a destination for vacationers for more than a century. At 1,308 feet above sea level, Chautauqua Lake is one of the highest navigable bodies of water in North America. Only about 6 miles from the shores of Lake Erie, Chautauqua Lake provides calmer waters, charming village escapes and outdoor diversions that are fun for the whole family.
One of the most popular destinations along Chautauqua Lake's shores is the Chautauqua Institution. A National Historic Landmark, Chautauqua Institution was founded in 1874 as a camp for Sunday school teachers. The institution has continued to hold programs each summer since then, but has greatly expanded its offerings. Today, the summer programs are organized around arts, education, religion and recreation, or the "four pillars." Theater and dance performances, concerts and operas are also performed during the summer season. The pastoral retreat can usually expect around 150,000 visitors each summer. United States Presidents from Ulysses S. Grant to Bill Clinton have visited, and Franklin Delano Roosevelt delivered his historic "I Hate War" speech there in 1936.
The Chautauqua community is peppered with 19th century cottages, churches, theaters, pavilions, gardens and a charming town square. At the heart of the village is the Anthenaeum Hotel, one of the first hotels in the country to have electric lights (the institute's co-founder, Lewis Miller, was Thomas Edison's father-in-law).
The institution offers four public swimming beaches along Chautauqua Lake, which are open during the summer. The Children's Beach is located near the Miller Bell Tower, and has a sandy beach and shallow water for families to enjoy. Adjacent is Pier Beach, which provides deep water swimming. Heinz Beach is located at the southern end and University Beach at the northern end of the camp. Lifeguards are on duty during posted swimming hours, but a gate fee is required for adults.
Chautauqua Lake is a popular destination for sailors, hosting weekend regattas and home to national sailing and rowing competitions. For recreational sailors, many public boat launches and marinas are available along Chautauqua's shoreline. One public access point is available at Long Point Beach State Park, which juts into Chautauqua Lake like a peninsula, as it is one of the moraines left long ago by a retreating glacier. The day-use park also offers a swimming beach and bathhouse, hiking, biking, and picnic areas, as well as winter fishing, snowmobiling, and cross-country skiing opportunities during the winter months. Another state-run park that offers water access is Midway State Park, one of the oldest continually operating amusement parks in the country.
Cyclists will love the more than 30 miles of "Rails to Trails" byways as well as many low-traffic roads with bike lanes available around Chautauqua Lake and Chautauqua County. Fishing is abundant, as Chautauqua Lake offers bass, perch, pike and other types of fish. However, anglers flock to Chautauqua Lake for muskellunge, or muskie, which are native to the lake.
The Chautauqua Lake region is a wonderful destination for birders and naturalists, with an Audubon Center and Sanctuary as well as the Roger Tory Peterson Institute located in Jamestown. Famed comedienne Lucille Ball grew up in West Jamestown, along the shores of Chautauqua Lake, and today Jamestown is also the home to the Lucille Ball-Desi Arnaz Center, which offers exhibits and a DesiLu playhouse. Jamestown is also home to the Lucille Ball Memorial Park, with a public boat launch, playground, picnic grounds, ball field. The park is also home to the Summer Wind, which offers cruises across Chautauqua Lake.
Chautauqua County has a large Amish population, which provides many opportunities to purchase homemade goods, crafts and food. The Chautauqua Lake region is a vibrant agricultural center, so summer months bring a bounty of fresh fruits and vegetables to the many local farmer's markets. Chautauqua County produces more than 60% of New York's yearly grape harvest. Winemakers in Chautauqua produce a range of sweet to dry wines, brandies, and sparkling wines at more than 20 wineries along the Lake Erie-Chautauqua Wine Trail.
A trip to Chautauqua Lake means easy, breezy summer days or winter nights in front of a roaring fire, with days spent on the water, biking trails or browsing shops. Whether you want to expand your mind with lectures, experience a vibrant arts scene, try your luck at fighting a 40-inch muskie, or relax with a glass of wine at sunset, Chautauqua Lake offers something to suit every interest.
Things to do at Chautauqua Lake
Vacation Rentals
Fishing
Boating
Sailing
Swimming
Beach
Camping
Picnicking
Hiking
Biking
Cross-Country Skiing
Snowmobiling
Birding
State Park
Playground
Amusement Park
Fish species found at Chautauqua Lake
---
Chautauqua Lake Photo Gallery
Chautauqua Lake Statistics & Helpful Links
Spread the word! Share our Chautauqua Lake article with your fellow Lake Lubbers!