Allegheny Reservoir, New York & Pennsylvania, USA
Also known as:  Kinzua Dam Lake, Kinzua Lake, Lake Kinzua
Welcome to the ultimate guide for history, statistics, local fun facts and the best things to do at Allegheny Reservoir.
If you're considering Allegheny Reservoir vacation rentals, we've made it super easy to explore accommodations and nearby hotels using the interactive map below. Simply click on a listing to compare similar properties, best rates and availability for your dates. Or keep scrolling to read our Allegheny Reservoir guide!
Allegheny Reservoir visitor and community guide
Flowing across tree-covered hills in northwestern Pennsylvania and southwestern New York, the Allegheny Reservoir's 12,080 acres provide an open invitation to enjoy and explore the great outdoors. Located in Warren and McKean Counties, Allegheny Reservoir is part of the Pennsylvania Wilds Tourism Region. Cross the state line into New York, and you find the Allegheny Reservoir in historic Cattaraugus County, part of New York's Chautauqua-Allegheny Tourism Region. Whether you stay in New York or Pennsylvania, Allegheny Reservoir has something to satisfy every outdoor enthusiast.
Designated a National Wild and Scenic River, the Allegheny River provides the primary water source for Allegheny Reservoir. Follow the Allegheny River 198 miles northeast of Pittsburgh and you will come to Kinzua Dam. Completed in 1965, the dam is operated by the U.S. Army Corps of Engineers as part of their regional flood control efforts. Allegheny Reservoir, also known as Kinzua Dam Lake, is now part of the region's leading recreational center.
Originally home to the Seneca Nation, heavily wooded regions of Pennsylvania and New York were clear cut by loggers in the 1800s. By 1900, efforts were underway to restore the forest. Success came with the establishment of Allegheny National Forest in 1923. Today, it is a second-generation forest that surrounds Pennsylvania's portion of the Allegheny Reservoir.
Covering more than one-half million acres, the Forest Service provides endless opportunities to enjoy Lake Kinzua. Numerous campgrounds have been built along Allegheny Reservoir's Pennsylvania shores. Campsites range from full amenities for trailers and RVs to rustic sites accessible only by boat or hiking trails. Kinzua Swimming Beach is located 11 miles east of Warren, Pennsylvania. Additional swimming areas may be found in designated campgrounds. Recreational activities on Allegheny Reservoir, and within Allegheny National Forest, include boating, waterskiing, hiking, mountain bike and ATV riding, climbing, geocaching, horseback riding, hunting, skiing, wildlife viewing, scenic drives, and some of the northeast's best fishing.
With a maximum depth of 132 feet and average depth of 48 feet, Allegheny Reservoir's deep, clear water has provided record-setting catches of walleye and northern pike. Additional fish species found in Kinzua Lake include smallmouth bass, muskellunge, walleye, northern pike, yellow perch, channel catfish and brown trout. Kinzua-Wolf Run Marina is located 11 miles east of Warren with six additional boat launches available within the Allegheny National Forest.
The creation of Allegheny Reservoir required flooding a substantial portion of land belonging to New York's Seneca Nation. Today, the majority of New York's Allegheny Reservoir shoreline lies within the Allegany Indian Reservation. As a result, fishing regulations for much of New York's Allegheny Reservoir fall under the jurisdiction of the Seneca Nation. Access to Lake Kinzua can be found in the reservation's campground along with a boat launch, swimming facilities and camp store. The Allegany Indian Reservation also offers visitors a change of pace. For those interested in history, the Seneca-Iroquois Museum provides a glimpse into the culture and history of the Seneca and Iroquois people. Located within the reservation near the community of Salamanca, visitors will find the Seneca Nation's casino hosting live entertainment that will spice up any evening.
The remainder of Kinzua Dam Lake lies within New York's Allegany State Park. Boaters and fishermen will find access to Allegheny Reservoir at Onoville Marina Park along New York's western shore. With over 65,000 acres open to adventure and exploration, Allegany State Park is known as "the wilderness playground of Western New York." Two developed park areas lie along Kinzua Lake's eastern shore. Red House Area, named for its historic administration building, lies at the far northeast end of Allegheny Reservoir. Red House Lake provides the center of activity with boat rentals, sandy beaches, swimming and fishing. Accommodations include over 100 campsites and cabins, some of which are winterized for year-round use. Quaker, the second park area, offers two fishing piers, canoe and kayak launches, cave exploration, horseshoe pits, baseball fields, basketball, volleyball and tennis courts for the sport enthusiast. Additional campsites and cabins are maintained with both winterized and handicapped-accessible sites available.
At Kinzua Dam Lake, the rich diversity of cultures, landscape and activities merge to create a perfect vacation destination. The 91-mile shoreline is lined with inlets and bays ideal for the quiet observance of wildlife. Hike beyond the shoreline and spectacular views will unfold around each bend. Follow your spirit of adventure into two designated wilderness areas; take in picture-perfect scenery at James Rocks, Rimrock and Tidioute Overlooks, or pack your gear and hike the North Country National Scenic Trail.
Beyond the trails and protected forests lie small, welcoming communities where you will find fishing guides, groceries, restaurants and quaint shops. Secluded vacation rentals and rural real estate properties are nestled among the communities of Warren, Tidioute, Sugar Grove, and Sheffield in Pennsylvania; or Salamanca, Steamburg and Coldspring in New York. Begin now! Select your accommodation and follow the urge to get out, explore and create the perfect vacation.
Custom Allegheny Reservoir house decor
Read our full review of these personalized lake house signs.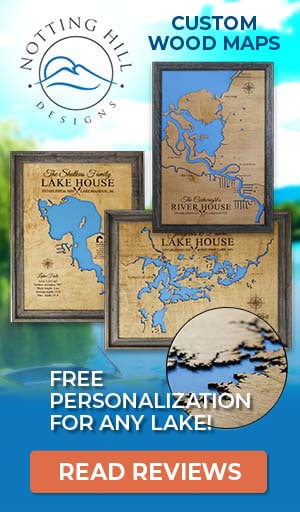 Things to do at Allegheny Reservoir
Vacation Rentals
Fishing
Boating
Swimming
Beach
Canoeing
Kayaking
Water Skiing
Tennis
Camping
Campground
Cabin Rentals
Hiking
Horseback Riding
Hunting
Wildlife Viewing
State Park
National Forest
Museum
Playground
Casino Gambling
Fish species found at Allegheny Reservoir
Bass
Black Bass
Brown Trout
Catfish
Channel Catfish
Muskellunge
Northern Pike
Perch
Pike
Smallmouth Bass
Trout
Walleye
Yellow Perch
---
Best hotels and vacation rentals at Allegheny Reservoir
The Allegheny Reservoir map shown above is a simple and stress-free way to search for trip accommodations. But if you want to take a deeper dive to find the ideal waterfront home, cabin, condo, hotel or resort, visit our favorite lodging partners by clicking the buttons below.
Note: These are affiliate links so we may earn a small commission if you book through them. While there is no extra cost to you, it helps provide resources to keep our site running (thank you)! You can read our full disclosure policy here.
---
Allegheny Reservoir photo gallery
New photos coming soon!
Allegheny Reservoir statistics & helpful links
We strive to keep the information on LakeLubbers as accurate as possible. However, if you've found something in this article that needs updating, we'd certainly love to hear from you! Please fill out our Content Correction form.
Advertise your Allegheny Reservoir vacation rental
LakeLubbers will soon offer homeowners and property managers the opportunity to to showcase their vacation rentals to the thousands of lake lovers searching our site daily for accommodations. If you'd like additional details, please contact our advertising team here.
Looking for the Allegheny Reservoir forum?
LakeLubbers previously offered visitors the ability to create accounts and participate in lake forums. When we overhauled the site's content management system in 2021 we had to disable those features. We're evaluating options and welcome your comments and feedback here.
We also encourage you to join our lake-lovin' community on Facebook and Instagram!
Spread the word! Share our Allegheny Reservoir article with your fellow Lake Lubbers!