Chatfield Reservoir, Colorado, USA
Lake Locations:
USA - West - Colorado - Denver Area -
Also known as:  Chatfield Lake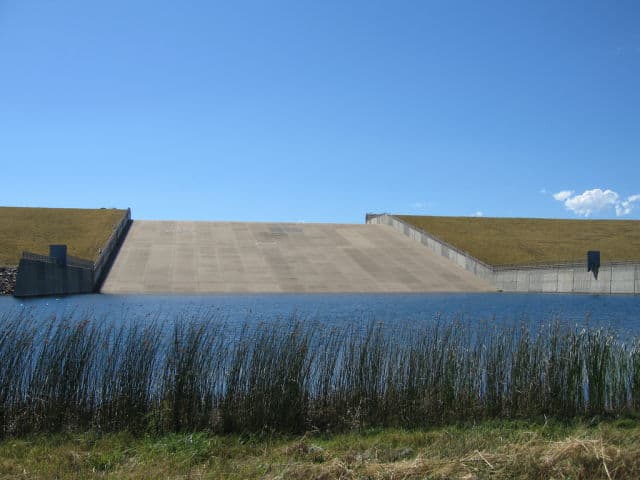 Standing in fields of prairie clover looking at blue herons on beautiful Chatfield Reservoir, it's hard to imagine that this spot is just outside the Denver Metro Area. With its mix of wilderness and outdoor recreation activities, this vibrant, bustling lake is sure to offer something to please everyone.
Located in Littleton Colorado, southwest of Denver, Chatfield Reservoir is an impoundment of the South Platte River created by the Chatfield Dam. The dam was the second of three dams, the others being Cherry Creek and Bear Creek Dam, built to protect Denver from flooding. Construction on the dam began in 1967 and was completed in 1975. Managed by the US Army Corps of Engineers, the resultant lake has become a haven for the urban weary locals as well as travelers from all over.
The busy lake has both warm and cold water fishing and is an especially good spot to catch walleye and small mouth bass. The Colorado Division of Wildlife periodically stocks Chatfield Lake with rainbow trout, and anglers can also fish for crappie, yellow perch, and channel catfish.
In addition to fishing, there are plenty of other water sports on Chatfield Lake. Visitors can water ski or jet ski, and sail boarding is also popular. The reservoir is a great spot for sailboats and canoes, and boaters can find everything they need including rentals at the full service marina. There are a few US Army Corps of Engineer managed boat ramps and even a floating restaurant. In the summer families can enjoy swimming in one of the designated swimming areas and picnicking beside the lake. The fun is not limited to the warm months, however, and winter brings its own activities, including snowshoeing and ice fishing. There is also cross country skiing and camping year round within easy walking distance of the lake.
Chatfield Lake is home to the Annual Rocky Mountain Balloon Festival. Visitors to the lake during the festival can watch the balloons and sometimes even take a ride on one of them. Hot air balloons aren't the only thing flying at the lake. Chatfield Reservoir RC Flying Field is the home of the Jefco AeroModelers RC Club, an active model airplane club. The airfield has paved runways, frequency posts and field regulations. Cyclists will enjoy the over 12 miles of paved trails around the lake. There are also trails for hiking and unpaved horseback riding trails. Visitors staying at the campground can corral their horses overnight and there is also a stable that rents horses for trail riding.
One of the most interesting traits of Chatfield Lake is its wildness just outside Denver city limits. With over 305 bird species including bald eagles, burrowing owls, and white pelicans, the lake is a great place for bird watching. In fact, the Denver Audubon Society has an office at Chatfield Lake. Since 1970, the Denver Botanical Gardens has had a satellite location at the Chatfield Nature Preserve. The over 700 acre preserve is home to deer, elk, prairie dogs, and bear, and includes Hildebrand Ranch. The Ranch was settled by Frank Hildebrand in 1866. There are more than a dozen surviving buildings including a one room school house, and the ranch is on the National Register of Historic Places.
With its fantastic recreation opportunities, diverse activities, rich history and wilderness, Chatfield Lake is sure to be as popular with visitors as it is with the Denver natives.
Things to do at Chatfield Reservoir
Vacation Rentals
Fishing
Ice Fishing
Boating
Sailing
Swimming
Canoeing
Jet Skiing
Water Skiing
Camping
Campground
Picnicking
Hiking
Cross-Country Skiing
Horseback Riding
Wildlife Viewing
Birding
Fish species found at Chatfield Reservoir
Bass
Catfish
Channel Catfish
Crappie
Perch
Rainbow Trout
Smallmouth Bass
Trout
Walleye
Yellow Perch
---
Chatfield Reservoir Photo Gallery
Chatfield Reservoir Statistics & Helpful Links
Spread the word! Share our Chatfield Reservoir article with your fellow Lake Lubbers!