Aurora Reservoir, Colorado, USA
Lake Locations:
USA - West - Colorado - Denver Area -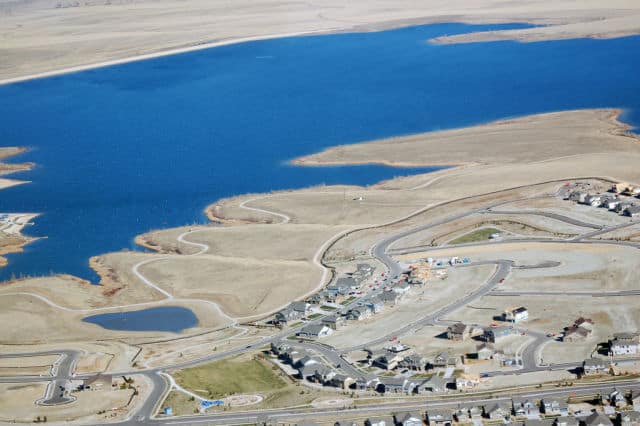 If you're looking for a peaceful, activity-oriented Colorado vacation in the Denver Region, you can't go wrong with Aurora Reservoir. This 820-acre city-owned and operated reservoir used to be considered "The Outback," but a recent building boom has brought several stylish new real estate developments nearby. Now, you can get close to the water and still have all of the amenities that Aurora and Denver provide.
A few years ago, Aurora was a small suburb of much bigger Denver. Because new growth forecast the need for a larger water supply, the City of Aurora contracted to have a new reservoir built southeast of the city. The former facility, Senac Dam and Reservoir, on Senac Creek, wasnt big enough to add storage capacity to augment the other, main storage basin. It was enlarged, renamed Aurora Reservoir, and gains water via Senac Creek, a tributary of Coal Creek. The water originates in the South Platte River and augments water supplies from Quincy Reservoir to the west.
Since the lake was built in 1990 for water storage, the City of Aurora has attempted to follow all best practices to handle the water in an ecologically-sound manner: no gasoline engines are allowed on the reservoir except for Water Patrol and emergency boats. Electric motors are allowed. This not only keeps the water free of combustion byproducts, but is quieter and restricts speeds. A city-owned 2300-acre park encloses the 8-mile shoreline completely, assuring a green buffer perimeter. Within the park, the city has set aside areas for swimming, archery, sailing and windsurfing. The latter enjoys a nearly two-mile reach, making it an exhilarating experience.
A separate scuba diving area has a twin-engine plane submerged to give divers the opportunity to dive a wreck, making Aurora Reservoir a sought-after diving destination. For scuba spectators (and divers needing a rest), large picnic pavilions are available and can be reserved for groups. Bicycle and walking trails cris-cross the area and interconnect with other public walking trails. The park is a favored spot to hold reunions and special events. Triathlons and tournaments often vie for a spot on the park calendar. Small boats, canoes, kayaks and other non-motorized water sport craft can be rented on-site.
Fishermen are always welcome at Aurora Reservoir. Catfish, largemouth bass, perch, rainbow trout, smallmouth bass, walleye and wiper are available for pursuit. All boats must obtain a permit; a system of inspection is followed to assure no invasive species gain entry to the lake. As with most Colorado reservoirs, Aurora has its own set of regulations covering bag limits, sizes and baits that are allowed. Fishing tournaments occur on a regular basis and information regarding upcoming events is listed on the park's website. The no-wake atmosphere makes Aurora Reservoir a excellent place to teach a child the ancient art of bobber-watching. A disability-accessible fishing dock assures everyone can enjoy wetting a line here.
The trail system offers plentiful opportunities for wildlife viewing and birding. The combination of water and short-grass prairie brings many seldom-seen small mammals into view along with shore birds, hunting birds and songbirds. The perimeter trail around Aurora Reservoir is available during daylight hours year round and is used for skateboarding, roller skating and, in winter, cross-country skiing.
The city of Aurora may not be as big as Denver, but when it comes to activities, events and attractions, it's certainly no slouch: fine dining and nightlife abound. The city contains several historical buildings available for tours and the Aurora Fox Theater offers stage productions for both adults and children in a restored 1940's theater setting. Southlands Mall is less than six miles from Aurora Reservoir, with exclusive shops and unusual retail offerings. The Aurora History Museum offers both in-house and traveling exhibits of Colorado history and culture. And there's always a rodeo happening somewhere nearby, if that's your interest. The city website lists local golf courses that are open to visitors. Of course, you can always head into Denver proper to take advantage of such attractions as the Butterfly Pavilion, Denver Art Museum, Denver Botanic Gardens, Denver Museum of Nature and Science and the Denver Zoo.
It's in the area of nature, ecology and outdoor activity that the area near Aurora Reservoir excels: miles of trails connect most attractions across the city. At Star K Ranch, home of Morrison Nature Center, wildlife viewing is available for various wildlife in their natural habitat. Also at Star K Ranch, AWQUA Lounge (Aurora Water Quality Understanding and Appreciation) offers learning activities on water appreciation and conservation for kids and adults. The Plains Conservation Center gives visitors a better understanding of the fragile dry plains ecology and its effects on native animals. Just north of the city, the Rocky Mountain Arsenal National Wildlife Refuge can provide views of larger plains animals, such as mule deer, buffalo and the ever-present antelope.
Although there is no private development along the shore of Aurora Reservoir, new real estate developments are being built immediately outside the park perimeter. Condos and vacation rentals can be found in the areas of Tallyn's Reach, Beacon Hill and Southshore. A bit farther from the lakefront, the visitor may find exactly what they're looking for in the areas of Littleton, Foxfield, Pheasant Run and Aurora proper. So, come visit Aurora Reservoir. Enjoy the water, the wildlife and the selection of laid-back activities. Spend a little time here – you may fall in love.
Things to do at Aurora Reservoir
Vacation Rentals
Fishing
Fishing Tournaments
Boating
Sailing
Swimming
Canoeing
Kayaking
Scuba Diving
Golf
Picnicking
Hiking
Biking
Cross-Country Skiing
Hunting
Wildlife Viewing
Birding
National Wildlife Refuge
Museum
Fish species found at Aurora Reservoir
Bass
Black Bass
Catfish
Largemouth Bass
Perch
Rainbow Trout
Smallmouth Bass
Trout
Walleye
---
Aurora Reservoir Photo Gallery
Aurora Reservoir Statistics & Helpful Links
At LakeLubbers.com, we strive to keep our information as accurate and up-to-date as possible, but if you've found something in this article that needs updating, we'd certainly love to hear from you!
Please let us know about it on our Content Correction form.
Spread the word! Share our Aurora Reservoir article with your fellow Lake Lubbers!