Carroll County Thousand Acre Recreation Lake, Tennessee, USA
Also known as:  Carroll County 1000 Acre Recreation Lake
Welcome to the ultimate guide for history, statistics, local fun facts and the best things to do at Carroll County Thousand Acre Recreation Lake.
If you're considering Carroll County Thousand Acre Recreation Lake vacation rentals, we've made it super easy to explore accommodations and nearby hotels using the interactive map below. Simply click on a listing to compare similar properties, best rates and availability for your dates. Or keep scrolling to read our Carroll County Thousand Acre Recreation Lake guide!
Carroll County Thousand Acre Recreation Lake visitor and community guide
The Carroll County Thousand Acre Recreation Lake is the newest addition to water-based fun in West Tennessee. This brand-new lake opened for the first time on the first day of spring, 2013. The March 20th opening was the culmination of 14 years of planning and required coordination and permits from both federal and state agencies to finally be completed. Officials from several agencies joined the Carroll County Watershed Authority officers and about 200 interested citizens as the first fishing boat launched to enjoy what is expected to be excellent fishing. More than 600,000 fish have been planted in the lake over the past three years and allowed to grow to maturity. A local bass tournament club conducted a 'test fish' event on the lake earlier and caught over 400 fish during their trial. They have already declared that Carroll County Thousand Acre Recreation Lake will be their signature home lake for upcoming tournaments.
During planning and construction the lake had been called Carroll County Lake, but a contest was held to give the lake an official name. 'Carroll County Thousand Acre Recreation Lake' was the official name chosen. Locals will likely shorten the name back to Carroll County Lake in daily speech. A more formal opening event is planned for Memorial Day, 2013. By that time it is expected that boat slips and a restaurant will be completed. Two public sand beaches have been constructed, and swimming areas will be marked off with buoys. Public restroom/bathhouse facilities have been built. The lake will be open for waterskiing, tubing, pontooning, sailing and most water sports. No-wake zones will be marked. An old home on the property has been renovated to act as a lakeside gathering place and office space for lake management and a concessionaire. A wide veranda invites people to sit and enjoy lakefront festivities, and a 7.3 mile walking trail along the shoreline is in the planning stages. Access permits will be available by the day or the season, with lifetime access permits available for Carroll County residents.
Already, fishermen are excited about the new fishing opportunities at Carroll County Thousand Acre Recreation Lake. Expected catches will include largemouth bass, breem or bluegill, red-ear sunfish, crappie, blue catfish and channel catfish. Three hundred acres near the dam are reserved for fishing only and managed by the Tennessee Wildlife Resources Agency. A fishing license is required, and creel limits are set by the TWRA. The entire lake is open to fishing, with the many coves and branches providing excellent areas for anglers. Wildlife have already discovered the new lake, and bald eagles are already seen in the trees overlooking the expanse of water. It is expected that paddle sports fans will enjoy the area along the 22 miles of shoreline. .
In order to facilitate development along Carroll County Thousand Acre Recreation Lake, sewer service has been extended from nearby Huntingdon and subdivision areas have been zoned. Already lots are for sale along the new waterfront. The Carroll County Watershed Authority owns 50 feet back from the water's edge, but homeowners will be able to purchase permits for a personal dock, with accommodations for commercial docking facilities in the areas zoned as commercial development. New housing is expected to revitalize the Carroll County area with new economic development as new business moves in.
The nearby small city of Huntingdon is eagerly awaiting the benefits they expect from the new recreation lake. Already a new shooting range has been constructed, and a new archery range will soon be finished. Huntingdon has spruced up its nearly 200-year-old downtown area, the crowning touch being the Dixie Carter Performing Arts and Academic Enrichment Center and the Hal Holbrook Theatre. Before her 2010 death, Dixie Carter (best known for her role as Julia Sugarbaker in Designing Women) supported the development of the Center financially, and her husband Hal Holbrook was instrumental in the planning stages. As a Tennessee native, Miss Carter enjoyed showing how attractive life could be in a rural small town. The Center is a fine addition to the community and supports regular concerts, a children's choir and various artistic events. Throughout the year Huntingdon hosts a Heritage Festival, Memorial Day celebration, flea markets and events at the city's Civic Center. Lodgings are available in Huntingdon such as a hotel and motels, with plenty of restaurants and shops to round out any visit.
A dam constructed across Reedy Creek created Carroll County Thousand Acre Lake. The lake's construction addressed the county's need for a recreational resource and its need to remediate environmental concerns. Because of long years of farming, straightening of creeks, and draining of wetlands, the watershed experienced erosion and flooding. From a place that early settlers referred to as having '50 bushel of frogs per acre', many acres of wetlands disappeared. Carroll County was in decline, with little recreation to attract visitors and new development. Although the new reservoir drowned 100+ acres of remaining wetlands, 300 acres along the shoreline, previously drained for farming, will be returned to wetland with the planting of mixed wetland trees to welcome wildlife. Additional remediation involved nearby Crooked Creek. Although the creek had been straightened in previous years, destroying acres of wetlands, 2.3 miles of the creek have been restored to its natural meandering course.
Six federal and state agencies were involved in the project, including the US Army Corps of Engineers, which resulted in the largest mitigation in the history of the Corp's southeast region. The project was so successful that the Carroll County Watershed Authority and its consulting engineer, J. R. Wauford & Company Consulting Engineers, Inc., were recognized as Grand Award winners by the American Council of Engineering Companies of Tennessee for the design of the Carroll County 1000-Acre Recreation Lake project. Originally estimated to cost about $10 million dollars, the 14-year process more than doubled the final cost. Carroll County residents voted for a $10 'wheel tax' to pay for the new lake, and federal and state grants paid for the rest of the cost. The benefits of fishing revenue, flood reduction, and wetland mitigation outweigh the construction costs, considering that fishing is one of the top revenue-generating sports in the world.
Carroll County Thousand Acre Recreation Lake is located along US Highway 70 between the towns of Jackson and Huntingdon, the county seat of Carroll County. Entry to the lake is from Highway 70, via Baker Road to Reedy Creek Road, to the lake office, beach and boat ramp. If you're visiting the West Tennessee area, a stop at Carroll County 1000 Acre Recreation Lake is a must. The fish are biting, and summer will bring swimming and boating activities into full swing. Be one of the first to visit the lake and look over new building lots.
Custom Carroll County Thousand Acre Recreation Lake house decor
Read our full review of these personalized lake house signs.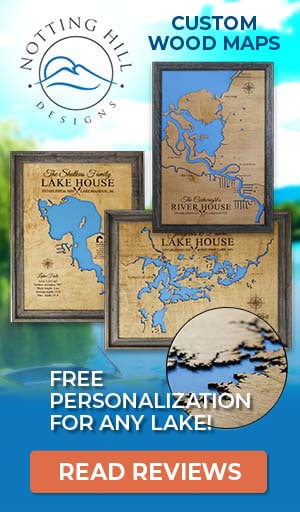 Things to do at Carroll County Thousand Acre Recreation Lake
Vacation Rentals
Fishing
Fishing Tournaments
Boating
Sailing
Swimming
Beach
Water Skiing
Tubing
Hiking
Wildlife Viewing
Birding
Fish species found at Carroll County Thousand Acre Recreation Lake
Bass
Black Bass
Blue Catfish
Bluegill
Catfish
Channel Catfish
Crappie
Largemouth Bass
Sunfish
---
Best hotels and vacation rentals at Carroll County Thousand Acre Recreation Lake
The Carroll County Thousand Acre Recreation Lake map shown above is a simple and stress-free way to search for trip accommodations. But if you want to take a deeper dive to find the ideal waterfront home, cabin, condo, hotel or resort, visit our favorite lodging partners by clicking the buttons below.
Note: These are affiliate links so we may earn a small commission if you book through them. While there is no extra cost to you, it helps provide resources to keep our site running (thank you)! You can read our full disclosure policy here.
---
Carroll County Thousand Acre Recreation Lake photo gallery
New photos coming soon!
Carroll County Thousand Acre Recreation Lake statistics & helpful links
We strive to keep the information on LakeLubbers as accurate as possible. However, if you've found something in this article that needs updating, we'd certainly love to hear from you! Please fill out our Content Correction form.
Advertise your Carroll County Thousand Acre Recreation Lake vacation rental
LakeLubbers will soon offer homeowners and property managers the opportunity to to showcase their vacation rentals to the thousands of lake lovers searching our site daily for accommodations. If you'd like additional details, please contact our advertising team here.
Looking for the Carroll County Thousand Acre Recreation Lake forum?
LakeLubbers previously offered visitors the ability to create accounts and participate in lake forums. When we overhauled the site's content management system in 2021 we had to disable those features. We're evaluating options and welcome your comments and feedback here.
We also encourage you to join our lake-lovin' community on Facebook and Instagram!
Spread the word! Share our Carroll County Thousand Acre Recreation Lake article with your fellow Lake Lubbers!