Canyon Lake, Arizona, USA
Lake Locations:
USA - Southwest - Arizona - Phoenix & Central -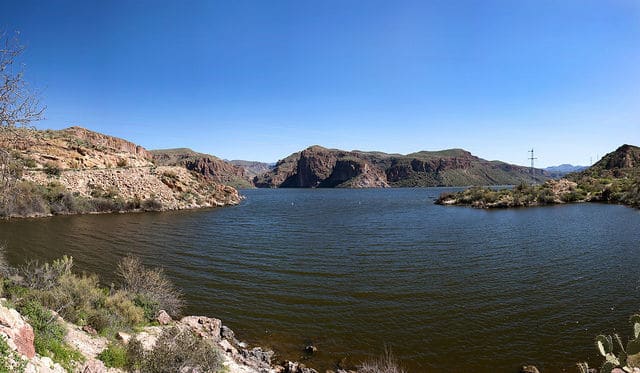 Within the wild and rugged Arizona Superstition Wilderness lies the awe-inspiring beauty of Canyon Lake. The lake and wilderness are part of the vast Tonto National Forest, the fifth largest forest in the United States. The forest features breathtaking sights of pine forested mountains, cacti-covered desert, winding rivers and streams, and refreshing lakes teeming with fish. In the Canyon Lake area, wildlife lovers will see plentiful species of birds, including eagles, Big Horn sheep, deer, and javelina, those small, hairy animals that resemble the pig family.
Canyon Lake was created in 1925 by the construction of the Mormon Flat Dam on the 200-mile Salt River. From the efforts of the Salt River Valley Association and the Salt River Project sprang a chain of lakes 60 miles long used for reliable water supply, irrigation, flood control, and hydro-electricity. Canyon Lake is the third and smallest of the chain. Apache Lake, Roosevelt Lake, and Saguaro Lake are the other three. Made possible by President Roosevelt's signing of the National Reclamation Act, the lakes became popular destinations for exciting recreational opportunities. They feature full service facilities, options for camping, great fishing, hiking, wildlife viewing, and boating.
Surrounded by a landscape of desert flora, striking rock formations, and romantic coves at every turn, Canyon Lake presents 950 acres of beauty and enjoyment. It has a designated swimming site and several service amenities. Although it is situated within the pristine wilderness, you will also have easy access to boat rentals, fishing supplies, restrooms, and great dining. The lake offers a diverse range of water sports. Satisfy your need for speed with jet skiing and water skiing, or plough the water in a canoe or kayak. For avid anglers, a bountiful fishery awaits you. Cast your hook and reel in walleye, largemouth bass, bluegill, carp, crappie, yellow bass, rainbow trout, and channel catfish.
Canyon Lake's shoreline runs for 28 miles. Take a tour around the lake on your raft floating between stunning cliffs and past stretches of the Sonoran Desert landscape. Or stimulate your senses on a steamboat cruise as you admire the red rock canyon walls that rise steeply out of the water.
Hidden treasures await you when you explore the surrounding terrain on foot. Fish Creek is a spring canyon not far from the lake, flowing from the heart of the mountains. The stream offers a range of adventures from mild hiking to arduous rock climbing. The Apache Trail (or AZ 88) flanks Canyon Lake and will take you through fascinating vistas and points of interest from the eastern tip of the Greater Phoenix Metropolitan area to the Lost Dutchman State Park, through the Superstitious Wilderness and Tonto National Forest, to the former copper mining town of Globe. Embark on your own journeys and adventures with the mysterious Superstition Mountains looming beyond, with its lore and legends replaying in your mind. Consider the mystery of the land as you hear stories of the Apaches' entrance to the lower world or of the Lost Dutchman's Gold Mine. By car, Canyon Lake is less than an hour from Phoenix, Arizona's capital and largest city. There you will find state-of-the-art attractions having the taste, flair and urban appeal of a famous metropolitan.
Canyon Lake occupies what was a favorite destination of President Theodore Roosevelt who said of the area that it combined "the grandeur of the Alps, the glory of the Rockies, the magnificence of the Grand Canyon and then adds an indefinable something that none of the others have." At the picturesque and starkly beautiful Canyon Lake, revel in unforgettable moments that you will hold dear for a lifetime.
Things to do at Canyon Lake AZ
Vacation Rentals
Fishing
Boating
Swimming
Canoeing
Kayaking
Jet Skiing
Water Skiing
Camping
Hiking
Rock Climbing
Wildlife Viewing
Birding
State Park
National Forest
Fish species found at Canyon Lake AZ
Bass
Black Bass
Bluegill
Carp
Catfish
Channel Catfish
Crappie
Largemouth Bass
Perch
Rainbow Trout
Sunfish
Trout
Walleye
Yellow Bass
---
Canyon Lake AZ Photo Gallery
Canyon Lake AZ Statistics & Helpful Links
At LakeLubbers.com, we strive to keep our information as accurate and up-to-date as possible, but if you've found something in this article that needs updating, we'd certainly love to hear from you!
Please let us know about it on our Content Correction form.
Spread the word! Share our Canyon Lake AZ article with your fellow Lake Lubbers!