Apache Lake, Arizona, USA
Lake Locations:
USA - Southwest - Arizona - North Central -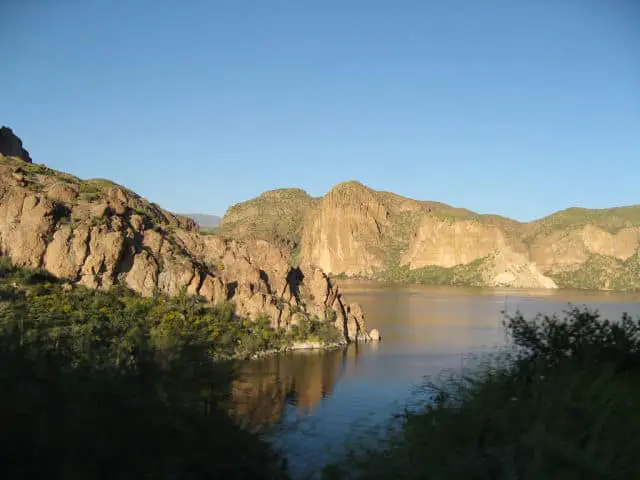 Surrounded by the stark and rugged beauty of Central Arizona's Superstition Wilderness in the Tonto National Forest, Apache Lake is the perfect destination for anyone who enjoys soaking up breathtaking mountain views, watching the local wildlife, hiking, camping, fishing, boating, or other outdoor activities.
Four reservoirs on the Salt River, including Apache Lake, form a chain of lakes almost 60 miles long. In the early part of the 20th century, a series of dams were built on the river as part of the Salt River Project, which, provided flood control and a stable water supply to the Phoenix area. The Project was completed in cooperation between the Salt River Valley Water Users' Association and the Bureau of Reclamation to provide for electricity generation and water supply.
Apache Lake was created five miles downstream from the much larger Lake Roosevelt with the completion of Horse Mesa Dam in 1927. Filling the bottom of the canyon where it lies, this long and narrow lake is the second largest of the four sister lakes. It is 17 miles long with a 41 mile shoreline and a surface area of 2,568 acres. Boasting complete lake facilities, Apache Lake has been a popular year-round destination for outdoor family fun since its opening.
For those who want to experience all the lake has to offer while still enjoying all the conveniences of modern life, the Apache Lake Marina and Resort is the place to go. The marina is located on and operates under permit from the Tonto National Forest Service. It provides lodging, boat launch and storage sites, boat rentals, fishing and hunting licenses, restaurants, gas, and groceries. There are also areas for RVs and camping.
Apache Lake is perfect for all types of water sports and recreation. Power boats and water skiers are a common sight. Boaters and water skiers should note that some coves are "wake free" areas, and the upper end of the lake is barred to water skiing. If fishing is your passion, the lake frequently hosts angling competitions. Arizona Game and Fish Department stocks Apache Lake with walleye, largemouth and smallmouth bass, redear sunfish, bluegill, channel and flathead catfish, carp, and crappie.
If you're looking for unspoiled and uncrowded vistas, Apache Lake also has a lot to offer. Apart from the many available camping facilities, photographers, wildlife enthusiasts, and nature lovers will find secluded coves and nearby hiking trails where they can enjoy a sense of solitude as they spot javelina, coyotes, eagles, big horn sheep, deer, and a host of other desert creatures. Visitors should bear in mind that these wilderness areas can be very inhospitable. Freezing cold in winter, the temperatures soar in the summer. The visitor should come well-prepared for harsh conditions.
Apache Lake is surrounded by the Tonto National Forest, the nation's fifth largest forest. Due to its variation in altitude between 1000 and 7900 feet, the national forest hosts a variety of plants within its almost three million acres. The national forest serves to protect the reservoirs and watersheds sharing its varied terrain. Visitors will need to purchase a park pass to access the Burnt Corral Recreation Site. There are several kinds of passes to cater to your needs and grant access to the many hiking trails and camping areas maintained by the park. The recreation site is open year round and offers boat launching facilities and spaces for trailers less than 17 feet long.
On your way to the lake for a day of fun, you can also take a few hours to drive the 40-mile, scenic Apache Trail. The Apache Lake Marina and Resort is located only a mile from the partially paved road that was built to accommodate the Salt River Project's dam construction.
Whether you're planning a short day trip to the water for the family or a long hiking and camping outing, Apache Lake makes an ideal destination.
Things to do at Apache Lake
Vacation Rentals
Fishing
Boating
Water Skiing
Camping
Hiking
Horseback Riding
Hunting
Wildlife Viewing
Birding
National Forest
Fish species found at Apache Lake
Bass
Black Bass
Bluegill
Carp
Catfish
Crappie
Flathead Catfish
Largemouth Bass
Perch
Redear Sunfish (Shellcracker)
Smallmouth Bass
Sunfish
Walleye
---
Apache Lake Photo Gallery
Apache Lake Statistics & Helpful Links
Spread the word! Share our Apache Lake article with your fellow Lake Lubbers!