Dawn Lake, Arizona, USA
Lake Locations:
USA - Southwest - Arizona - Phoenix & Central -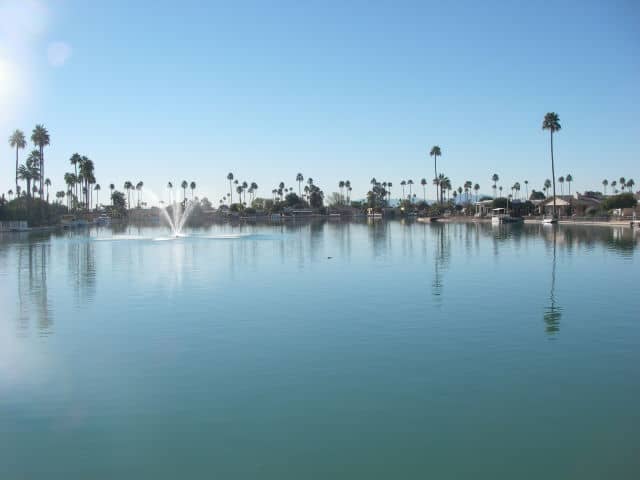 Dawn Lake sits in the sunny Sonoran Desert of Arizona, in the master-planned development of one of the first and largest retirement communities in the United States: Sun City, Maricopa County. The small lake, surrounded by stuccoed condos, desert plants and palm trees, and a community bursting with life, is a sweet oasis about 15 miles northwest of Phoenix.
Sun City is aptly named. Vibrant, radiant and full of happy people, it is like no other retirement community. Built by renowned master builder, Del Webb, Sun City was designed for older adults who still have that spark of youthfulness and creativity. Changing times see a more flexible retirement lifestyle with some residents still working in the Greater Phoenix area. Del Webb built the amenities of the community before he built the homes, a smart move that guaranteed new residents satisfaction and the community's eventual national success. Sun City is self-sufficient with shopping centers, businesses, medical facilities and other services that were incorporated into its planning. A true community, it is also known for its volunteer spirit. Most of the community's efforts are volunteer-based and a great deal of support funds comes from residents. The Del Webb Development Company (DEVCO) opened the first model homes in January of 1960 attracting crowds and many purchases within the first hour. By the end of the first weekend, 237 homes were sold. At once a buzz of social and recreational fanfare, the community blossomed in the next few months with a sale of 2,000 homes.
Today, the many social and arts clubs, activities and special events are the life vein of the community. There are golf courses, country clubs, bowling centers, churches and libraries. Several recreation centers and clubs offer music and theater, exercise, dance, cards and games, swimming, and sports. Classes and programs offer training and workshops for a variety of craft skills and hobbies: weaving, china painting, photography, woodworking, silversmithing, painting, stained glass, pottery and more. You can play horseshoes, take to the tennis or racquetball courts, keep fit roller skating, walking and jogging, or relax in one of the therapy pools. Services and resources include the Sun City Fire Department, a hospital, and the Sun City Homeowners Association magazine. The Mineral and Gem Museum, West Valley Art Museum, and Deer Valley Rock Art Center are points of interest. There are dozens of concerts, special events, and famous celebrity appearances. The lakes of Sun City introduce a wealth of water activities to residents. Dawn Lake and its neighbor Viewpoint Lake are each around 35 surface acres and provide fishing, boating, canoeing, swimming, and paddle boating.
Sun City combines the excitement of Phoenix with the vista of mountains and deserts. Experience rich culture, art, history, architecture and delectable food in Phoenix's major areas of attractions collectively called the Valley of the Sun. In downtown Phoenix, visit the Bentley Projects, a warehouse turned art gallery for world-class contemporary paintings, photography, prints and sculpture. Taste the unique flavor of the wood-fired "best pizza in America" at the famous Pizzeria Bianco. Experience Native American art and history at the Heard Museum or at the Basha Salmeri Gallery of Western American and Native American Art in Chandler. Visit any one of Frank Lloyd Wright's architectural masterpieces in Scottsdale or Tempe. Also in Tempe, the Desert Botanical Garden has a wondrous collection of desert flora. Go dancing, shopping or take in some performing arts. Visit the Goldfield Ghost Town and find yourself back in time in a wild, wild west mining town, or visit a working ranch in the remote romantic desert enclave of Wickenburg.
Part of the extensive Agua Fria Watershed, Dawn Lake is surrounded by a land not only rich in biological diversity, but replete with prehistoric records. The watershed boasts one of the most key networks of prehistoric sites in the entire American Southwest. Spend your time getting in touch not only with the simple beauties of a breathtaking landscape but with a way of life that has all but disappeared.
Vacation rentals and real estate possibilities in Sun City include waterfront homes that reflect the flat, one-story desert style designs, with cacti and palms, stonework, and a path that leads to your recliner and umbrella right in front of the water. The sunrise is amazing over Dawn Lake, with the dark silhouettes of tall palms impressed against an orange-blue sky. Rise every morning at Dawn Lake, smiling because you will live your days in a sweet oasis.
Things to do at Dawn Lake
Fishing
Boating
Swimming
Canoeing
Golf
Tennis
Wildlife Viewing
Museum
Shopping
---
Dawn Lake Statistics & Helpful Links
Spread the word! Share our Dawn Lake article with your fellow Lake Lubbers!