Canadohta Lake, Pennsylvania, USA
Lake Locations:
USA - Mid-Atlantic - Pennsylvania - Great Lakes -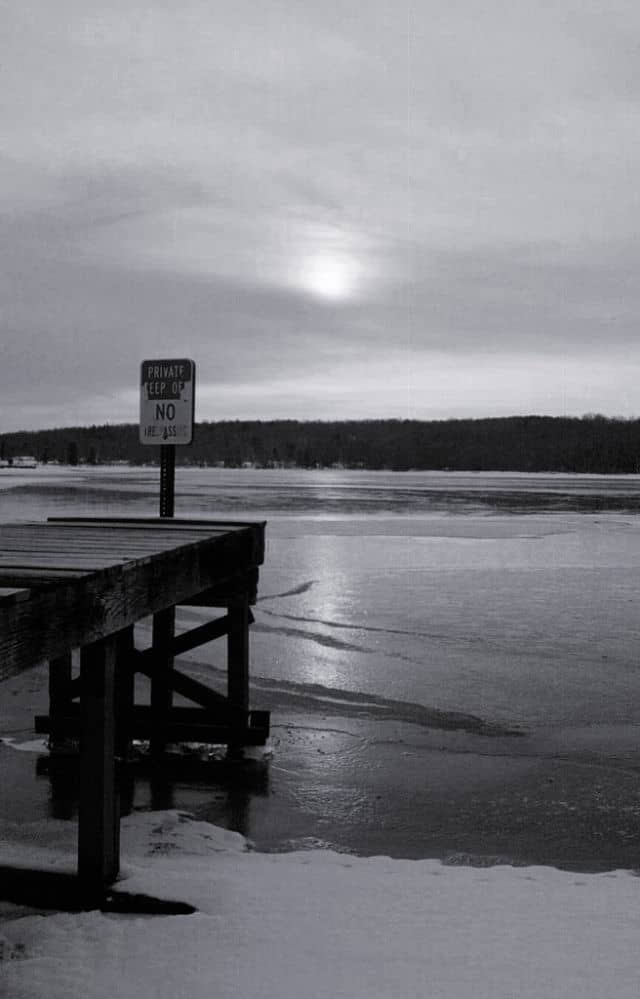 Canadohta Lake is one of the largest natural lakes in Pennsylvania. Its tree-lined shores and spring-fed waters are located in the Keystone State's Great Lakes tourism region. This sportsman's paradise is famous for its year-round fishing and the tournaments it hosts, in particular the ice fishing tournament held every February.
Native Americans once camped along the shores of 168-acre Canadohta Lake. The lake was formed by glaciers thousands of years ago — its average depth hovers around 26 feet, though it plunges to 45 feet in some areas. The ground and water in this area was rich in oil; appropriately, Oil Creek originates at the lake. The Cornplanter tribe of the Seneca Nation used blankets to soak up oil floating on the water's surface and used it for medicinal purposes and for burning in lamps.
Washington Lake was the first name given the body of water. As the story goes, during the Revolutionary War, George Washington was a friend of Colonel Crawford, the namesake of the county in which Canadohta Lake rests. The name was changed in the 1800s to the more aptly descriptive Oil Creek Lake. Prospectors and developers bought and sold land around the lake until about 1900, when a group of rich men bought up all the property around the lake. They changed the name to Canadohta after Cornplanter Chief Canadaughta. A lawsuit opened up the lake to the public, relegated ownership of Canadohta Lake to the Commonwealth of Pennsylvania, and denied the Canadohta Club private use of the water.
Canadohta Lake is one of eight lakes in Crawford County. The waterways draw outdoor enthusiasts to the area for hiking, sailing, swimming, fishing, camping, biking, canoeing and numerous other activities. Anglers are delighted to hear that big fish stories are no lie at Canadohta Lake; the state stocks Canadohta Lake annually with pan fish, bluegill, perch, sunfish, northern pike, muskellunge, walleye, smallmouth bass, and largemouth bass. The Pennsylvania Fish Commission runs a public boat launch. Near the launch, visitors will find a small water park, complete with a beach and slide, and a lakeside restaurant as well. Note that there is a 10 horsepower limit on all motors, so swimmers, boaters and anglers can coexist comfortably.
Canadohta Lake's nearly three miles of shoreline is sparsely populated. There are about 1000 private homes and cottages surrounding the lake, which is known for its pristine waters, so available real estate can be challenging to find. Most homes are seasonal and many are vacation rentals. Canadohta Lake visitors can enjoy summer canoe races and fishing contests for children and adults as well. The view from the water or shore is very quaint, with clear water and beautiful homes painting a wonderful picture no matter the season. In the winter, Canadohta Lake is commonly used for ice fishing and lantern light reflecting off the ice is a beautiful sight. Many of the roads winding around the lake are dirt or gravel; the state maintains them well during the winter months.
Off-water activities near Canadohta Lake include art galleries, two miniature golf courses and a regulation golf course within three miles. Crawford County has numerous lodging options, including additional vacation rentals and real estate. Attractions in the county include hiking the trails at Erie National Wildlife Refuge. The Erie Wildlife Refuge is 8800-acres dedicated to providing waterfowl and other migratory birds with nesting, feeding, brooding, and resting habitat. It also supports a wide range of wildlife making it a prime location for wildlife observation. There is a wildlife observation deck, a driving route and five nature trails ranging in length from one-half to three miles to view wildlife. There are nine public fishing areas. Crappie, yellow perch, bluegill, large and smallmouth bass, and trout swim in the refuge's waters. Hunting seasons start September 1 and run through the end of February. The most popular game includes deer, turkey, rabbit, and waterfowl. Check the U.S. Fish and Game Web site for regulations governing fishing and hunting in the Refuge.
There are several State Game Lands near Canadohta Lake. The closest is Number 199 just south of the lake. There you can hunt, trap, hike and observe wildlife. Hunting and trapping are allowed in season only. Deer, turkey, rabbit, waterfowl and a wide variety of small game make the area their home in State Game Lands 199. Check with the state fish and game department for the appropriate licenses for each hunting season. Motorized vehicles, horses and bicycles are not allowed on the trials.
You can also fish, hunt and swim at Pymatuning State Park. At 21,122 acres, Pymatuning is Pennsylvania's largest and most visited state park. There are three campgrounds with cabins for rent along the shores of the park's lake. The Pymatuning Reservoir is the state's largest lake at 17,088-acres. There is a 20 horse power motor limit on this lake. The park has seven miles of hiking trails which offers great opportunities for observing wildlife. In the winter there is ice fishing, cross country skiing, sledding and snowmobiling. This massive park is about an hours drive south from Canadohta Lake.
There are several museums in Crawford County that are within a half day's drive from Canadohta Lake. The Drake Well Museum is located on the site where Edwin L. Drake drilled the world's first oil well in 1859. The 219-acre park is located outside of Titusville and has outdoor oilfield exhibits. The Baldwin Reynolds House in Meadville is a home turned museum that depicts what life was like in the 1800's.
Crawford County is also a good place to go antiquing or hunting for Amish Furniture. The City of Spartansburg has several quaint shops selling Amish oak furniture, gifts and antiques. In July, the skies near Canadohta Lake are dotted with hot air balloons. The Thurston Classic hot air balloon race takes place at the end of July over the skies of Meadville. Meadville is also the site of the Crawford County Fair in August; a carnival, demolition derby, harness racing, tractor pulls, farm animal judging and everything you can imagine a country fair has to offer.
Canadohta Lake is a marvelous stop during your trip to Northwestern Pennsylvania. It offers the outdoor beauty of clear waters and wooded shoreline with a mix of fine dining and great shopping.
Things to do at Canadohta Lake
Vacation Rentals
Fishing
Fishing Tournaments
Ice Fishing
Boating
Sailing
Swimming
Beach
Canoeing
Golf
Camping
Campground
Cabin Rentals
Hiking
Biking
Cross-Country Skiing
Snowmobiling
Horseback Riding
Hunting
Wildlife Viewing
Birding
National Wildlife Refuge
State Park
Museum
Miniature Golf
Antiquing
Shopping
Fish species found at Canadohta Lake
Bass
Black Bass
Bluegill
Crappie
Largemouth Bass
Muskellunge
Northern Pike
Perch
Pike
Smallmouth Bass
Sunfish
Trout
Walleye
Yellow Perch
---
Canadohta Lake Photo Gallery
Canadohta Lake Statistics & Helpful Links
Spread the word! Share our Canadohta Lake article with your fellow Lake Lubbers!