Caddo Lake, Louisiana & Texas, USA
Lake Locations:
USA - South - Louisiana - Sportsman's Paradise - Southwest - Texas - Piney Woods -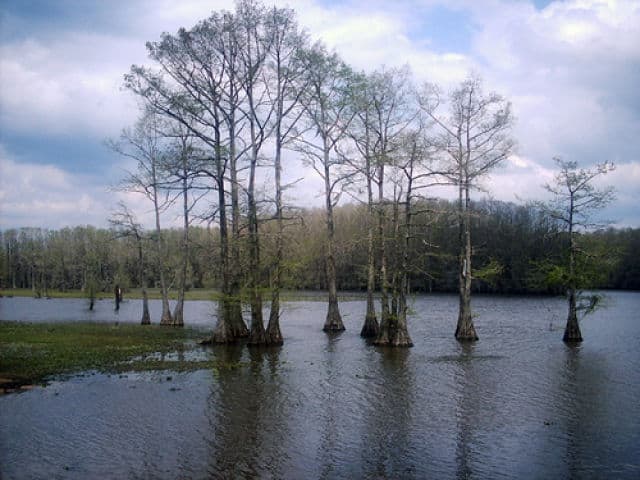 Caddo Lake covers an impressive 26,800 acres and straddles the border of Texas and Louisiana. The lake is a maze of interconnected waterways, heavily forested bayous, sloughs, ox-bows, channels, islands, and cypress thickets. While the Louisiana side of the lake is open and expansive with depths of up to 20 feet, the Texas side is more like a swampy forest broken up into a labyrinth of smaller, shallow channels with lush green lily pads covering a large portion of the lake. This is the area of Caddo Lake that travelers find most captivating.
The subtropical climate of Caddo Lake, with hot, humid summers and mild winters, creates a place of great scenic beauty and biological diversity. The ecosystem here predates that of any other large lake in Texas, and contains stands of bald cypress trees 250 to 400 years old. Caddo Lake is an internationally protected wetland under the RAMSAR treaty and boasts the largest cypress forest in the world.
In 1914, Caddo Lake was artificially dammed for purposes of oil exploration, flood control, and water supply. A new dam replaced the old one in 1971. According to Caddo legend, the lake was formed by the 1811 New Madrid Earthquake, but most geologists now feel that Caddo Lake was formed gradually by the "Great Raft," a 100-mile log jam on the Red River in Louisiana.
Caddo Lake is abundant with wildlife and plant life. There are 71 species of fish, the most diverse fish population in the state, including some unusual species not seen elsewhere. It is especially good for crappie and largemouth bass and white bass fishing. Caddo Lake is also home to over 250 species of birds including Great Horned Owls and Barred Owls, Great Blue Herons, Great Egrets, ducks and songbirds. The area is a bird watcher's heaven.
A popular place to spend some time is the 484-acre Caddo Lake State Park, which is not actually on the lake but on Big Cypress Bayou, which feeds into the lake. Activities enjoyed in the park include camping, hiking, swimming, picnicking, nature study, fishing, and boating. There are pontoon boat tours on the lake and canoe rentals in the park. Approximately 2-1/2 miles of hiking trails meander through the park, some venturing through steep terrain in the forest. Nine cabins, built in the 1930s by the Civilian Conservation Corps from native iron ore stone, have been refurbished and are more popular than ever. At park headquarters, you can discover the colorful history of the area including tales of Caddo Indians, the romantic steamboat era, the rise and fall of pearl hunting from the abundant mussels that flourished here, prohibition, moonshine and "beer boats."
Caddo Lake has become a favorite spot for vacationers and filmmakers alike. The Spanish moss hanging from the ancient cypress trees creates an eerie lake scene that has inspired cinema producers to film many movies in these waterways. Caddo Lake has hosted the filming of several motion pictures such as The Long Hot Summer, The Bayou Boy, Soggy Bottom USA, Southern Comfort, Big John, Gator Bait, Universal Soldier, and others. In addition, many visitors come to the lake on annual field trips arranged by The Texas Bigfoot Research Center in search of Big Foot, the "Caddo Critter."
Caddo Lake is a retreat from the modern day world that beckons boaters, anglers, naturalists, photographers, and sightseers to explore the lake's unique natural wonders and will make any visitor feel as though they have taken a step back in time.
Things to do at Caddo Lake
Vacation Rentals
Fishing
Boating
Swimming
Canoeing
Camping
Picnicking
Cabin Rentals
Hiking
Hunting
Wildlife Viewing
Birding
State Park
Movie Theater
Fish species found at Caddo Lake
Bass
Black Bass
Crappie
Largemouth Bass
White Bass
---
Caddo Lake Statistics & Helpful Links
Spread the word! Share our Caddo Lake article with your fellow Lake Lubbers!