Bassenthwaite Lake, England, United Kingdom
Lake Locations:
United Kingdom - England - England's Northwest -
Also known as:  Bass Lake, Bassenwater, Broadwater, The Lake District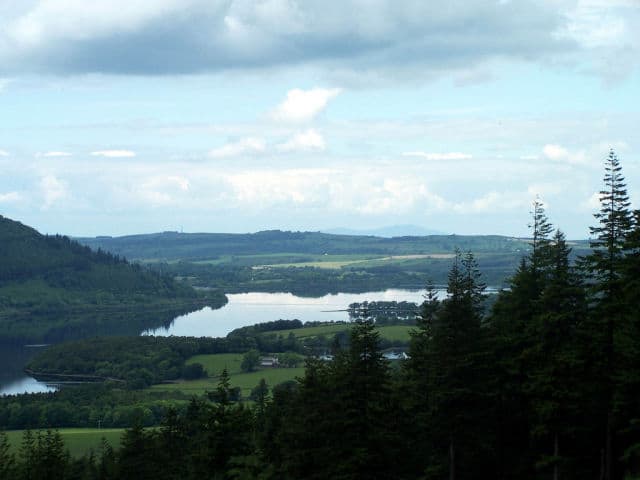 Bassenthwaite Lake is a scenic peaceful lake located in England's Lake District. In this land of many lakes, Bassenthwaite Lake is the only body of water to actually be called a lake. Neighboring water bodies are called waters, meres, tarns or reservoirs. A protected National Nature Reserve and designated Site of Special Scientific Interest, Bassenthwaite Lake is home to over 70 species of birds and Britain's rarest fish and plants. Much of the lakeshore is privately owned or held by various trusts, making this a safe haven for wildlife and a quiet retreat from the pace and stress of city life.
Set in England's Cumbria County, glacially formed Bassenthwaite Lake is fed and drained by River Derwent. Believed to originally have been one lake, Bassenthwaite Lake and neighboring lake, Derwentwater, remain connected by River Derwent. The names Bassenwater and Broadwater have been used in historical references to Bassenthwaite Lake, but today local residents often shorten the name to Bass Lake.
Covering 1310 acres, Bassenthwaite Lake is one of the larger lakes in the Lake District National Park. The 11-mile shoreline runs a length of four miles and is 3/4-mile across its widest point. Despite its size, it is a shallow lake with a maximum depth of 70 feet and mean depth of 17 feet. The beautiful water, changing winds and spectacular scenery make sailing a popular sport on Bass Lake – if you are a member of the private club. The general boating public is allowed only with a purchased permit. Canoes and kayaks should avoid the protected wildlife areas in the southern and northeastern portions of the lake, with all posted no-boating zones to be observed. Paddlers coming from River Derwent are asked to pass through no-boating zones quickly and exit the lake at Peel Wyke or Blackstock Point. No motorized boats are permitted.
Vendace, one of Britains rarest fish, lives in Bassenthwaite Lake along with salmon, trout, roach, pike, perch, minnow, dace, ruffe, and eel. A valid lake permit and Environment Agency (EA) rod license are required to fish the shallow waters. Most of the lakeshore is privately held and accessible only with permission from landowners. The protected shoreline and private properties are not open to camping.
Bassenthwaite Lake is also a favorite fishing area for nesting ospreys. After 150 years of absence from the Lake District, a pair of ospreys nested for the first time along the woods of Bassenthwaite Lake in 2001. Usually nesting between April and August, a nesting viewpoint has been built at Dodd Wood, about a 10-minute hike from the eastern shore. For those who cannot make the hike, a live video feed from the nest can be viewed at the Whinlatter Visitor Centre. Hundreds of birds migrate to Bass Lake, making it one of the best sites for birdwatching. Bird species include the great spotted woodpecker, tawny owl, common dipper, common redstart, European pied flycatcher and Eurasian treecreeper.
A combination of woodland, marshy grassland, swamp and open water along the shore offers refuge to many rare and interesting plants like purple loosestrife, globeflower and saw wort. In turn, plant life serves as home to local insects including butterflies and a snail-eating fly. While observing local flora and fauna, be sure to keep an eye out for the most elusive of creatures – Eachy, a human-like creature with a "gruesome and slimy appearance" said to live in the depths of Bassenthwaite Lake.
Bassenthwaite Lake is the most northerly of the larger lakes in the Lake District National Park. Owned by the National Park Authority, a 2002 study revealed that Bassenthwaite water quality was deteriorating. The Bassenthwaite Lake Restoration Programme is now in place with a partnership of eight organizations sharing in the care of Bassenthwaite Lake and its 92 square mile catchment area, the largest of the Lake District.
The Lake District and Bassenthwaite Lake's surrounding land hold a hiker's paradise. Over 2,000 miles of "rights of way" are open to hiking and bicycling throughout the park. Trails and country lanes near Bassenthwaite Lake lead into Thornwaite Forest on the west side of the lake and into Dodd Wood where conifers and native broad-leafed trees provide the habitat for red squirrels, roe deer, otter, badger and other wildlife. At 3,053 feet, Skiddaw is the fourth highest mountain (or fell) in the Lake District. It towers over the eastern shore and provides an easy three-hour walk with photo-ready views changing with the seasons from summer's green fields to winter's snow covered fells.
As with much of the Lake District, there are strong literary connections to Bassenthwaite Lake. Illustrious visitors to Mirehouse estate, which sits near the eastern shore, include Edward Fitzgerald, Thomas Carlyle, William Wordsworth and Lord Alfred Tennyson who is said to have written "Idylls of the King" after being inspired by the lake's surroundings. Today, references to Excalibur and the Arthurian legend are as numerous as the lakes that inspire the tales.
There are no communities built along the shores of Bassenthwaite Lake, but when you are looking for a bed & breakfast, guest house, hotel, self-catering cottage, or real estate property you need not go far. The small rural village of Bassenthwaite lies about one mile east of the lake. This tiny town boasts at least one pub and multiple guest houses tucked into the quiet countryside. The market town of Keswick is approximately six miles to the southwest on the shores of Derwentwater. Filled with appealing little shops, intriguing art galleries and food offerings to suit every palate, Keswick is a fine example of the hospitality to be found among the villages and towns in the Lake District. Whether you come to explore villages, legends and lore or savor Mother Nature's abundance along the unspoiled shores, Bassenthwaite Lake will welcome you and leave you with the memory of a well-spent holiday.
Things to do at Bassenthwaite Lake
Vacation Rentals
Fishing
Boating
Sailing
Canoeing
Kayaking
Hiking
Biking
Wildlife Viewing
Birding
National Park
Fish species found at Bassenthwaite Lake
Bass
Carp
Eel
Perch
Pike
Roach
Salmon
Trout
Vendace
---
Bassenthwaite Lake Photo Gallery
Bassenthwaite Lake Statistics & Helpful Links
Spread the word! Share our Bassenthwaite Lake article with your fellow Lake Lubbers!