Beardsley Lake, California, USA
Also known as:  Beardsley Reservior, Beardsley Lake Reservoir
Welcome to the ultimate guide for history, statistics, local fun facts and the best things to do at Beardsley Lake.
If you're considering Beardsley Lake vacation rentals, we've made it super easy to explore accommodations and nearby hotels using the interactive map below. Simply click on a listing to compare similar properties, best rates and availability for your dates. Or keep scrolling to read our Beardsley Lake guide!
Beardsley Lake visitor and community guide
Nearly 60 years ago, the effort to provide water to the orchards and farms in California's Central Valley brought about the creation of beautiful Beardsley Lake. The artificial reservoir in the Stanislaus National Forest filled with water after construction of a dam across the Middle Fork of the Stanislaus River. Water collected here from snow melting in the Sierra Nevada Mountains is diverted to irrigate fields in the Valley during the drier months. Originally dammed in 1957, the Beardsley Dam is one of several water control structures in the Tri-Dam Project of the San Joaquin Irrigation District.
Along with Donnells Dam upstream and Tulloch Dam downstream in Calaveras County, the precious water collected at Beardsley Lake plays a major part in keeping the Central Valley green and growing. About 117,500 acres growing almonds, grapes, walnuts, vegetable crops and pasture are irrigated by the conserved water. The ability to deliver hydroelectric power was added later. The many opportunities for outdoor recreation are an important part of the lovely lake, with camping, fishing, boating and nature viewing making Beardsley Lake a favorite weekend and vacation spot. Local visitors come from Sonoma, 40 miles to the west, and from San Francisco Bay area three hours away.
The setting is spectacular. Long, narrow Beardsley Lake nestles below the towering ridge of a deep canyon surrounded by thousands of acres of the Stanislaus National Forest. Nearly a million acres of rugged, forested peaks and rushing streams are tucked between Yosemite and Lake Tahoe. The Summit Ranger District maintains the primitive campground and picnic areas, and provides maps and backcountry permits for backpackers and dispersed camping. The lake is open to fishing all year, but roads are likely not passable due to heavy shows in winter. The campground is usually open by late May, but this may vary due to weather. Prospective visitors should check the Forest Service webpage for road and camp conditions.
Besides the 16 primitive campsites located within sight of shore, a new Day Use area offers picnic tables, grills, a swimming area, flush toilets and boat ramp. Nearby, a nature trail encourages visitors to enjoy the pristine beauty of the national forest. Beardsley Lake's north shore borders the Tuolumne State Game Refuge, encompassing over 100 square miles of natural habitat for native species, including deer, bear, mountain lion, bobcat and smaller mammals. The four-mile trail along the lakeshore provides for plenty of opportunity to enjoy the variety of trees and animal life in the area, with great places to fish from shore. Although the lake holds crappie, bluegill, smallmouth bass and channel catfish, the main fishing targets are rainbow trout and brown trout. About 35,000 brown and rainbow trout in the 12-14 inch range are stocked here each year, but older specimens are sometimes caught weighing over 10 pounds.
Although motorized boats and water sports are permitted, water levels are often quite low, particularly with the prolonged drought California is facing. The road to the lakeshore is downhill and somewhat steep, while the boat ramp can often open into rather shallow water. So, although fishing boats can usually manage to launch without problem, those with larger boats will want to check water levels before making the trip. Many fishermen use tube floats for fly fishing and canoes and kayaks to paddle the shallower waters. Below the dam, the Beardsley Reservoir Afterbay is also a popular spot for fishing, with nearly a mile of usually quiet water. A California fishing license is required for all fishermen with special fishing regulations applying to the Afterbay.
Beardsley Lake is ideally situated to provide plenty of recreation to outdoor lovers year round. The many trails within the Stanislaus National Forest are favorites for cross-country skiing and snowshoeing in winter, while a number of small resorts and guest cabins in the area provide lodgings with far more amenities that the primitive campground. The nearby towns of Strawberry, Cold Springs and Pinecrest offer stores for provisions, bait shops, restaurants and organized outdoor adventure opportunities.
As this area was a bustling gold mining area in the past, many artifacts and relics remain of those exciting days. All historical features located within the National Forest are protected but usually open for viewing. The Columbia State Historic Park is located just over an hour away from Beardsley Lake; the park offers the chance to pan for gold and enjoy touring a restored Mother Lode town complete with stage coach, blacksmith shop and unique small shops and ice cream parlors. For those on a budget, Columbia State Historic Park is a bargain; admission and tours are free, as are many activities. Not far from Columbia, Railtown 1897 State Historical Park offers steam train excursions, a museum and lots of historical information about steam trains. The Museum offers special events of interest to photographers, sells reproduction railroad china and all sorts of train-related items including the modern favorite, Thomas The Tank Engine. Proceeds go to support the California State Railroad Museum.
Several ski areas are located in the Sierra Nevada foothills near Beardsley Lake. Camping is also offered at nearby Pinecrest, a resort community complete with marina, shops and several restaurants. Pinecrest is a very popular area in mid-summer and may be quite busy, but spring and fall are usually less hurried. There is no better place to enjoy the majestic scenery in the Sierra Nevada foothills than at Beardsley Lake. So, pack up the tent, load the kayaks and head on up.
Custom Beardsley Lake house decor
Read our full review of these personalized lake house signs.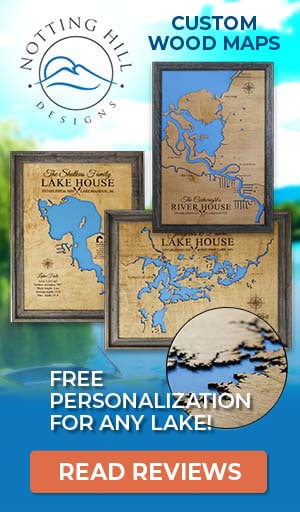 Things to do at Beardsley Lake
Vacation Rentals
Fishing
Boating
Swimming
Canoeing
Kayaking
Tubing
Camping
Campground
Picnicking
Cabin Rentals
Hiking
Cross-Country Skiing
Wildlife Viewing
National Forest
Museum
Fish species found at Beardsley Lake
Bass
Black Bass
Bluegill
Brown Trout
Catfish
Channel Catfish
Crappie
Rainbow Trout
Smallmouth Bass
Sunfish
Trout
---
Best hotels and vacation rentals at Beardsley Lake
The Beardsley Lake map shown above is a simple and stress-free way to search for trip accommodations. But if you want to take a deeper dive to find the ideal waterfront home, cabin, condo, hotel or resort, visit our favorite lodging partners by clicking the buttons below.
Note: These are affiliate links so we may earn a small commission if you book through them. While there is no extra cost to you, it helps provide resources to keep our site running (thank you)! You can read our full disclosure policy here.
---
Beardsley Lake photo gallery
New photos coming soon!
Beardsley Lake statistics & helpful links
We strive to keep the information on LakeLubbers as accurate as possible. However, if you've found something in this article that needs updating, we'd certainly love to hear from you! Please fill out our Content Correction form.
Advertise your Beardsley Lake vacation rental
LakeLubbers will soon offer homeowners and property managers the opportunity to to showcase their vacation rentals to the thousands of lake lovers searching our site daily for accommodations. If you'd like additional details, please contact our advertising team here.
Looking for the Beardsley Lake forum?
LakeLubbers previously offered visitors the ability to create accounts and participate in lake forums. When we overhauled the site's content management system in 2021 we had to disable those features. We're evaluating options and welcome your comments and feedback here.
We also encourage you to join our lake-lovin' community on Facebook and Instagram!
Spread the word! Share our Beardsley Lake article with your fellow Lake Lubbers!