Birch Lake, Alaska, USA
Lake Locations:
USA - West - Alaska - Interior -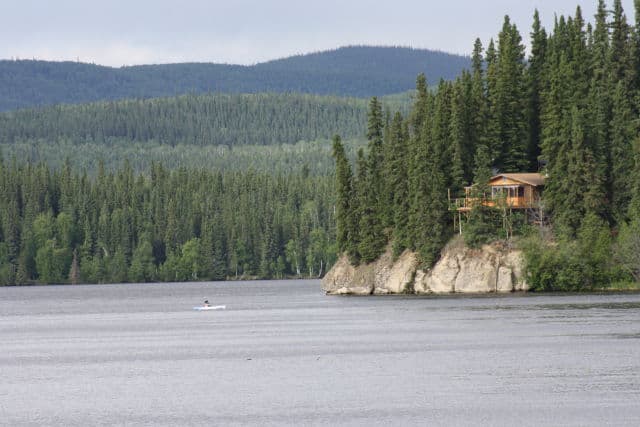 Birch Lake, along the Richardson Highway near Salcha in Alaska's Interior, is a fantastic fishing spot and very accessible. Tucked in among some of the Interior's most majestic mountains, Birch Lake is a great Alaska getaway.
Birch Lake is one of the four road-accessible lakes within a two hour drive of Fairbanks. The lakes, which include Harding Lake, Chena Lake, and Quartz Lake, are along an 80 mile stretch of the Richardson Highway that extends from Delta Junction to the town of North Pole. The highway was Alaska's first road and was used by gold seekers as early as 1898 to travel from Valdez to Eagle. By 1902 the Gold Rush expanded travel to Fairbanks, and by the early 1920's the Richardson Highway was improved to meet automobile standards. The road was further improved to a hard surface in 1957 and passes through one of Alaska's most accessible areas. The Trans-Alaska Pipeline which carries oil 800 miles from Prudhoe Bay to Port Valdez follows the highway, and there are formal viewing points near Birch Lake.
The road accessibility of Birch Lake in the Tanana River Drainage makes it a very easy place to fish. The lake was first stocked by the Alaska Department of Fish and Game in 1966 with rainbow trout. Since then the lake has been stocked with Coho (silver) salmon, grayling, and artic char. There are also chub, slimy sculpin, and Chinook or king salmon. In the spring the fishing from the shore of Birch Lake is exceptional, and in summer the boat fishing is better.
There are public boat launches on Birch Lake. The Birch Lake State Recreation Area has a boat launch along with a campground and campground host. There are lakeside picnic tables, fire pits, and restrooms. The Birch Lake Military Recreation Site, a USAF Recreation Camp, is on the same access road just beyond the State Recreation Area. Wildlife viewing is very good, and the moose are plentiful.
Birch Lake is very near a glaciated area and bordered to the south by the Alaska Range. With mountain peaks in excess of 11,000, 12,000, and even 13,000 feet, the Alaska Range is a beautiful backdrop to the lake, and there are ample recreation opportunities including "flight seeing" or sight seeing by plane and various winter sports. Mount McKinley, the highest mountain in North America, is in the Alaska Range.
Salcha is the town nearest Birch Lake, and it has shopping, restaurants and various accommodations. Birch Lake is also only about 50 miles from Fairbanks, however, so any amenities a visitor could want are within an easy drive. Fairbanks is the largest city in Alaska's Interior and the second largest city, behind Anchorage, in the state. Started as a Gold Rush camp, Fairbanks has a rich history and plenty of cultural opportunities to explore.
With its easy accessibility, fantastic fishing, and abundant wildlife, Birch Lake is a great Alaska getaway. Its proximity to the amenities and cultural opportunities of Fairbanks make it a good choice for the entire family. Set against the backdrop of the Alaska Range in Alaska's majestic Interior, Birch Lake and its neighboring lakes provide the quintessential Alaskan fishing experience.
Things to do at Birch Lake AK
Vacation Rentals
Fishing
Boating
Camping
Campground
Picnicking
Wildlife Viewing
Birding
Shopping
Fish species found at Birch Lake AK
Carp
Char
Chinook Salmon
Grayling
Rainbow Trout
Salmon
Sculpin
Trout
---
Birch Lake AK Photo Gallery
Birch Lake AK Statistics & Helpful Links
Spread the word! Share our Birch Lake AK article with your fellow Lake Lubbers!