Leigh Lake, Montana, USA
Welcome to the ultimate guide for history, statistics, local fun facts and the best things to do at Leigh Lake.
If you're considering Leigh Lake vacation rentals, we've made it super easy to explore accommodations and nearby hotels using the interactive map below. Simply click on a listing to compare similar properties, best rates and availability for your dates. Or keep scrolling to read our Leigh Lake guide!
Leigh Lake visitor and community guide
Often described as one of the world's most unique lakes, little Leigh Lake holds waters so clear that viewers feel as though they could reach down and touch the bottom many feet below. The lake, located in Montana's Glacier Country, is the largest in the Cabinet Mountains Wilderness Area portion of the Kootenai National Forest. Accessible by foot-trail only, the lake is a popular destination for hikers who can manage the mile-and-a-half uphill trail. Although there are almost no statistics available for Leigh Lake, it appears to have a surface area of around 200 acre, with the depth unknown.
Surrounded by towering peaks, the lake gains most of its water from precipitation, either directly or as snow melt from the mountains above it. At over 5,000 feet in elevation, the area gets large amounts of snow; the lake is the source of Leigh Creek, its main outflow. Although Blackwell Glacier lies on Snowshoe Peak above it, the pristine lake shows no sign of the milky blue hue from 'glacial flour' that comes from melting glaciers. The ice flows that often can still be seen floating in the lake as late as July may be the result of snowfalls in the form of small avalanches sliding down to the lake. The lake is stunningly beautiful as seen against the backdrop of Snowshoe Peak's rocky face, a reward over 2000 visitors a year are willing to make the trek for.
Nestled within the alpine setting of the protected wilderness area, there are no facilities or lodging at Leigh Lake. Primitive camping is allowed if kept at least 300 feet back from the shoreline. No motors of any kind are allowed on the trail leading to Leigh Lake, so very few canoes or inflatable rafts even make it to the water. The occasional brave fisherman will backpack with a float tube to try his luck, and there are reports of rainbow trout, bluegill and largemouth bass in the waters. No one has yet claimed the fishing to be good, nor would anglers expect it to be given the sparse weed cover. The only bottom structure visible are many fallen trees lying on the bottom. But fishing isn't why most hikers come to Leigh Lake; many come to scale Snowshoe Peak towering 3,000 feet above the lake. A trail near the lake outlet will lead hardy climbers to the summit and a view of Blackwell Glacier. The climb is far too strenuous for many who make it to the shoreline and they remain to camp overnight near the lake. Camping regulations can be obtained from the US Forest Service.
Located near the Idaho border, this area of the Kootenai National Forest receives more precipitation than others and is rich in plant life. Wildflowers scent the mountain air. When autumn arrives, usually in September at this altitude, the mountain maple, mountain ash, alders and larch paint the trees in brilliant scarlet, red, brown and golden yellow. A variety of wildlife inhabit the area, including mountain goats, mountain sheep, pika, bears, golden eagles, deer, elk, wolverine and many smaller mammals. Hikers often see mountain goats on the trail to Leigh Lake. One of the highlights of the trail is the waterfall along Leigh Creek which can be seen from the trail. The hike takes about three hours each way from the trailhead and is most accessible between May and October. Only the most intense winter sportsmen attempt the trail after the snow starts to fall. They often find the trailhead at Cherry Creek impossible to reach via car, so must snowshoe in to begin their hike. Some areas of the climb can be dangerous in winter, and only experienced climbers should attempt to reach Snowshoe Peak.
The Cabinet Mountains were named by French miners and trappers early in the exploration of the area, who thought that the towering peaks looked like cabinets. One of the reasons Leigh Lake is so popular is it is only about 13 miles from the town of Libby, Montana. The trail is more accessible than many others and closer to what many National Forest visitors choose as home base for their adventures. Libby is a former logging and mining town that has made the transition to tourism gracefully and with an eye toward the environment. An example is the annual Libby Logger Days Festival which celebrates Libby's past as a logging center with timber-related competitions, log-rolling, axe-wielding and tree-cutting demonstrations interspersed with educational exhibits on environmentally-sound forest management and ecology. The history of the Libby area remains alive at the Libby Heritage Museum where all sorts of artifacts, buildings and memorabilia are displayed to acquaint visitors with Libby's past.
Entertainment around Libby isn't limited to reliving the past. The annual Riverfront Blues Festival is a popular music festival that draws visitors from several states. A shuttle service carries campers to the festival location from campgrounds located nearby. This popular vacation destination is well-supplied with nearby guest ranches, cabins, bed & breakfasts and motels to suit every taste for lodgings. Cutthroat trout, rainbow trout and brook trout are found in many of the nearby lakes and streams. Some rivers are suitable for whitewater rafting, with guided rafting trips available locally. The Kootenai River flows through the heart of Libby, and fishing guides upstream near Libby Dam provide guided fishing trips to mountain streams and the the bigger river itself. Winter snow welcomes snowmobiles, cross-country skiers and winter hikers enjoying the extensive trail networks in the lower valleys.
Leigh Lake is located about 90 miles from Kalispell and only 200 miles from Missoula. This makes the Leigh Lake area highly attractive for a mountain cabin or a riverfront seasonal home. Although millions of acres of western Montana are in public hands, there is still real estate available to buy either in the form of existing homes or buildable lots. Riverfront lots are often found. And Leigh Lake is simply the icing on the cake of this beautiful area. One visit and your entire family will fall in love with the mountains, the streams and the scenic views.
*Acreage is estimated as official statistics aren't available.
Custom Leigh Lake house decor
Read our full review of these personalized lake house signs.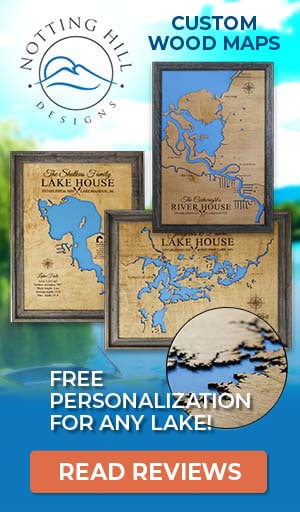 Things to do at Leigh Lake
Vacation Rentals
Fishing
Canoeing
Whitewater Rafting
Tubing
Camping
Campground
Cabin Rentals
Hiking
Cross-Country Skiing
Snowmobiling
Waterfall
Wildlife Viewing
Birding
National Forest
Museum
Fish species found at Leigh Lake
Bass
Black Bass
Bluegill
Brook Trout
Cutthroat Trout
Largemouth Bass
Rainbow Trout
Sunfish
Trout
---
Best hotels and vacation rentals at Leigh Lake
The Leigh Lake map shown above is a simple and stress-free way to search for trip accommodations. But if you want to take a deeper dive to find the ideal waterfront home, cabin, condo, hotel or resort, visit our favorite lodging partners by clicking the buttons below.
Note: These are affiliate links so we may earn a small commission if you book through them. While there is no extra cost to you, it helps provide resources to keep our site running (thank you)! You can read our full disclosure policy here.
---
Leigh Lake photo gallery
New photos coming soon!
Leigh Lake statistics & helpful links
We strive to keep the information on LakeLubbers as accurate as possible. However, if you've found something in this article that needs updating, we'd certainly love to hear from you! Please fill out our Content Correction form.
Advertise your Leigh Lake vacation rental
LakeLubbers will soon offer homeowners and property managers the opportunity to to showcase their vacation rentals to the thousands of lake lovers searching our site daily for accommodations. If you'd like additional details, please contact our advertising team here.
Looking for the Leigh Lake forum?
LakeLubbers previously offered visitors the ability to create accounts and participate in lake forums. When we overhauled the site's content management system in 2021 we had to disable those features. We're evaluating options and welcome your comments and feedback here.
We also encourage you to join our lake-lovin' community on Facebook and Instagram!
Spread the word! Share our Leigh Lake article with your fellow Lake Lubbers!