Big Pond, Massachusetts, USA
Lake Locations:
USA - New England - Massachusetts - Western -
Also known as:  Big Benton Pond, Great Lake, Lake Winiscutt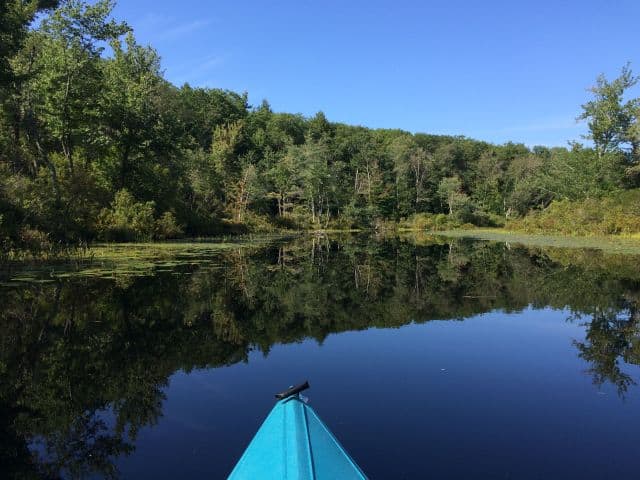 Big Pond in western Massachusetts has been known by many names, including Big Benton Pond, Great Lake, and even Lake Winiscutt. Regardless of its name, Big Pond is a beautiful fish-filled lake with more than enough water for both boaters and anglers. Just two and a half miles outside of Otis, Big Pond is in the heart of the Berkshires with easy access to everything the region has to offer. Concerts, galleries, and cultural opportunities meld with gently rolling hills, clear water,and the beautiful Massachusetts countryside to create a fantastic Berkshires destination.
Big Benton Pond covers 310 acres and has a maximum depth of 26 feet with an average depth of 15 feet. The lake is owned by the state of Massachusetts which also manages the dam at the southern end of the lake. Big Pond is quiet during the week, but it is a popular recreation lake; weekends bring boaters and visitors to paddle, swim, water ski and enjoy the lake's water. Public access to the lake is from a boat ramp managed by the Division of Forestsand Parks at the lake's southern-most cove. The ramp is suitable for launching small trailer boats, car top boats and canoes. Big Pond is a short drive from 1,085-acre Otis Reservoir which expands the area's boating opportunities.
The fishing alone is worth a trip to Big Pond. The Massachusetts Division of Fisheries and Wildlife stocks Big Pond every spring and most falls with rainbow trout, brook trout and brown trout. The lake has healthy populations brown bullhead, pumpkinseed, white perch, bluegill, largemouth bass and smallmouth bass. Anglers may have the best luck fishing for bass in the rocks or around the lake's many islands, the largest of which covers 12 acres. Fishing is a year round sport on Big Pond, and in the winter the ice fishing is very good with abundant populations of chain pickerel and yellow perch.
Most of the shoreline of Big Benton Pond is dotted with residential development and vacation rentals, and there is real estate available for sale both on the lake and in nearby Otis. The northern shore, however, is swampy and undeveloped and includes a 242-acre forested wetland. The Big Pond Association is a volunteer organization established to protect and preserve the shoreline and water quality around the lake.
Big Pond is in the Berkshires in western Massachusetts. Approximately two and a half hours from New York City and Boston, the Berkshires has been a vacation destination since the 1800's. Today it is perhaps best known for Tanglewood, the summer home of the Boston Symphony. The area is rich in culture with concerts, museums and live theater all summer long. The Berkshires is also a popular winter destination with snowmobile and cross country ski trails crossing the region and downhill ski slopes nearby. Add fall's rich harvest colors and the new flowers of spring, and a trip to the Berkshires and Big Pond can be a year round event. Big Benton Pond is a wonderful starting point for a Berkshires getaway.
Things to do at Big Pond
Vacation Rentals
Fishing
Ice Fishing
Boating
Swimming
Canoeing
Water Skiing
Hiking
Downhill Skiing
Snowmobiling
Wildlife Viewing
Museum
Fish species found at Big Pond
Bass
Black Bass
Bluegill
Brook Trout
Brown Bullhead
Brown Trout
Chain Pickerel
Largemouth Bass
Perch
Pickerel
Pike
Pumpkinseed
Rainbow Trout
Smallmouth Bass
Sunfish
Trout
White Perch
Yellow Perch
---
Big Pond Statistics & Helpful Links
Spread the word! Share our Big Pond article with your fellow Lake Lubbers!