Otis Reservoir, Massachusetts, USA
Lake Locations:
USA - New England - Massachusetts - Western -
Also known as:  Otis Lake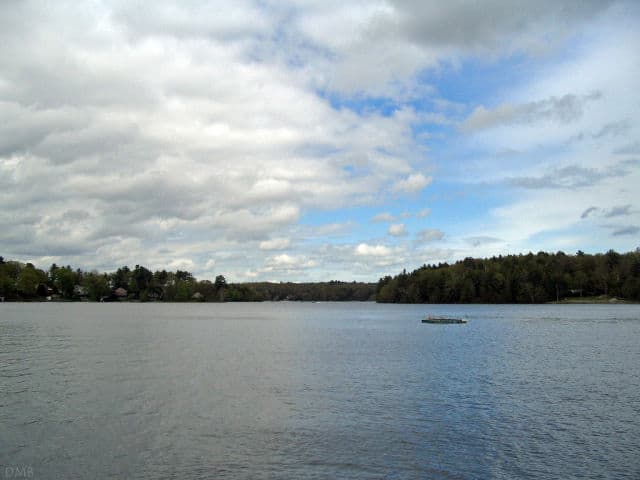 She sits by herself on the dock at Otis Reservoir; the coffee steaming in her mug mirrors the mist coming off the water of the lake. Her husband left at dawn in search of his own trophy largemouth bass. It will be hours before her children are awake, swimming and riding jet skis across the waters of Otis Reservoir. For now she has it all to herself, the day stretching in front of her with promise and potential. The Berkshires are famous for their museums, music and culture: she could go shopping and have lunch in one of the area's many restaurants or maybe golf or go horseback riding. The possibilities are almost endless, but perhaps the most attractive is spending the day right where she is, soaking up the sun and dangling her feet in the cool, clear water of Otis Reservoir.
In 1865, the Farmington River Power Company built a dam on the Fall River, a tributary of the Farmington River. The resulting reservoir was created to provide water storage to run the mills along the Farmington River. Otis Reservoir flooded three natural ponds: Rand Pond, Messenger Pond and Cotton Pond. Stretching three miles long, Otis Lake's 1,085 acres cover parts of Hampden and Berkshire counties in the Western region of Massachusetts.
Almost immediately after it was formed, cottages started to spring up on the shores of Otis Reservoir. Over the years, most of them have been replaced by larger lakefront homes, which can be second homes, permanent residences, or vacation rentals. There is real estate available for sale both on the lake and also in nearby Otis and Tolland.
In addition to the private residences, there are several public marinas and lakeside restaurants. About a quarter of the shoreline of Otis Reservoir is part of Tolland State Forest. The forest includes a campground and swimming area. Hunting in season includes deer, bear and turkeys. The state forest also maintains a boat launch that provides access to Otis Reservoir. There is more than enough water to boat, water ski, jet ski, sail or canoe and kayak.
The Massachusetts Division of Fisheries and Wildlife regularly stocks Otis Reservoir with trout. Anglers will find abundant populations of catfish, bluegill, and white and yellow perch along with lake trout and largemouth bass. In the winter, water in the reservoir is drawn down about eight feet to improve fish habitat and protect property owners' docks. The lake fills with snowmelt and water from underground springs and is usually full again by late spring.
Winter is also a fantastic time to explore the Berkshires. With snowmobiling and both cross-country and downhill skiing popular, it transforms into a snow-covered playground each winter. Just two and half hours from New York City and Boston, the Berkshires draw visitors from all over. The region is a cultural treasure, especially known for its music, dance, art and historical museums. The Hancock Shaker Village is a fantastic day trip from Otis Reservoir. In 1960, the Shakers sold the entire village to a group that established a non-profit organization. In 1961, it opened as a museum. Visitors today wander the grounds and explore the restored buildings and Shaker collection.
The rolling green hills of the Berkshires and the cool, clean water of Otis Reservoir combine for the perfect western Massachusetts getaway. Add the museums, music and cultural opportunities of the Berkshires and the boating, swimming fishing and waterskiing of Otis Reservoir and it becomes a destination for all seasons.
Things to do at Otis Reservoir
Vacation Rentals
Fishing
Boating
Sailing
Swimming
Canoeing
Kayaking
Jet Skiing
Water Skiing
Golf
Camping
Campground
Downhill Skiing
Snowmobiling
Horseback Riding
Hunting
Wildlife Viewing
Birding
State Forest
Museum
Playground
Shopping
Fish species found at Otis Reservoir
Bass
Black Bass
Bluegill
Catfish
Lake Trout
Largemouth Bass
Perch
Sunfish
Trout
Yellow Perch
---
Otis Reservoir Photo Gallery
Otis Reservoir Statistics & Helpful Links
At LakeLubbers.com, we strive to keep our information as accurate and up-to-date as possible, but if you've found something in this article that needs updating, we'd certainly love to hear from you!
Please let us know about it on our Content Correction form.
Spread the word! Share our Otis Reservoir article with your fellow Lake Lubbers!