Beaverdam Reservoir, Pennsylvania, USA
Lake Locations:
USA - Mid-Atlantic - Pennsylvania - Allegheny Mountains & Valleys -
Also known as:  Beaverdam Run Reservoir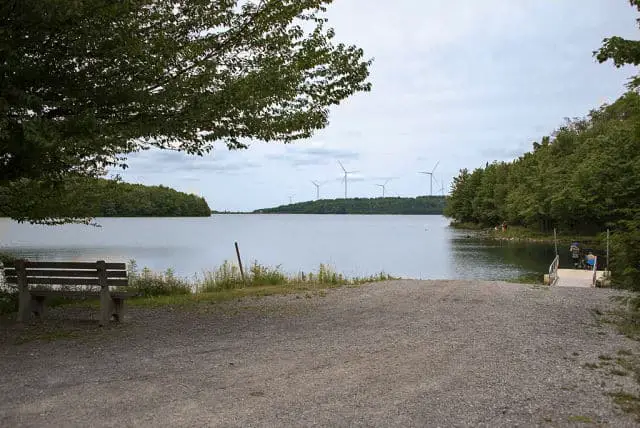 Tucked away in rural Cambria County, in Pennsylvania's Allegheny Mountains and Valleys region, Beaverdam Reservoir provides a welcome natural respite from busy urban life. Sometimes called Beaverdam Run Reservoir, this water supply impoundment offers quiet fishing and scenic days on the water. The silence stems from the fact that no gasoline motors are allowed on the reservoir, while a lack of campgrounds, beaches or shoreline development limits the number of visitors. Indeed, it is only in the last 20 years that there has been public access to the waters. The increasingly productive fishery is just now beginning to be recognized.
The 382-acre reservoir was created when the Beaverdam Run Creek was dammed in 1974 for water supply. For the first 25 years the owner, Highland Water & Sewer Company, kept the entire reservoir and surrounding portions of the watershed completely private to protect water quality. As Highland Water & Sewer Co. provides well over four million gallons of water every day to homes and businesses in the area, they felt that they needed to stick to their main business of providing a safe, clean water supply instead of providing public access and use. It wasn't until 1999 that a grassroots group of locals presented a proposal to Highland's management, offering to care for and maintain the watershed if Highlands would open some access to the lake. When Highlands management expressed interest, the group formed the Beaverdam Conservation Group and worked with Pennsylvania Game Commission to develop access under their regulatory umbrella, treating the surrounding watershed as public lands in the same manner as the neighboring State Game Area lands. A boat launch and parking area were developed on the southeastern corner of the reservoir, and rules controlling fishing and boating access were instituted. Beaverdam Reservoir was then opened to public use in 2000.
In an area of Pennsylvania with few natural lakes, lake fishing is almost a novelty. The Pennsylvania Fish & Boat Commission and state Game Commission patrol the area and assure adherence to rules meant to protect the water supply. In addition to the no gasoline motors rule, no sailboats or sailboards are permitted and no swimming allowed. No ice fishing is permitted in winter, and no camping or campfires are permitted. Fishing from shore is allowed but not permitted along the breastworks of the dam. Two restricted areas along the shore are off-limits to shoreline fishing. The now-public lands surrounding the reservoir are closed to dirt bikes and other motorized traffic, although cross-country skiing is permitted in winter. Numerous visitors arrive regularly to enjoy hiking, nature photography and birding. None of these amenities are of any cost to Highland's rate payers.
Because the waters of Beaverdam Run and nearby streams are naturally quite acidic, the reservoir wasn't originally very productive of aquatic vegetation and thus not optimal for fish breeding. Fishing groups in conjunction with Pennsylvania Fish & Game applied lime in certain areas to stimulate more aquatic cover for fish breeding and refuge. The lake is now noted for largemouth bass, trout, rock bass and bluegill, with northern pike, perch and crappies gaining a foothold. Efforts to stock lake trout haven't shown long-term success and are likely to be suspended. Careful monitoring will assure the fishery is kept in excellent condition for the enjoyment of all comers.
This scenic area of Cambria County is quite rural. A wind farm owned by Everpower operates Highland North Wind Farm, with a number of wind turbines near the north shoreline of Beaverdam Reservoir. The landscape is steep and mountainous, with valleys dotted by small two-story homes clinging to the sides of the slopes. This is historically coal country, only about 20 miles east of Johnstown. It is the perfect place to spend a week or so escaping from the city and enjoying nature at its most spectacular. Adjoining the public areas on the east side of Beaverdam Reservoir, several hundred acres of State Game Lands #26 allow for an uninterrupted area for hiking, cross-country skiing, nature observance, and hunting in season. Gallitzin State Forest continues the swathe of public land to the southwest, while Blue Knob State Park adjoins the Game Lands on the east side.
Blue Knob State Park is well-supplied with trails for hiking, mountain bike riding, horseback riding, and snowmobiling. Several camping areas host RVs and tents. Camping cabins and picnic shelters dot the park, and a swimming pool provides safe swimming to park visitors. The area around the park is relatively busy in winter as a well-known winter ski resort is located near here. Not far away a public ultralight airport offers facilities for the adventurous airborne to see the area from above. Blue Knob is located in Bedford County, itself a scenic destination. The covered bridge driving tour attracts many visitors each year, particularly in the fall when the leaves turn to awe-inspiring shades of gold, red and brown.
Although there are no lodgings on Beaverdam Reservoir, small inns and guest cottages dot the roads near the several small villages. Johnstown, Altoona and Bedford hold commercial hotels along the highways and more rustic Mom & Pop motels along the edges of town. Pennsylvania cooking is on display in the many small neighborhood cafes. Johnstown is the site of a couple of must-see locations such as the Heritage Discovery Center with exhibits highlighting the lives of the immigrants who arrived here near the end of the 19th century to work in the coal mines. The Johnstown Flood Museum is also an interesting history lesson, and the Johnstown Inclined Plane is a once-in-a-lifetime experience as you are transported over 800 feet up the mountain to view the city below.
The Beaverdam Reservoir area is a perfect focal point for a southern Pennsylvania vacation. Come and enjoy the solitude, the history and the good, old-fashioned cooking. The fish are biting!
Things to do at Beaverdam Reservoir
Vacation Rentals
Fishing
Ice Fishing
Boating
Sailing
Swimming Pool
Beach
Camping
Campground
Picnicking
Cabin Rentals
Hiking
Biking
Cross-Country Skiing
Snowmobiling
Horseback Riding
Hunting
Birding
State Park
State Forest
Museum
Fish species found at Beaverdam Reservoir
Bass
Black Bass
Bluegill
Crappie
Lake Trout
Largemouth Bass
Northern Pike
Perch
Pike
Sunfish
Trout
---
Beaverdam Reservoir Photo Gallery
Beaverdam Reservoir Statistics & Helpful Links
Spread the word! Share our Beaverdam Reservoir article with your fellow Lake Lubbers!