Barrett Lake, California, USA
Lake Locations:
USA - West - California - San Diego County -
Also known as:  Lake Barrett, Barrett Reservoir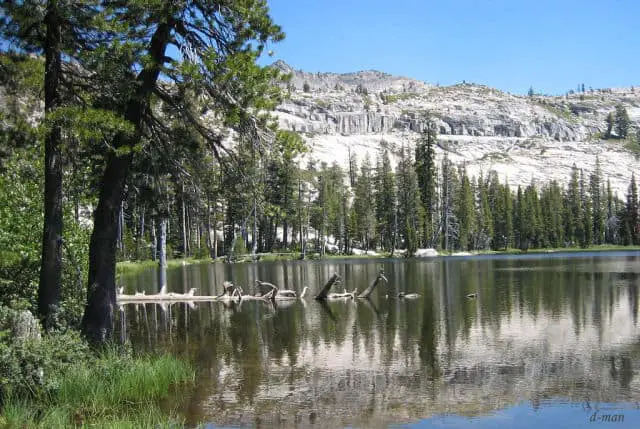 Tucked away in a solitary fishing hole, a fisherman casts and pulls in a trophy-sized Northern-strain large mouth bass. The opportunity to catch trophy fish is why anglers reserve their tickets months ahead for their chance to be one of the few allowed to access the lake
Barrett Lake, or Barrett Reservoir as it is also known, sits 35 miles east of San Diego, which owns and operates the lake. The reservoir is formed at the Barrett Dam, which is built at the junction of Cottonwood and Pine Valley Creeks. Completed in 1922, the dam and Barrett Reservoir's primary function is to store water for the domestic water supply. After completion of the dam, the lake was kept private and inaccessible by the public for 72 years.
In 1994, Barrett Lake was opened to the public on a very limited basis. Anglers wishing to fish the lake's secluded 811 acres must make reservations and buy tickets. Boats are provided by the City of San Diego Water Department, and there are no other boats allowed on the lake. The approach to Barrett Lake is through private land so tickets holders are escorted to the lake through two locked gates.
It is Barrett Lake's careful management that makes it worthy of tickets and reservations. The lake is quiet, secluded and full of fish. There are abundant populations of bluegill, small mouth bass, crappie and catfish. It is the large mouth bass, however, that are the most sought after. Almost all the largemouth bass in southern California are the Florida-strain; Barrett Reservoir is one of the only places with a healthy population of Northern-strain large mouth black bass. Catch and release fishing only is permitted; anglers must artificial lures and barb-less hooks, Water contact is prohibited and fishermen must wear hip boots or waders.
Hunters keep both eyes open for waterfowl and turkey at Barrett Lake. Hunting is either by reservation or mail-in lottery. Waterfowl season runs from mid-October through mid-January, and turkey season is from late March through early May. Hunters may use dogs for bird retrieval.
Barrett Lake lies within 460,000-acre Cleveland National Forest. Cleveland is the most southerly national forest in California and Barrett Lake is found it its southwestern corner. Part of the forest was created in February 1893 by President Harrison. In 1908, President Roosevelt added other parcels of land, and together they became the 1,904,826-acre Cleveland National Forest. Over 700,000 acres were returned to the public market in 1915, and in 1925 part of the forest was transferred to the San Bernardino National Forest, resulting in the forest as it exists today. There is plenty of room for hiking, wildlife viewing and lots of recreational opportunities. Due to its national forest location, a wealth of wildlife surrounds Barrett Lake. Deer, mountain lion, coyotes, osprey and golden eagles are often sighted here.
Barrett Lake itself has no private development or vacation properties for rent, but campgrounds in Cleveland National Forest allow for overnight visitors to the area. Nearby in the town of Alpine, there are hotels, restaurants and other amenities. Just 45 minutes away, San Diego has all the amenities of a large city, including shops, museums, and a world-famous zoo.
Barrett Lake's highly productive fishing and scenic seclusion make tickets to fish worth waiting for. Surrounded by Cleveland National Forest and conveniently close to San Diego services and amenities, a visit to Barrett Lake deserves a place near the top of your outdoor wish list. You wont be disappointed.
Things to do at Barrett Lake
Vacation Rentals
Fishing
Boating
Camping
Campground
Hiking
Hunting
Wildlife Viewing
Birding
National Forest
Museum
Fish species found at Barrett Lake
Bass
Black Bass
Bluegill
Catfish
Crappie
Largemouth Bass
Smallmouth Bass
Sunfish
---
Barrett Lake Photo Gallery
Barrett Lake Statistics & Helpful Links
Spread the word! Share our Barrett Lake article with your fellow Lake Lubbers!