Attersee, Austria
Also known as:  Lake Attersee, Kammersee, Lake Kammersee
Welcome to the ultimate guide for history, statistics, local fun facts and the best things to do at Attersee.
If you're considering Attersee vacation rentals, we've made it super easy to explore accommodations and nearby hotels using the interactive map below. Simply click on a listing to compare similar properties, best rates and availability for your dates. Or keep scrolling to read our Attersee guide!
Attersee visitor and community guide
For centuries the beauty of Austria's Attersee (see = lake) has been an inspiration to musicians, artists, poets, and authors. Nestled in the foothills of the Alps, Lake Attersee is Austria's largest inland lake, only a 30 minute drive east of Salzburg. Lake Attersee's crystal clear water runs for 12 miles spanning the boundaries of Upper Austria, Styria, and Salzburg Provinces. If you enjoy the outdoors, beautiful water, historic villages and scenic mountains, Attersee provides all the ingredients for your perfect family vacation.
Attersee, Wolfgangsee (or Abersee), Traunsee (or Gmundnersee), Mondsee and Halstattersee are only a sampling of the lakes carved into the Salzkammergut Lake District during Austria's last ice age. Lying near the southeastern end of Lake Attersee, Lake Mondsee is the source of Attersee's water. Water enthusiasts can start their outings here. Connecting the two lakes, two-mile long Seeache River provides class A and B rafting. The 276-foot average depth and 561-foot maximum depth keeps Lake Attersee water very cold, but it also rarely freezes. Moving along the depths and past scenic historic villages and hamlets, Attersee drains into the Ager River at the north end of the lake.
The Salzkammergut Lake District has an ancient history all due to salt. Now a UNESCO World Heritage Site, the Halstattersee community of Hallstatt is the site of the world's first known salt mine. Archeological evidence indicates that salt was mined by the Celts as early as 1000 BC with the region's first settlements built during the Iron Age (800-to-400 BC). Salt became such a prized commodity, that much of the area came under control of the government and was closed to visitors until the early 19th century.
Money to be made from salt brought wealth to Attersee and the Salzkammergut Lake District. Today, beautiful castles, chalets and country estates line the lake shores making a grand assortment of accommodations for visitors and residents. The alpine setting has been an inspiration to many. Austrian composer and conductor Gustav Mahler (1860-1911) worked on his symphonies within his "composing huts" at Attersee and surrounding lakes. Artist Gustav Klimt (1862-1918) captured countless lake scenes during his summer stays at Attersee. Today, visitors can follow the Artist Trail and view places and scenes Klimt captured on canvas. Born Christian Ludwig, contemporary pop artist Chrisitan Ludwig Attersee (1940- ) spent a good part of his youth sailing the waters of Attersee. He so loved the location that he added Attersee as a pseudonym to his name. Today Attersee's vacation rentals and real estate properties include charming Austrian holiday homes and villas, quaint guest houses, luxury hotels and beautifully landscaped hillside inns.
It is not just the scenery but the water that draws spring, summer and fall visitors to Lake Attersee. The surrounding mountains funnel a consistent breeze down the length of the lake, making Attersee one of Austria's best sailing lakes. Called the "Rosenwind" by locals, the winds once carried the scent of roses from the rose gardens of Kammer Palace at the north end of the lake. With or without the scent of roses, sailors gather at Attersee every May until September for the Austrian regattas.
If you are not on Lake Attersee to sail, then cast your line into the water for rainbow trout, brown trout, red trout, esox, lake char, carp, whitefish, burbot, European eel and cichlid. Fishing season runs from May 15 to November 20 and requires a fishing license easily purchased in the communities and quaint hamlets lining Attersee's 31-mile shore.
Topping off Attersee's water sports are windsurfing, scuba diving, waterskiing and swimming. The clear blue-green water is inviting but cold, so swimmers will find a selection of heated pools within lakeside communities and resorts.
When you are ready to get out of the water, don't forget to place Attersee sightseeing excursions at the top of your "don't miss list." For an enjoyable day trip, hike through Lake Attersee's historic communities and poke down intriguing little allies and side streets. An irresistible assortment of gift shops and fabulous Austrian cuisine makes each community a new adventure. The more ambitious visitor may leave the lake and begin to climb Hollengebirge Mountain's stark limestone cliffs for a magnificent view of Attersee and the Salzkammergut Lake District. If cruising sounds more your pace, several small cruise lines offer daytime, evening, children's and adventure tours of Attersee. Last, but certainly not least, are the 30 miles of bike paths circling Attersee's shores and countryside. Bicycle rentals are readily available, and if you are of a competitive nature, consider joining the annual Attersee Mountain Bike Trophy competition that takes mountain bikers to an elevation of 4,823 feet.
If your vision of Austria comes from the spectacular scenery in "The Sound of Music," then make the pleasant drive west of Attersee and tour the city of Salzburg where many of the scenes were shot. The arts have long been at the center of life in Salzburg. Its most famous native son is Wolfgang Amadeus Mozart (1756-1791) whose museum and family homes attract thousands of visitors each year. Since 1920 the Salzburg Festival draws some of the world's eminent musicians to concert halls through the city. The selection of exhibitions, galleries, theatre and dance performances make Salzburg the perfect place to immerse yourself in the culture of Austria.
Attersee is a popular destination for residents of Salzburg, Linz and Vienna but has a growing number of world visitors. At Attersee you can rise to the majesty of alpine mountains, sail the sparkling water, and escape to lakeside castles that capture the essence of Austria. The memory of a well spent vacation is forever, and it begins at Lake Attersee.
Custom Attersee house decor
Read our full review of these personalized lake house signs.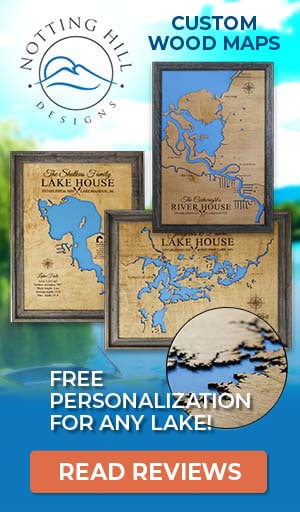 Things to do at Attersee
Vacation Rentals
Fishing
Sailing
Swimming
Water Skiing
Scuba Diving
Hiking
Biking
Museum
Fish species found at Attersee
Brown Trout
Burbot
Carp
Char
Eel
Rainbow Trout
Trout
Whitefish
---
Best hotels and vacation rentals at Attersee
The Attersee map shown above is a simple and stress-free way to search for trip accommodations. But if you want to take a deeper dive to find the ideal waterfront home, cabin, condo, hotel or resort, visit our favorite lodging partners by clicking the buttons below.
Note: These are affiliate links so we may earn a small commission if you book through them. While there is no extra cost to you, it helps provide resources to keep our site running (thank you)! You can read our full disclosure policy here.
---
Attersee photo gallery
New photos coming soon!
Attersee statistics & helpful links
We strive to keep the information on LakeLubbers as accurate as possible. However, if you've found something in this article that needs updating, we'd certainly love to hear from you! Please fill out our Content Correction form.
Advertise your Attersee vacation rental
LakeLubbers will soon offer homeowners and property managers the opportunity to to showcase their vacation rentals to the thousands of lake lovers searching our site daily for accommodations. If you'd like additional details, please contact our advertising team here.
Looking for the Attersee forum?
LakeLubbers previously offered visitors the ability to create accounts and participate in lake forums. When we overhauled the site's content management system in 2021 we had to disable those features. We're evaluating options and welcome your comments and feedback here.
We also encourage you to join our lake-lovin' community on Facebook and Instagram!
Spread the word! Share our Attersee article with your fellow Lake Lubbers!