Yellowstone Lake, Wyoming, USA
Lake Locations:
USA - West - Wyoming - Northwest -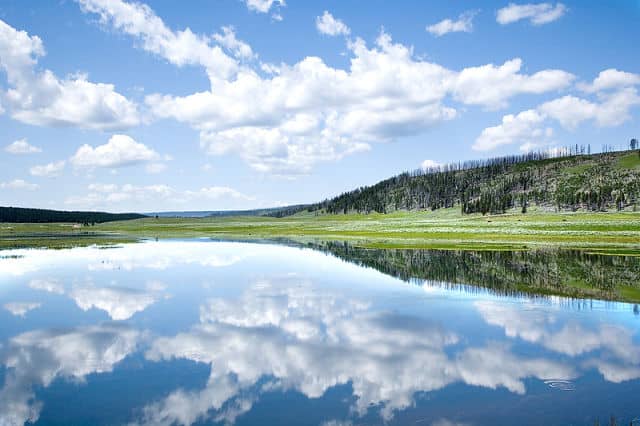 Yellowstone Lake is located in the southeast corner of Yellowstone National Park, Wyoming. The Park was established in 1872, making it the first national park in the world. Yellowstone is one of the most visited National Parks in the United States, and many visitors use the Lake as their 'base camp' for all of the wonders in the Park. Yellowstone Lake is particularly suited as a base camp, with over 110 miles of shoreline, hundreds of well developed campsites, and an area of over 87,000 acres. Yellowstone Lake is a utopia for the 3 million visitors that seek out its recreational opportunities. Being nestled in the Park, the recreational activities include fishing, wildlife viewing, hiking, camping and visiting a multitude of Yellowstone's scenic wonders. With Geyser Basin (approximately 300 active geysers), Grand Canyon of the Yellowstone, Old Faithful and a wide variety of wildlife nearby, Yellowstone Lake is an ideal location from which to head out for a day's sightseeing and play.
Yellowstone Lake is a natural lake, managed by the National Park Service. Its maximum and minimum surface levels vary by no more than six feet. It is the home territory for many fish species, mammals and birds. Boating is mostly for scenic enjoyment and fishing, with two launch sites at Bridge Bay and Grant Village right on the lake. No water skiing, wake boarding, jet skiing and the like are allowed. Yellowstone Lake is fed by over a hundred tributaries, and its outlet is the Yellowstone River.
Superb fishing is a major enjoyment on the gorgeous waters of Yellowstone Lake. Bridge Bay, a fully stocked marina, has supplies, boat rentals and tours. Cutthroat, brown, rainbow, brook and lake trout are eagerly sought by most anglers and are found in the most likely spots. Check with a ranger station for fishing regulations. In 2006, over 50,000 fishing licenses were issued. No state license is required, but a Park fishing license is.
Developed camping is available from both the Park Service and concessionaires with campsites numbering in the hundreds found around Yellowstone Lake. There are even some sites on one of the islands (Frank Island). The camping possibilities are endless and memorable, providing great sites for wildlife viewing. Just some of the more significant animals to be watched are bison, elk, grizzly and black bear, moose, wolves and mule deer. Bald eagles and osprey top the list of hundreds of bird species. This is a veritable wonderland for wildlife viewing. Alas, for geocachers, there are no caches, since this is a National Park.
Hiking is mostly for backcountry hikers, since much of Yellowstone's trails are in managed wilderness. Hikers should follow the Park's backcountry guidelines to be safe from hiking dangers, including remote thermal areas, changing weather conditions, unpredictable wildlife, cold water lakes, and turbulent streams.
Yellowstone Lake is a spectacular setting in which to enjoy all of the wealth of outdoor activities. A trip to the lake and National Park will provide a multitude of treasured memories.
Things to do at Yellowstone Lake
Vacation Rentals
Fishing
Boating
Jet Skiing
Water Skiing
Wakeboarding
Camping
Hiking
Wildlife Viewing
Birding
National Park
Fish species found at Yellowstone Lake
---
Yellowstone Lake Photo Gallery
Yellowstone Lake Statistics & Helpful Links
Spread the word! Share our Yellowstone Lake article with your fellow Lake Lubbers!