Xuan Huong Lake, Vietnam
Also known as:  Grand Lake
Welcome to the ultimate guide for history, statistics, local fun facts and the best things to do at Xuan Huong Lake.
If you're considering Xuan Huong Lake vacation rentals, we've made it super easy to explore accommodations and nearby hotels using the interactive map below. Simply click on a listing to compare similar properties, best rates and availability for your dates. Or keep scrolling to read our Xuan Huong Lake guide!
Xuan Huong Lake visitor and community guide
Nestled in the South Central Highlands of Vietnam, Xuan Huong Lake is just beginning to be known as a tourism location to most of the world. Called Grand Lac by the French Colonial overseers of the area, Xuan Huong Lake was created originally by the placement of two dams across a branch of the Cam Ly River. The two dams, constructed in 1919 and 1923, created two small lakes. A major storm destroyed both dams in 1932, and the current lake was created by building a single dam downstream. Located at 4,851 feet above sea-level, the larger lake was renamed Xuan Huong Lake in 1954 in honor of a famous 19th century Vietnamese poetess. Formerly home to many indigenous peoples of the Lat minority, today the lake forms the centerpiece of the city of Da Lat.
Xuan Huong Lake is tranquil, its glass-like surface reflecting the pines and greenery along the shoreline. A five-mile pathway around the lake provides for scenic walks among the gardens and parks. The year-round climate is temperate and offers a refreshing change from the humid coastal areas. A number of tourist-attracting features add a quaint atmosphere of early French holiday destinations. Swan-shaped pedal boats and small rowboats can be rented at the shore for paddling the 79-acre lake. Many small shops and cafes catering to visitors can be found around the lake's perimeter. Old holiday villas can be seen in the hills around the lake. The province of Lamdong holds many cultural events on Xuan Huong Lake, and national cycling race routes sometimes circle the waters.
Da Lat is less sophisticated than many world travelers expect. Many of the buildings are quite old in the Art deco style and sometimes in poor condition. Likewise, descriptions of the lake often serve to confuse. Some tourism reports state that the lake has over 1,200 surface acres, but the actual size appears to be between 60-100 acres with a three-mile shoreline. The French began to develop the Da Lat area around 1900 as a retreat from the steaming coastal areas, although their full plans never came to fruition. Europe's wealthy world traveling class often came to Da Lat early in the 20th century to stay in the many resort hotels and guest houses in the area. At least one large palatial hotel built during the French heyday still exists to welcome visitors.
Da Lat holds several old temples and a well-attended marketplace where a stunning variety of local fruits, vegetables and flowers can be purchased, along with a large number of cheaper souvenir trinkets and locally produced goods. The city has a well-respected 18-hole golf course originally designed for Emperor Bao Dai. One of the most curious of buildings in Da Lat is Hang Nga Guesthouse, more widely known as the "Crazy House", a fanciful guest house created by a well-known female Vietnamese architect. Found in many Vietnam tourism guidebooks, the "Crazy House" still rents 10 rooms decorated in fanciful, natural style.
Known as the Gateway to the Central Highlands, the area around Da Lat and Xuan Huong Lake provides a perfect agricultural climate for vegetables such as cauliflower and cabbages along with extensive flower gardens. Three large ornamental gardens open to the public are located along Xuan Huong Lake. Complete with walking paths and scenic overlooks, the parks are popular spots for walking and cycling. The gardens have a reputation as a location for romance, with strolling couples and the lovelorn sharing the pathways. Da Lat is a noted honeymoon location; several guest houses of varying opulence and in a wide price range are found in the area. The city is low-key, with few night spots staying open late.
Those with a desire to experience the misty valleys of the Central Highlands will find the surrounding hills scenic and filled with pathways. Non-walkers may enjoy a trip on the scenic Da Lat-Thap Cham Railway, a 4.3-mile restored portion of a formerly busy local railway. The original railway suffered little damage during the Vietnam War but after being occupied by North Vietnam, the railroad was cannibalized for parts to repair the more commercial, heavily damaged North-South Railway. The tour to Trui Mat Village leaves from the historic railway station in Da Lat. Da Lat escaped most of the ravages of war in the past century, sustaining damage only during the Tet Offensive. The older French buildings thus remain intact as do most area geological features. Plans are in the works to restore more of the former local railway in the future.
Several tours featuring portions of the notorious Ho Chi Minh Trail travel through the area, often with an overnight stop at Da Lat. Beside the usual tour bus travel, physically fit visitors can take advantage of guided cycling tours of several days' duration. One tour popular with history buffs interested in the areas torn by war is the Ho Chi Minh Trail by Motorbike Tour of two weeks' duration. This tour is not for the faint of heart and best suited to those familiar with motorbike riding, as portions of the original muddy trail are utilized as shortcuts. Many tours can be customized to meet particular needs, and both bicycles and motorbikes can be rented in the larger cities.
For those familiar only with the larger cities of Vietnam such as Ho Chi Minh City, Da Lat and Xuan Huong Lake will be a complete change of pace. Come to where the Vietnamese people honeymoon and vacation for your next holiday. Relax and enjoy the cooling mountain breezes and misty mornings near the scenic lake. It will change your view of Vietnam forever.
*Statistical references differ considerably in the size of the lake. We have used the official figures from Lamdong Province.
Custom Xuan Huong Lake house decor
Read our full review of these personalized lake house signs.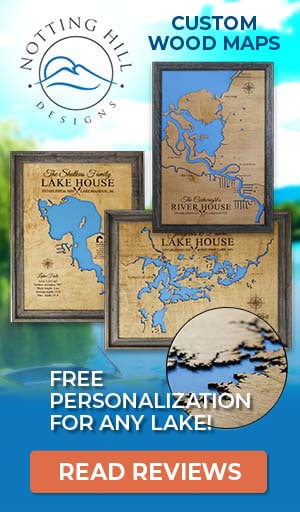 Things to do at Xuan Huong Lake
Vacation Rentals
Boating
Canoeing
Kayaking
Golf
Hiking
Biking
---
Best hotels and vacation rentals at Xuan Huong Lake
The Xuan Huong Lake map shown above is a simple and stress-free way to search for trip accommodations. But if you want to take a deeper dive to find the ideal waterfront home, cabin, condo, hotel or resort, visit our favorite lodging partners by clicking the buttons below.
Note: These are affiliate links so we may earn a small commission if you book through them. While there is no extra cost to you, it helps provide resources to keep our site running (thank you)! You can read our full disclosure policy here.
---
Xuan Huong Lake photo gallery
New photos coming soon!
Xuan Huong Lake statistics & helpful links
We strive to keep the information on LakeLubbers as accurate as possible. However, if you've found something in this article that needs updating, we'd certainly love to hear from you! Please fill out our Content Correction form.
Advertise your Xuan Huong Lake vacation rental
LakeLubbers will soon offer homeowners and property managers the opportunity to to showcase their vacation rentals to the thousands of lake lovers searching our site daily for accommodations. If you'd like additional details, please contact our advertising team here.
Looking for the Xuan Huong Lake forum?
LakeLubbers previously offered visitors the ability to create accounts and participate in lake forums. When we overhauled the site's content management system in 2021 we had to disable those features. We're evaluating options and welcome your comments and feedback here.
We also encourage you to join our lake-lovin' community on Facebook and Instagram!
Spread the word! Share our Xuan Huong Lake article with your fellow Lake Lubbers!