Lak Lake, Vietnam
Also known as:  Ho Lak
Welcome to the ultimate guide for history, statistics, local fun facts and the best things to do at Lak Lake.
If you're considering Lak Lake vacation rentals, we've made it super easy to explore accommodations and nearby hotels using the interactive map below. Simply click on a listing to compare similar properties, best rates and availability for your dates. Or keep scrolling to read our Lak Lake guide!
Lak Lake visitor and community guide
One of the few places in the world where visitors can meet the elusive M'nong people of Vietnam is beautiful Lak Lake. Here in the Central Highlands, several minority ethnic groups collectively called Montagnards practice their traditional way of life along the changing shores of the country's second largest natural lake. The shoreline changes as the lake expands to over 1,730 acres during the rainy season. During the dry period, the lake shrinks to around 1,000 acres, leaving the exposed wet areas to be planted in rice. Worked with water buffalo, the rice paddies provide picture-book scenery against green and forested mountains. Sunrise and sunset across Lak Lake are delightful, and many visitors come here just for the photographic possibilities. The lake has always had a reputation for beauty. The last feudal emperor, King Bao Dai, built a palace overlooking the lake which he used for hunting and training military elephants. Sadly, the palace no longer exists.
Lak means lake in the M'nong language. Although the alternative name is Ho Lak, most tourism websites refer to the water body as Lak Lake. The lake drains north into the Krong Ana River. During the dry season, Lak Lake averages less than six feet in depth. Lotus and water lilies rim the shore. The local people depend on Ho Lak's waters for fish to supplement their diet. About 150 tons of small fish are caught each year, mostly netted by native fishermen from small dug-out canoes. Visitors looking for more authentic adventure come for canoe rides in the dugouts made from a single hollowed-out log and for elephant rides across the lake in the dry season. From their high perch atop the backs of the elephants, riders remain dry and can view the surprisingly unafraid fish swimming in the water.
Two ethnic villages are located on the shoreline of Ho Lak. In Jun Village, the native people live in longhouses, containing several related families. Often these longhouses are on stilts to remain above high water in the rainy season. Although there are a couple of more modern lodgings along the lake, reviews run the gamut in terms of their quality. Many visitors arrange with their tour groups to enjoy a 'homestay' in one of the longhouses where they will take part in family meals and possibly witness a traditional evening gong performance. Authentic souvenirs of the local peoples can be purchased here. M'nong crafts include cotton weaving, mostly by women. Men weave basketry of bamboo and rattan. A matriarchal society, newlyweds live with the wife's family.
Many of the tours arrange for boat passage across the lake to visit the small National Forest Reserve of Lak Lake on the north shore. This area experienced heaving fighting during the Vietnam War and much deforestation during French Colonial occupation for agriculture, so the remaining stands of natural forest have been placed under protection as reserves. Although this mountainous area has been little surveyed, at least three new mammal species have been discovered in the Central Highlands in the past few years. Statistics show at least 61 animal species, 132 bird species, 548 plant types and 43 kinds of amphibians and reptiles in the region, many found nowhere else. Some of the men in the local community pride themselves on their ability to capture and train young elephants for the purpose of providing elephant rides across the lake.
Settlement around Ho Lak appears very different than more populous cities with major influence from Western civilization. Here things are done the way they have been done for untold generations. Although the M'nong and other Montagnards are considered mountain dwellers, as the name Montagnard signifies, their entire culture is tightly tied to water. Many of their ceremonies and stories invoke rivers and lakes. According to M'nong legend, the God of Water and the God of Fire engaged in a heated battle. The battle was won by the God of Fire, who immediately caused a drought. A young man, child of a local M'nong woman and the God of Fire, went looking for water for his people. During his quest, he found and saved a small eel from dying for lack of water. As a reward, the eel led him to Ho Lak where his people could settle and thrive.
Vietnam's Central Highlands have often been the battleground for war. The central plateau borders both Cambodia and Laos. The M'nong and other Montagnard tribes are Vietnamese citizens but not ethnic Vietnamese. They have suffered persecution by both South Vietnam and unified Vietnam. Forced colonization of their lands, to which they had no legal title until recently, has brought in many ethnic Vietnamese, called Kinh, to clear forests for coffee plantations and the current planned agricultural economy. Once the dominant culture, the M'nong are now reduced to about 15% of the local population of Dak Lak Province. Even their traditional wooden longhouses are under threat as government factions feel they use too much wood-wood that could be harvested and sold. Although efforts are underway to protect their cultural and human rights and secure valid modern title to their lands, the M'nong and other Montagnard tribes are endangered as they resist modernizing influences and the demands of Communism. Tourism is one of the few ways in which their way of traditional life can be supported and strengthened.
Many types of tours come to Ho Lak (usually referred to in their brochures as Lak Lake). Ho Lak can be reached by tour bus in about an hour from Buon Ma Thuot, capital of Dak Lak Province. Buon Ma Thuot is a much bigger city and has other forms of lodgings. Many tourists choose to visit Ho Lak for the day and return to Buon Ma Thuot at night. A number of bicycling tour organizations plan Ho Lak as a featured stop on their tours as do the popular motorbike tours. There is little information on camping facilities publicly available, but several tour companies organize camping trips and treks into the Forest Reserves. Many of the tours leave from Da Lat a few hours to the south.
Unified Vietnam is relatively new to the tourism trade, and the government has yet to set up organized lodgings and tourist information. However, travel agents usually can find the most complete information and arrange the most suitable lodgings. So whether you choose a luxury hotel for your slumber or allow your adventurous nature to enjoy a homestay in a longhouse, Lak Lake has a variety of possibilities. Come to meet the M'nong before they exist in their traditional lifestyle no more.
*Few statistics are available for this lake.
Custom Lak Lake house decor
Read our full review of these personalized lake house signs.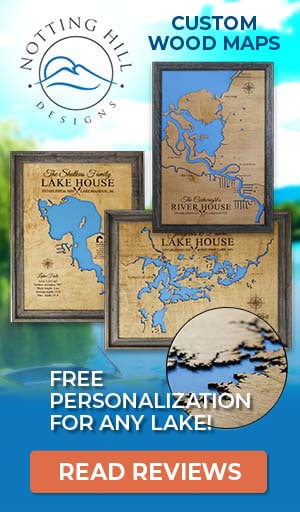 Things to do at Lak Lake
Vacation Rentals
Fishing
Boating
Swimming
Canoeing
Camping
Biking
Hunting
National Forest
Fish species found at Lak Lake
---
Best hotels and vacation rentals at Lak Lake
The Lak Lake map shown above is a simple and stress-free way to search for trip accommodations. But if you want to take a deeper dive to find the ideal waterfront home, cabin, condo, hotel or resort, visit our favorite lodging partners by clicking the buttons below.
Note: These are affiliate links so we may earn a small commission if you book through them. While there is no extra cost to you, it helps provide resources to keep our site running (thank you)! You can read our full disclosure policy here.
---
Lak Lake photo gallery
New photos coming soon!
Lak Lake statistics & helpful links
We strive to keep the information on LakeLubbers as accurate as possible. However, if you've found something in this article that needs updating, we'd certainly love to hear from you! Please fill out our Content Correction form.
Advertise your Lak Lake vacation rental
LakeLubbers will soon offer homeowners and property managers the opportunity to to showcase their vacation rentals to the thousands of lake lovers searching our site daily for accommodations. If you'd like additional details, please contact our advertising team here.
Looking for the Lak Lake forum?
LakeLubbers previously offered visitors the ability to create accounts and participate in lake forums. When we overhauled the site's content management system in 2021 we had to disable those features. We're evaluating options and welcome your comments and feedback here.
We also encourage you to join our lake-lovin' community on Facebook and Instagram!
Spread the word! Share our Lak Lake article with your fellow Lake Lubbers!