Tonle Sap, Cambodia
Also known as:  Great Lake, Tonle Sap Lake
Welcome to the ultimate guide for history, statistics, local fun facts and the best things to do at Tonle Sap.
If you're considering Tonle Sap vacation rentals, we've made it super easy to explore accommodations and nearby hotels using the interactive map below. Simply click on a listing to compare similar properties, best rates and availability for your dates. Or keep scrolling to read our Tonle Sap guide!
Tonle Sap visitor and community guide
The largest freshwater lake in Southeast Asia, Tonle Sap is far more than 'just a lake'. It is the lifeblood of northwestern Cambodia and an ecological treasure revered by environmentalists. The name Tonle Sap means 'large freshwater river', an apt description.
During the dry season, Tonle Sap is a modest 1,050 square miles of shallow water about four feet deep. The Tonle Sap River fills a shallow basin before heading downstream to join the Mekong River and eventually drain to the Mekong Delta and the sea. During the heaviest part of the monsoon season, the lake swells to cover over 6,175 square miles 30 feet in depth. The lake floods fields and forests when the river's flow reverses. The Mekong River, swollen by snow melt from the Himalaya Mountains and heavy monsoon rains, forces water back upriver and onto the floodplain. The annual flooding has continued for thousands of years, giving rise to a diverse and prolific ecosystem that supports about 200 species of birds, 149 species of breeding fish and well over a million people.
When the Tonle Sap floods the forests and fields of the floodplain, excellent conditions for spawning fish and feeding birds and mammals are created. The native people, mostly Khmer and Vietnamese, have created a subsistence economy based around the lake's bounty. Nearly 70% of the native diet consists of fish. The rest is primarily rice cultivated on the flood plain during the dry season. Villages built on floating platforms or stilts serve to keep the locals near their food sources and their fishing. The lake has long been known as habitat to the Mekong Catfish reaching eight feet long and over 600 pounds-often called the world's largest freshwater fish. The area holds a variety of reptiles, including nearly-extinct Siamese Crocodiles and the world's largest variety of freshwater snakes. Some of the endangered and threatened bird species found here are the Manchurian reed warbler, grey-headed fish eagle, spot-billed pelican, Bengal florican and greater adjutant.
Although the water quality doesn't show signs of serious threat, fish stocks have declined. The Mekong Catfish has declined 95% from its former numbers in the mid-70s. Overfishing may be partially to blame, and speculation gives voice to a fear that dams built upstream on the Tonle Sap and the Mekong have reduced the spawning migrations of the giant catfish. In 2001, the entire lake and surrounding provinces were decreed the Tonle Sap Biosphere Reserve. Fishing seasons and regulation have been instituted, and the Mekong catfish is no longer allowed to be caught except for biological study purposes. The provinces of Battambang, Kampong Thom, Preah Vihear, Banteay Meanchey, Otdar Meanchey, Siem Reap, Pailin, Pursat and Kampong Chhnang are now closed to fishing during the fish spawning season. All areas within the Reserve have worked to prevent bird and mammal poaching of the threatened species. Several areas have been set aside as bird sanctuaries and wildlife reserves, including the Preak Toal Bird Sanctuary protecting the large colonies of birds on the Tonle Sap itself. International groups have worked to assist the already impoverished local populations to replace lost income through marketing native crafts and guiding 'eco-tours' and to enlist them in the effort to preserve their local biodiversity.
Tourism is becoming a larger part of the local economy as visitors flock to take boat tours on the lake. Boat tours visit floating villages such as Chong Khneas near the town of Siem-Reap where residents' homes, schools and markets are all built on floating platforms. Villagers wait eagerly with boats to take willing tourists for a cruise on the lake and often offer items for sale such as food or trinkets, along with a universal plea for 'donations' to a school, local charity or other cause. Because these activities are not regulated or controlled, most knowledgeable travelers suggest hiring an experienced and licensed tour guide to handle setting up and leading tours. One large tour boat offers luxury cruises serving three-course meals. The nearby town of Siem-Reap is an excellent modern small city to serve as a home base for sightseeing in the area. Several modern hotels are available along with local offerings of somewhat questionable credibility. Again, an experienced tourist agency may be the best bet for setting up tours and lodgings.
Siem-Reap is served by an airport and is less than 10 miles from Tonle Sap. Other attractions in the area include the ancient palaces at Angkor Archeological Park only about three-and-a-half miles from the center of the city. The extensive site can actually take several days to fully explore and is decorated with amazing carvings and depictions of Hindu gods. The entire site covers over 150 square miles and is still in the process of being recovered from the surrounding forest and overgrowth. Contained within the park are temples built when various areas served as the capitals of several Khmer regimes and includes the well-known Angkor Wat.
Only 30 miles from Siem-Reap, Kulen Mountain National Park is the site of an isolated mountain considered the birthplace of the Khmer Empire. Graced with statuary, temples and carvings located on the bed of a sacred pool, the park is a favored local destination for picnics and walking tours. Native animals that may be seen in the park include leopard, tiger, Asian elephant, rhinoceros, monkey and deer. Many other temples can be visited in the area, and bus transportation is available.
Not far from Seim-Reap, the Ang Trapeng Thmor Sarus Crane Reserve serves as habitat for the increasingly rare sarus crane. A few companies now offer eco-tourism trips featuring selected native homestays, local food offerings, handicrafts and forays onto Tonle Sap to visit the bird breeding areas and examine interesting native flora. Cambodia is the lifetime adventure you dreamed of-exotic, historic and singularly unique in both culture and surroundings. Come and taste life on the Tonle Sap and marvel at hundreds of years of human acclimation to nature's patterns. See why local Cambodians call Tonle Sap the 'Great Lake'. You'll fill memory books that will enrich the family library for years to come.
Custom Tonle Sap house decor
Read our full review of these personalized lake house signs.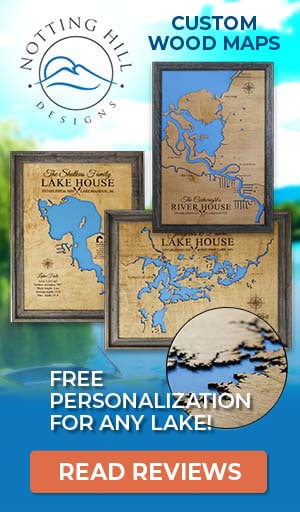 Things to do at Tonle Sap
Vacation Rentals
Fishing
Boating
Picnicking
Wildlife Viewing
Birding
National Park
Fish species found at Tonle Sap
---
Best hotels and vacation rentals at Tonle Sap
The Tonle Sap map shown above is a simple and stress-free way to search for trip accommodations. But if you want to take a deeper dive to find the ideal waterfront home, cabin, condo, hotel or resort, visit our favorite lodging partners by clicking the buttons below.
Note: These are affiliate links so we may earn a small commission if you book through them. While there is no extra cost to you, it helps provide resources to keep our site running (thank you)! You can read our full disclosure policy here.
---
Tonle Sap photo gallery
New photos coming soon!
Tonle Sap statistics & helpful links
We strive to keep the information on LakeLubbers as accurate as possible. However, if you've found something in this article that needs updating, we'd certainly love to hear from you! Please fill out our Content Correction form.
Advertise your Tonle Sap vacation rental
LakeLubbers will soon offer homeowners and property managers the opportunity to to showcase their vacation rentals to the thousands of lake lovers searching our site daily for accommodations. If you'd like additional details, please contact our advertising team here.
Looking for the Tonle Sap forum?
LakeLubbers previously offered visitors the ability to create accounts and participate in lake forums. When we overhauled the site's content management system in 2021 we had to disable those features. We're evaluating options and welcome your comments and feedback here.
We also encourage you to join our lake-lovin' community on Facebook and Instagram!
Spread the word! Share our Tonle Sap article with your fellow Lake Lubbers!