Wular Lake, Jammu and Kashmir, India
Also known as:  Wullar Lake
Welcome to the ultimate guide for history, statistics, local fun facts and the best things to do at Wular Lake.
If you're considering Wular Lake vacation rentals, we've made it super easy to explore accommodations and nearby hotels using the interactive map below. Simply click on a listing to compare similar properties, best rates and availability for your dates. Or keep scrolling to read our Wular Lake guide!
Wular Lake visitor and community guide
Wular Lake, located in the Jammu and Kashmir region of northern India, is something of a mystery. The name Wular is believed to be a corruption of the Sanskrit word Ullola, meaning turbulent. Formed by tectonic activity, Wular Lake is one of the largest freshwater lakes in Asia. The exact size is unrecorded as the lake varies in size between 12 square miles (7,680 acres) and 100 square miles (64,000 acres), depending on the season. Wular Lake acts as a natural flood reservoir for the River Jhelum and several smaller rivers that flow through this part of the Indus Valley.
Most of Wular Lake is extremely shallow, and the deepest portions are about 20 feet deep. The lake is surrounded by important wetlands which are continually being drained to provide small farm plots by local residents. The Indian government estimates that between 8,000 and 10,000 fishermen earn their living from fish caught on Wular Lake, providing 60% of the entire fish yield of Kashmir. Fish caught include several species of carp, catfish, loaches, sheatfish, killifish, salmon and trout. Kashmir residents grow water chestnuts on the swampy shores both for food and export. As farming pressures have grown, the lake has become increasingly silted. Records show that Wular Lake has lost half of its size in the last hundred years.
The small town of Ningal Nullah acts as the tourism hub for Wular Lake. Here, visitors can rent sailboats, doongas (the un-ornamented floating living quarters for fishermen), and houseboats. The three main anchor destinations are at Ningal Nullah, Kiuhnus Bay, and Ajus Spur on the south east side. Would-be boaters are warned that, although the shallow lake appears calm, fierce winds are known to appear quite suddenly. These storms have claimed victims in the past; the deepest part of the lake is known as Mota Khon, the 'Gulf of Corpses.' Locals with small boats ordinarily cross the lake in the early morning to avoid storms. Those unsure of their skill are advised to hire a cruise from an experienced tour guide. An artificial island was constructed on the lake hundreds of years ago. Zaina Lanka was built by King Zain-ul-abidin in the 15th century for sailors to find shelter from unexpected storms. Ruins from those ancient times still exist here. Due to silting, the island is currently reported to be connected to the southern shore.
Interesting sights are plentiful around Wular Lake. Sopor (also spelled Sopur) near Ningal Nullah at the southern end of the lake is a larger city in an area known for growing apples and walnuts. Sopor offers a marketplace and many small local shops that will fascinate the visitor. Bandipur on the eastern shore is an important market town known for its fine woven blankets and woolen carpets. Ornithologists often visit this lake and the nearby Nal Sarovar Bird Sanctuary. Birds such as Himalayan golden eagle, short-toed eagle, Himalayan pied woodpecker, eared kite, sparrow hawk, blue rock pigeon, alpine swift, cuckoo, Kashmir roller and golden oriole can often be seen here. As the wetlands surrounding Wular Lake have increasingly gained the attention of environmentalists, efforts have begun to recover much of the former wetland area and increase eco-tourism.
Viewing parks with many flowers and gazebos have been established along the Wular Lake shoreline to encourage visitors to enjoy lake views. One such garden has been developed on Manasbal-Bandipora road where visitors may stroll among fountains and plantings overlooking the lake with the Himalayas in the background, and dine in the newly-opened cafeteria. Several camping areas are set aside where trekking visitors may camp. The nearby mountain ranges attract many more adventurous visitors for mountain skiing, hiking and climbing. The surrounding countryside is well-supplied with picturesque shrines, temples, and ruins, many of which can be reached by bicycle.
Because tourist rentals are limited at Wular Lake, it is common for visitors to stay at Srinagar, a major tourism city 40 miles up the River Jhelum. Here, visitors can take their holiday on one of the famous houseboats on beautiful Dal Lake or one of the many hotels, hostels, villas, Kothi (guest houses) and bed-and-breakfasts in the area. The elaborate houseboats began as lodging for British government officials in the 1800s after the Maharajah refused them permission to build on land; they have changed very little since then. Houseboat rentals are becoming increasingly rare here; regulations no longer allow new houseboats to be built. Tour buses leave Srinagar daily for Wular Lake and stop at many of the more interesting sights on the shore. Some cruise boats take passengers down the River Jhelum to Wular Lake and back – a most pleasant and scenic trip.
Tourism has been limited at Wular Lake due to its volatile political location: portions of Kashmir were divided among India, Pakistan and China in 1947, but none of the three countries has ever been completely satisfied with the division. Flowing from Wular Lake less than 15 miles from the Pakistan border, the River Jhelum is an important water source for Pakistan, and water shortages often create dissension. India is attempting to dam the lake outlet to increase water depths upstream for transportation purposes, much to the consternation of Pakistan who believes it violates water treaties. Because of border disputes, local maps within each controlling country may lay claim to more land than is actually within their borders. Visitors are advised to purchase accurate maps locally when they arrive in the country. If one can overcome the difficulties of area travel, a trip to Wular Lake can be the holiday of a lifetime. So put on your adventurer's hat and come see Wular Lake and the fabled beauty that is Kashmir.
Custom Wular Lake house decor
Read our full review of these personalized lake house signs.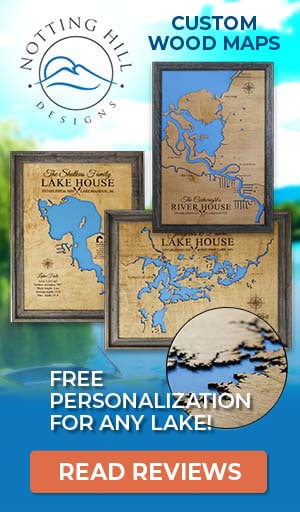 Things to do at Wular Lake
Fishing
Boating
Sailing
Camping
Hiking
Biking
Birding
Ruins
Fish species found at Wular Lake
---
Best hotels and vacation rentals at Wular Lake
The Wular Lake map shown above is a simple and stress-free way to search for trip accommodations. But if you want to take a deeper dive to find the ideal waterfront home, cabin, condo, hotel or resort, visit our favorite lodging partners by clicking the buttons below.
Note: These are affiliate links so we may earn a small commission if you book through them. While there is no extra cost to you, it helps provide resources to keep our site running (thank you)! You can read our full disclosure policy here.
---
Wular Lake photo gallery
New photos coming soon!
Wular Lake statistics & helpful links
We strive to keep the information on LakeLubbers as accurate as possible. However, if you've found something in this article that needs updating, we'd certainly love to hear from you! Please fill out our Content Correction form.
Advertise your Wular Lake vacation rental
LakeLubbers will soon offer homeowners and property managers the opportunity to to showcase their vacation rentals to the thousands of lake lovers searching our site daily for accommodations. If you'd like additional details, please contact our advertising team here.
Looking for the Wular Lake forum?
LakeLubbers previously offered visitors the ability to create accounts and participate in lake forums. When we overhauled the site's content management system in 2021 we had to disable those features. We're evaluating options and welcome your comments and feedback here.
We also encourage you to join our lake-lovin' community on Facebook and Instagram!
Spread the word! Share our Wular Lake article with your fellow Lake Lubbers!