Worden Pond, Rhode Island, USA
Lake Locations:
USA - New England - Rhode Island - Washington County -
Also known as:  Worden's Pond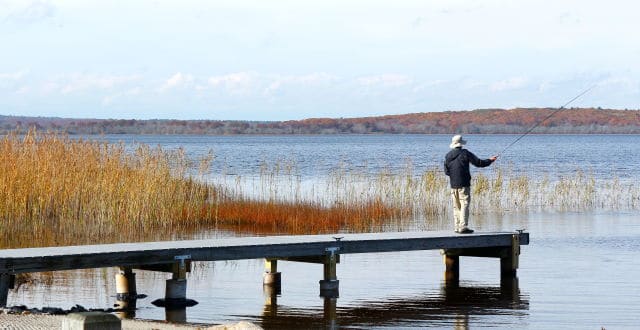 Scenic Worden Pond is a natural freshwater lake in Washington County, Rhode Island. At 1,043 acres, it is the largest natural freshwater lake in the state. The lake sits between the Chipuxet River and Pawcatuck River, both of which connect with the lake. Worden Pond is only minutes from Rhode Island's beaches, and just half an hour from both Newport and Providence, making it an ideal home base for exploring the nation's smallest state.
Like many areas of New England, Worden Pond has a long history. The Great Swamp Fight, a battle between colonial militia and the Narragansett Indian tribe during King Philip's War, took place in 1675 in the swamp land just north of the pond. A monument now stands in the Great Swamp to commemorate this bloody battle. The pond itself was named for the Worden Family, who once owned the land surrounding the lake and purchased it in 1695. The nearby town of Kingston, Rhode Island, is home to a historic district including several buildings dating back to the late 1700s and the state's colonial roots.
Anglers are drawn to this modest lake year-round. Despite its size, Worden Pond is very shallow, with an average depth of only 4 feet. The pond's shallow waters promote heavy weed growth, creating an ideal habitat for fish. The lake is especially known for its bass. Ice fishing for largemouth bass is a popular pastime during the winter months, drawing anglers from all over New England. Worden Pond is also home to northern pike, perch, smallmouth bass, bluegill, chain pickerel, and sunfish. During the summer months, anglers can wade right into the shallow pond–its shallow waters warm up quickly, making the pond attractive to swimmers as well.
Worden Pond's size also makes it perfect for windsurfing. The pond is big enough to harness some strong winds, but shallow enough that even beginning windsurfers can feel safe catching the breeze. On a warm summer day the lake is also peppered with sailboats gliding across the serene waters. Kayaks and canoes can be spotted paddling along the lake and the surrounding waterways.
Many paddling trips to Worden Pond begin north of the lake in the Great Swamp Wildlife Management Area. This park is made up of 3,349 acres of habitats including wetlands, forest, and agricultural land. The swamp's varied habitats make it home to many different types of wildlife, and it is a popular destination for nature lovers. On a hike through the forested areas of the park visitors may see cottontail rabbits, grey squirrels, white-tailed deer, fox, and coyote. The wetlands are home to many waterfowl including ducks and Canadian geese. Bird watching is particularly good during the spring and fall migration seasons. Biking enthusiasts should check out the Great Swamp Trail Bike Tour, a 6 mile trail that loops through woodlands and wetlands on its course to Worden Pond.
Whether you enjoy fishing or hiking, soaking up the sun or soaking in the local history, Worden Pond won't disappoint. Rest assured, this little lake has a lot to offer.
Things to do at Worden Pond
Vacation Rentals
Fishing
Ice Fishing
Boating
Sailing
Swimming
Beach
Canoeing
Kayaking
Hiking
Biking
Wildlife Viewing
Birding
Fish species found at Worden Pond
Bass
Black Bass
Bluegill
Chain Pickerel
Largemouth Bass
Northern Pike
Perch
Pickerel
Pike
Smallmouth Bass
Sunfish
---
Worden Pond Photo Gallery
Worden Pond Statistics & Helpful Links
Spread the word! Share our Worden Pond article with your fellow Lake Lubbers!