Wilson Lake, Alabama, USA
Lake Locations:
USA - South - Alabama - Mountains -
Also known as:  Wilson Reservoir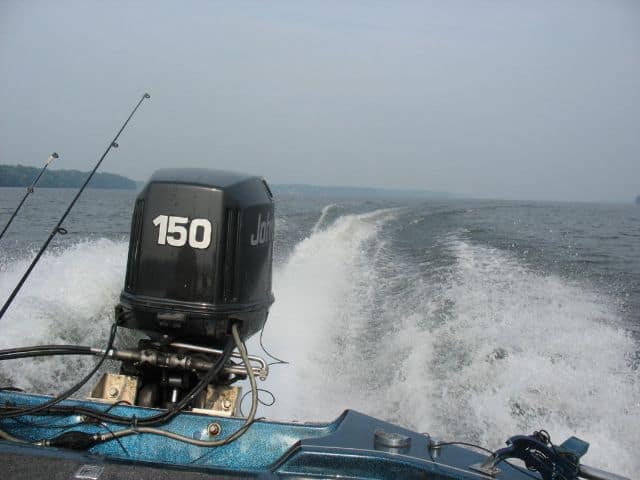 Once known as the "Smallmouth Capital of the World," outdoor enthusiasts enjoy Wilson Lake for its fishing, boating, hiking, and exploring the natural beauty of the area. Wilson Lake is located in northern Alabama's Mountain Region near the town of Florence. Named for President Woodrow Wilson, Wilson Dam was the first dam built on the Tennessee River. Construction on the dam under the control of the United States Army Corps of Engineers was started in 1918, a year after the United States entered World War I.
The USA built two nitrate plants at Muscle Shoals to make explosives, and the dam was intended to supply those nitrate plants with power. World War I ended before the dam was completed, leaving questions about its future.
In 1921 Henry Ford and Thomas Edison visited Wilson Lake. Ford talked about bringing new manufacturing to the area and offered to buy Wilson Dam for $5 million, a fraction of what had been spent on its construction. Refusing to accept Henry Ford's offer, Congress formed the Tennessee Valley Authority (TVA), but talk of Ford's plans led to an economic boost for the area.
Construction of Wilson Dam was completed in 1924. Wilson Dam remained under the control of the United States Army Corps of Engineers until 1933, when it was acquired by the TVA.
There is debate as to how Muscle Shoals got its name, but until the construction of the dams and reservoirs, it blocked navigation on the Tennessee River. Today locks and reservoirs allow cargo barges and boats to move freely, and together they opened the river to "Great Loop Cruising," recreational travel of Eastern North America by water. Wilson Lock, named a national historic landmark in 1966, is the highest single lift lock east of the Rockies and one of the highest in the world. It has a maximum lift of 100 feet.
Cars can drive across the dam that provides hydroelectric power for Muscle Shoals and other areas in the South. The overlook on Wilson Dam is worth a stop. There is also a new fishing pier that is ADA accessible.
The deep channel carved by the Tennessee River and the flooded fields of the man-made Wilson Reservoir combine to make excellent fish habitat. There are good populations of black and largemouth bass and channel catfish. Smallmouth bass fishing is exceptional. Wilson Lake once held the record for a 10 pound 8 ounce smallmouth brown bass caught in 1950. The tail waters of Wheeler Dam are an especially good place to fish either from the bank or by boat, and there are several feeder creeks with good fishing and beautiful scenery.
There are several marinas and boat ramps on 15-mile long Wilson Lake and plenty of ways to enjoy the water by boat, jet ski or water skis. There are over ten miles of trails for hiking, biking, and bird watching along the lake, and there is camping nearby. The area provides an ideal habitat for ferns, and visitors can see "walking ferns" considered rare for the region.
Old First Quarters is a wildlife area set aside to preserve Civilian Conservation Corps structures, wildflowers, and bird habitat. It was named for the complex that housed engineers during the construction of the dam.
From Wilson Lake it is an easy drive to tour Helen Keller's Birthplace and see the place where Annie Sullivan taught Helen to sign "water." The Tennessee Valley Art Center has the Martin Petroglyph Exhibit, a collection of prehistoric Native American stone carvings. It's also a quick trip to Frank Lloyd Wright's Rosenbaum House, the only structure by Frank Lloyd Wright that now exists in Alabama.
Things to do at Wilson Lake AL
Vacation Rentals
Fishing
Boating
Jet Skiing
Water Skiing
Camping
Hiking
Biking
Wildlife Viewing
Birding
Fish species found at Wilson Lake AL
Bass
Black Bass
Brown Bass
Catfish
Channel Catfish
Largemouth Bass
Smallmouth Bass
---
Wilson Lake AL Photo Gallery
Wilson Lake AL Statistics & Helpful Links
At LakeLubbers.com, we strive to keep our information as accurate and up-to-date as possible, but if you've found something in this article that needs updating, we'd certainly love to hear from you!
Please let us know about it on our Content Correction form.
Spread the word! Share our Wilson Lake AL article with your fellow Lake Lubbers!