William 'Bill' Dannelly Reservoir, Alabama, USA
Also known as:  Lake Dannelly, Millers Ferry, Dannelly Reservoir, Millers Ferry Reservoir, Millers Ferry Lake
Welcome to the ultimate guide for history, statistics, local fun facts and the best things to do at William 'Bill' Dannelly Reservoir.
If you're considering William 'Bill' Dannelly Reservoir vacation rentals, we've made it super easy to explore accommodations and nearby hotels using the interactive map below. Simply click on a listing to compare similar properties, best rates and availability for your dates. Or keep scrolling to read our William 'Bill' Dannelly Reservoir guide!
William 'Bill' Dannelly Reservoir visitor and community guide
Along the Alabama River in the River Heritage region of the state, visitors will find the William "Bill" Dannelly Reservoir. Located an hour southwest of Selma, the reservoir encompasses 105 miles of the Alabama River with over 500 miles of shoreline. The reservoir is better known locally as "Millers Ferry" for the dam, which came online in 1970 and produces enough energy to serve more than 50,000 homes. The lake is a recreation lover's paradise, with fishing, hunting, boating, camping, hiking, hunting, water sports and wildlife viewing opportunities year round. Numerous parks, boat ramps, recreation areas and campgrounds line the reservoir and provide access to the lake along with picnic facilities, playgrounds, beaches, swimming areas and overnight camping options.
William "Bill" Dannelly Reservoir was formed by the construction of Millers Ferry Lock and Dam. Construction of the dam began in 1963 and was completed in 1974. It was built for both hydropower and navigational purposes. The lake that it impounds was named for Judge William "Bill" Dannelly who was an active supporter of river development. A former Wilcox County probate judge, Dannelly is credited with leading the modernization of the Alabama and Coosa Rivers.
A major draw to William "Bill" Dannelly Reservoir is the exceptional bass fishing. Both largemouth bass and spotted bass are considered excellent at this reservoir. With high fertility and a relatively stable threadfin shad population, this reservoir consistently produces two to four pound bass or larger. Anglers will also find great fishing for white crappie and black crappie. Other common species include bluegill sunfish, gizzard shad, and striped bass. Access to the lake can be found all along the shores of William "Bill" Dannelly Reservoir. Fisherman can take advantage of the numerous boat ramps, or fish straight from the banks of the reservoir. Some campgrounds also feature piers. A marina catering to powerboats is located near the dam on the west end of the lake called Millers Ferry Marina.
Fishermen, nature enthusiasts, and birdwatchers share the many recreation spots, parks, and campgrounds along William "Bill" Dannelly Reservoir. A visitor's center near the Millers Ferry Lock and Dam provides bird watching information, in addition to maps and guides for the numerous campgrounds. One of the larger parks in the area can be found along the twists and turns of the reservoir on the east end of the lake. Roland Cooper State Park is a 236-acre park in a majestic pine forest setting, featuring a nine-hole golf course, vacation cottages, modern campground, playground, picnic area and boat launching facilities. Several other locations provide developed and primitive camping including Chilatchee Creek Campground, Millers Ferry Campground, Six Mile Creek Park, Elm Bluff Park, Portland Landing, and Bridgeport Landing. A complete list of parks, campgrounds, and facilities can be found in the internet resources section below.
Visitors looking for a unique water sport adventure can explore the Alabama Scenic River Trail, which starts at the Georgia State Line and winds through the state, passing through the William "Bill" Dannelly Reservoir and on to the Gulf of Mexico at Fort Morgan. At 631 miles, The Alabama River Trail is the longest water trail of any single state in the country, following seven rivers and two creeks. Water sport enthusiasts can enjoy boating, canoeing, sailing, water skiing and kayaking on the expansive waters of William "Bill" Dannelly Reservoir.
For a relaxing afternoon, visitors can enjoy the rich history of the area going back to the Native American settlements, up to the Civil Rights Movement. Adjacent to William "Bill" Dannelly Reservoir, visitors can check out the Liddell Archeological Site. This archaeological site is a prehistoric Native American site, which contains evidence of human occupations from the early Archaic of about 9000 BC. For more recent history and a leisurely afternoon ferry ride, a trip to Boykin (also known as Gee's Bend) is in order to see the famous Gee's Bend Quilters Collective. Visitors can take the ferry that runs between Camden and Boykin to see the distinctive, sophisticated quilting style that has been passed on for at least six generations to the present day. The quilts and their history have been published in books and put on display in major exhibitions around the country. A trip to the area wouldn't be complete without visiting historical Selma, AL. The city has the state's largest historic district, as well as many Civil Rights historical sites including the National Voting Rights Museum and Martin Luther King Jr. Street Historic Walking Tour.
The William "Bill" Dannelly Reservoir is largely unspoiled by commercial or residential development. Cabins can be found at the various campgrounds and parks surrounding the lake. Otherwise, several communities are located nearby and offer plenty of accommodations ranging from hotels to bed and breakfasts.
For a sportsman's vacation or a trip through history, William "Bill Dannelly Reservoir is a wonderful destination for a family vacation or weekend getaway.
Custom William 'Bill' Dannelly Reservoir house decor
Read our full review of these personalized lake house signs.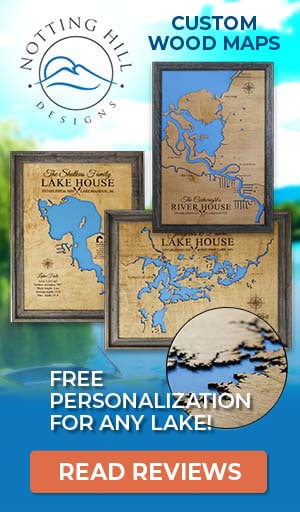 Things to do at William 'Bill' Dannelly Reservoir
Vacation Rentals
Fishing
Boating
Sailing
Swimming
Beach
Canoeing
Kayaking
Water Skiing
Golf
Camping
Campground
Picnicking
Cabin Rentals
Hiking
Hunting
Wildlife Viewing
Birding
State Park
Museum
Playground
Fish species found at William 'Bill' Dannelly Reservoir
Bass
Black Bass
Black Crappie
Bluegill
Crappie
Gizzard Shad
Largemouth Bass
Shad
Spotted Bass
Striped Bass
Sunfish
White Crappie
---
Best hotels and vacation rentals at William 'Bill' Dannelly Reservoir
The William 'Bill' Dannelly Reservoir map shown above is a simple and stress-free way to search for trip accommodations. But if you want to take a deeper dive to find the ideal waterfront home, cabin, condo, hotel or resort, visit our favorite lodging partners by clicking the buttons below.
Note: These are affiliate links so we may earn a small commission if you book through them. While there is no extra cost to you, it helps provide resources to keep our site running (thank you)! You can read our full disclosure policy here.
---
William 'Bill' Dannelly Reservoir photo gallery
New photos coming soon!
William 'Bill' Dannelly Reservoir statistics & helpful links
We strive to keep the information on LakeLubbers as accurate as possible. However, if you've found something in this article that needs updating, we'd certainly love to hear from you! Please fill out our Content Correction form.
Advertise your William 'Bill' Dannelly Reservoir vacation rental
LakeLubbers will soon offer homeowners and property managers the opportunity to to showcase their vacation rentals to the thousands of lake lovers searching our site daily for accommodations. If you'd like additional details, please contact our advertising team here.
Looking for the William 'Bill' Dannelly Reservoir forum?
LakeLubbers previously offered visitors the ability to create accounts and participate in lake forums. When we overhauled the site's content management system in 2021 we had to disable those features. We're evaluating options and welcome your comments and feedback here.
We also encourage you to join our lake-lovin' community on Facebook and Instagram!
Spread the word! Share our William 'Bill' Dannelly Reservoir article with your fellow Lake Lubbers!