Whitefish Lake, Minnesota, USA
Lake Locations:
USA - Midwest - Minnesota - Central -
Also known as:  Upper Whitefish Lake and Lower Whitefish Lake, Whitefish Chain of Lakes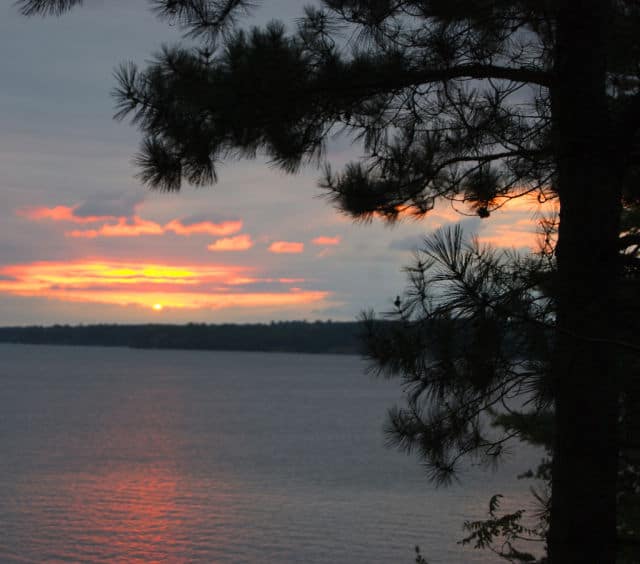 The natural beauty of Whitefish Lake will leave visitors spellbound and ready to leave the cares of the world behind. Nestled in the Central Region of Minnesota, Whitefish Lake is part of the Whitefish Chain of Lakes which includes Upper Whitefish Lake, Lower Whitefish Lake, Big Trout Lake, Clamshell Lake, Hen Lake, Island Lake, Little Pine Lake, Arrowhead Lake, Bertha Lake, Cross Lake, Daggett Lake, Lower Hay Lake, Pig Lake, and Rush Lake. With 13,660 surface acres of water and 119 miles of combined shoreline, the Whitefish Chain is the largest chain of lakes in the Brainerd area, and it provides dozens of recreation activities which include boating, fishing, waterskiing, swimming, hiking and bird watching.
The 14 lakes in the Whitefish Chain of Lakes are all natural lakes. In 1884, the US Army Corps of Engineers constructed a dam on the Pine River, a tributary of the Mississippi River. Before constructing the dam, Pine River was a creek connecting Cross Lake with Upper and Lower Whitefish Lakes. The Pine River Dam raised the water level, making channels between the lakes which aided logging operations in the late 1800s and early 1900s. Reconstruction of Pine River Dam took place between 1905 and 1907, and another major renovation took place from 1998-2003.
Whitefish Lake has become a popular vacation destination. With the shoreline zoned for general development, lake resorts, restaurants, cabins, campsites as well as expensive lake homes line the shoreline. Lake access can be found on the east shore of Upper Whitefish Lake. However, lake visitors are not limited to Whitefish Lake for public access. Pig Lake, Clamshell Lake, Cross Lake, Big Trout Lake, and Lower Hay Lake have public access as well. A swimming beach with a picnicking and playground area can be found at the Cross Lake Recreation Area, also known as the Ronald Louis Cloutier Recreation Area. It is located on Cross Lake about 22 miles north of Brainerd. The Cross Lake Recreation Area also offers camping with electric and non-electric campsites.
Another place of interest and intense beauty is Big Island, cradled in the waters of Upper Whitefish Lake. The Island is most noted for its 35+ acres of old-growth maple and basswood forest. The Island has been designated as a county Scientific and Natural Area to preserve its natural beauty. Although picnicking is not allowed in the forest, the Island also offers some sandy beach areas where picnicking and camping are allowed. An interpretive trail though the forest provides information to help visitors appreciate the natural beauty around them.
Golfers can enjoy close to 25 golf courses within 30 miles of the Whitefish Chain of Lakes. For those who enjoy a good drive, the National Paul Bunyan Scenic Byway weaves its way around the Whitefish Chain of Lakes. Nature lovers may enjoy a visit to the nearby Big Stone Wetland Management District which contains 3,000 acres and provides important habitat for waterfowl.
Fishing is still an all-time favorite pastime at Whitefish Lake which specializes in northern pike, largemouth bass and bluegill. Other fish caught at Whitefish Lake are smallmouth bass, crappie, walleye, and whitefish. In the winter when Whitefish Lake freezes over, ice fishing, cross-country skiing, and snowmobiling are popular sports.
So whether visitors like to fish, camp, or just get away for a relaxing retreat, they will find what they are looking for at Whitefish Lake. With all the natural beauty that the Whitefish Chain of Lakes has to offer, it is no wonder that these lakes are becoming a very popular vacation destination.
Things to do at Whitefish Lake MN
Vacation Rentals
Fishing
Ice Fishing
Boating
Swimming
Beach
Water Skiing
Golf
Camping
Picnicking
Cabin Rentals
Hiking
Cross-Country Skiing
Snowmobiling
Birding
Playground
Fish species found at Whitefish Lake MN
Bass
Black Bass
Bluegill
Crappie
Largemouth Bass
Northern Pike
Perch
Pike
Smallmouth Bass
Sunfish
Trout
Walleye
Whitefish
---
Whitefish Lake MN Photo Gallery
Whitefish Lake MN Statistics & Helpful Links
Spread the word! Share our Whitefish Lake MN article with your fellow Lake Lubbers!