Twin Lake, Michigan, USA
Lake Locations:
USA - Midwest - Michigan - West Central -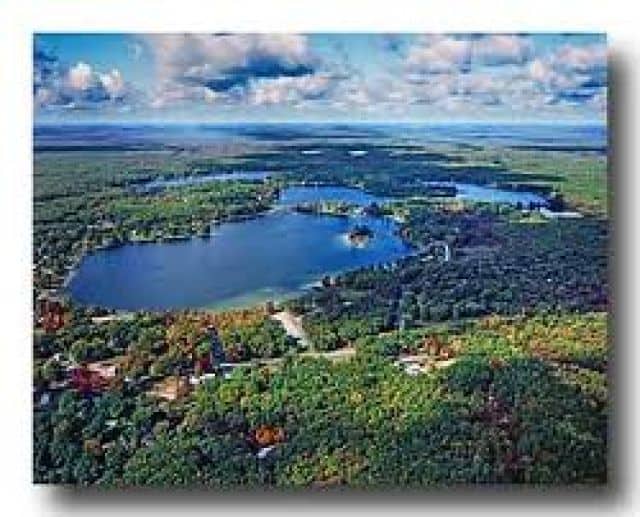 Horace Greeley may have advised, "Go west" but, if he had been in Muskegon, he might have said, "Go east" instead – to Twin Lake. A few miles east of Muskegon on the ancient Lake Chicago glacial lake plain lies the tiny unincorporated Village of Twin Lake. The little city's claim to fame is Twin Lake-or all of the four small lakes that make up this collection of fine summer residence lakes in the West Central Tourist Region.
The area around Twin Lake is filled with many small (less than 100 acres) spring-fed, sandy-bottomed lakes. From above, the series of lakes looks much like animal tracks in a muddy glen. These lakes were all formed from melting glacial ice and do not interconnect. All are privately owned except for Twin Lake which has a county park at the Village of Twin Lake. The four lakes in the Twin Lake group (West, North, Middle and Twin Lake) are separated by less than a mile and populated with private residences and summer cottages. Many offer vacation rentals by the week or month. But Twin Lake is the sort of place where you'll want to stay for the entire season.
The shallow sandy lakes are ideal for swimming and especially attractive to families with children. The all-sports lakes are available for canoeing, kayaking, pontooning, and pleasure boating. The maximum depth of the lakes is 19 feet, with average depths ranging from six to nine feet. Because the only lake with official public access is Twin Lake, there is little boating pressure – much to the delight of fishermen. Nothing is more peaceful than watching the sunset over a deserted lake from a private deck, dock or beachfront campfire ring.
The clear waters support a variety of fish, including yellow perch, bluegill, black crappie, largemouth bass, smallmouth bass, and pike. Nearby cold water streams conceal rainbow, brown, and brook trout for the discerning fly fisherman to seek out. Although there is no direct outlet, the lakes form the headwaters of Bear Creek via seepage which drains into Bear Lake, Muskegon Lake, and on to Lake Michigan. The Muskegon Lake Watershed partnership works with area residents and school children to educate and protect the entire watershed.
The area around Twin Lake is primarily wooded with some farmland. Bicycling is a popular activity, with several trails available in the area. Wildlife viewing is plentiful with whitetail deer, wild turkey, squirrel varieties, red fox, coyote, bobcat, raccoon, opossum, mink, muskrat, beaver, otter, Canada geese, and various species of ducks. The varied terrain supports a wide variety of birds for viewing. In winter, snowmobiling, cross-country skiing, snowshoeing, sledding and ice skating are popular activities.
The Twin Lakes group is a small community with friendly neighbors and all necessary supplies available in the Village of Twin Lake. A couple of casual eating establishments are available in the Village. For more variety, many visitors make the short seven-mile trip to Holton. The small community of Lakewood Club is only five miles away. More than 10 golf courses are available within a 10-mile radius. Just north of Lakewood Club is Blue Lake Fine Arts Camp, providing art experiences for talented young people each summer. Some performances are open to the public and shouldn't be missed.
The Arts Camp is located in the southern reaches of the Manistee National Forest. The National Forest provides camping, fishing, hiking, and Michigan history experiences for all ages. Popular a bit farther north is white water rafting on the Pine River, one of the Lower Peninsula's premier white water streams. Eight miles from Twin Lake is Michigan's Adventure, a full-scale amusement park/water park. This is a stop roller coaster aficionados simply can't miss. Twin Lake makes an ideal home base for accessing these local attractions.
Less than 15 miles away from Twin Lake is the city of Muskegon, a veritable cornucopia of activities, festivals, nightlife and tourist delights. Some must-see locations are: Muskegon Art Museum, The Actor's Colony (begun by Vaudeville entertainers early in the last century as a summer cottage colony, including Buster Keeton's parents), the Hackley & Hume Historic site, and the Great Lakes Naval Memorial & Museum. The Naval Museum offers a historical submarine and a Coast Guard cutter at dockside available for tours. Of particular interest to veterans and children who are fascinated by military memorabilia, overnight stays are available on both ships.
If visitors wish a larger lake experience, Lake Michigan has miles of beaches, a light station, swimming areas, dunes, and all sorts of historical sites to experience. The adventurous visitor can cross Lake Michigan aboard the Lake Express high-speed passenger and car ferry, from Muskegon to Milwaukee. At the end of the day, visitors can return, tired but happy with their experiences, to their vacation rentals at Twin Lake.
Twin Lake should become a regular seasonal destination; it may easily become a family tradition. Schedule a visit to Twin Lake as soon as possible-you won't be sorry you did.
Things to do at Twin Lake
Vacation Rentals
Fishing
Boating
Swimming
Beach
Canoeing
Kayaking
Whitewater Rafting
Golf
Camping
Hiking
Ice Skating
Biking
Cross-Country Skiing
Snowmobiling
Wildlife Viewing
Birding
National Forest
Museum
Amusement Park
Fish species found at Twin Lake
Bass
Black Bass
Black Crappie
Bluegill
Brook Trout
Crappie
Largemouth Bass
Perch
Pike
Smallmouth Bass
Sunfish
Trout
Yellow Perch
---
Twin Lake Statistics & Helpful Links
Spread the word! Share our Twin Lake article with your fellow Lake Lubbers!