White Bear Lake, Minnesota, USA
Lake Locations:
USA - Midwest - Minnesota - Minneapolis-St. Paul Metro -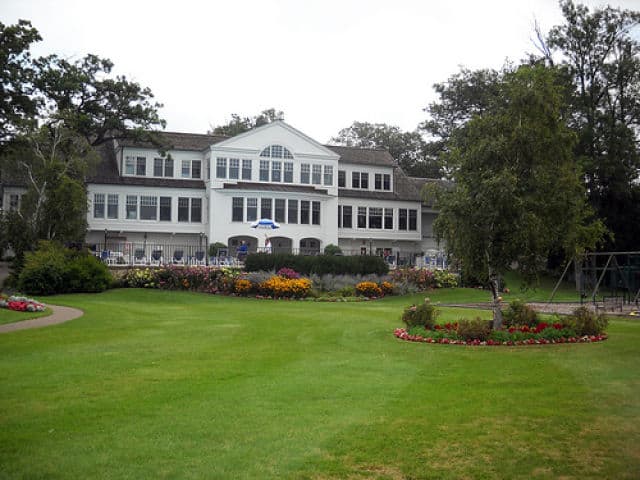 White Bear Lake is both a lake and a lakefront community in Ramsey County, Minnesota which attracts year round visitors from across the country. Just a short drive north of the twin cities, Minneapolis and St. Paul, many current residents purchased real estate in this peaceful lake community to relocate from these large cities; they now make the easy commute to their jobs, cultural events, shopping venues, and professional sporting competitions while enjoying the many benefits of lakefront living.
The earliest inhabitants of the White Bear Lake area were the Dakota and Ojibway Native Americans who benefited from the rich land and abundant wildlife for their hunting and harvesting grounds. The name, White Bear Lake, originated from these tribes, and a legend passed from generation to generation. According to legend, a Sioux maiden fell in love with a Chippewa brave. The two tribes were at war, so the two lovers met secretly on an island in the lake. One day as the brave approached the island, he saw a great white bear chasing her. He rushed to her rescue, and she rushed to her father to get help. As the maiden, her father, and several Sioux warriors approached the island, they watched as the Chippewa brave sank his knife into the bear as they both fell dead to the ground, and witnessed their spirits rise from their dead bodies to forever wander the island. A second version of the legend has the brave surviving the attack, the maiden's father granting their marriage wish due to the bravery of the warrior, and their children playing happily on the skin of the great white bear. This second version was published in Mark Twain's "Life on the Mississippi" in 1883.
Like the Native Americans, the rich soil, abundant wildlife, and the scenic lakes attracted the early pioneers to the White Bear Lake area. The township of White Bear was established in 1858, the same year Minnesota was granted statehood, and soon became a popular resort area. Visitors would travel on steamboats up the Mississippi River and then take a train into White Bear Lake. Resorts, hotels, and privately owned cabins lined the lakeshore while restaurants, theaters, and stores were rapidly built 20 minute train from St. Paul to White Bear was all it took to leave behind the noisy city to enjoy the beauty of the great outdoors. In the late 1920's and early 1930's the area became a hideout for legendary gangsters like Ma Barker, Pretty Boy Floyd, and Al Capone. Over the years, several of the original hotels and resorts were destroyed and replaced by privately owned residences ranging from one room cabins to large estate homes.
Visitors and residents enjoy the beauty and fun of White Bear Lake by swimming at local beaches, canoeing, boating, parasailing, kayaking, waterskiing, jet skiing, and sailing. Anglers have easy access to the water with many free public boat launches, privately owned fee-based docks, two public fishing piers, and a few acres of undeveloped public land for shore fishing for walleye, northern pike, muskellunge, largemouth bass, smallmouth bass, bluegill, crappie, bullhead catfish, and yellow perch. During the winter, the lake is home to great ice fishing, ice skating, cross country skiing, dog sledding, and snowshoeing. There are many marked trails surrounding the lake for hiking and biking enthusiasts. William O'Brien State Park offers camping, trails for hiking and mountain biking, access points for canoeing and kayaking, and a beach for swimming and sunning.
The community of White Bear Lake welcomes all visitors to their home that is known for its rugged outdoor activities, lifestyle, and numerous parks. No matter where you choose to stay, you are sure to be welcomed at any of the area's vacation rentals that include bed and breakfast inns, cabins, lodges, private vacation homes, resorts, motels, and camping.
White Bear Lake is a perfect destination for family vacations, a weekend getaway, a romantic hideaway, or retirement relocation. With year round outdoor adventures and close proximity to large cities, you can experience the quiet beauty of the lake area and have all the conveniences of a large city with just a short drive. With so much to do, one trip may just lead to many more visits to White Bear Lake.
Things to do at White Bear Lake
Vacation Rentals
Fishing
Ice Fishing
Boating
Sailing
Swimming
Beach
Canoeing
Kayaking
Jet Skiing
Water Skiing
Parasailing
Camping
Cabin Rentals
Hiking
Ice Skating
Biking
Cross-Country Skiing
Dog Sledding
Hunting
Wildlife Viewing
State Park
Shopping
Fish species found at White Bear Lake
Bass
Black Bass
Bluegill
Bullhead Catfish
Catfish
Crappie
Largemouth Bass
Muskellunge
Northern Pike
Perch
Pike
Smallmouth Bass
Sunfish
Walleye
Yellow Perch
---
White Bear Lake Photo Gallery
White Bear Lake Statistics & Helpful Links
Spread the word! Share our White Bear Lake article with your fellow Lake Lubbers!