Western Lake, Florida, USA
Lake Locations:
USA - South - Florida - Panhandle East -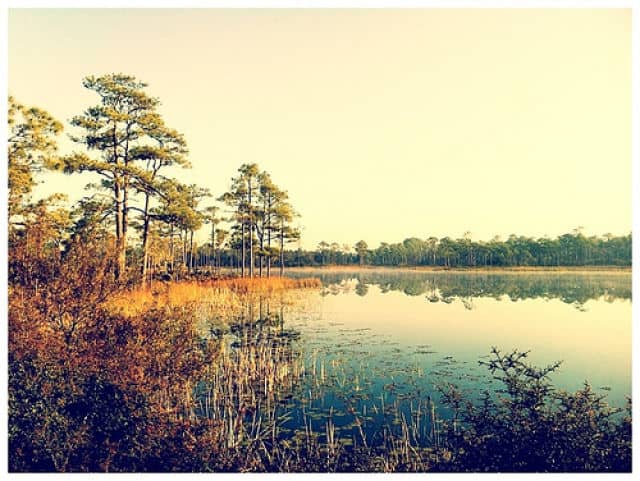 Western Lake is an unusual lake. Located in the Florida Panhandle East Region, Western Lake is one of Florida's coastal dune lakes. Found in only a few locations worldwide, coastal dune lakes are intimately connected to the sea through an inflow/outflow channel. However, the outflow does not exchange water all of the time; the actions of sand, wind and tides cyclically close off the outflow while rainfall and ground seepage increases the fresh water. Eventually, high water forces open the channel again and a more tidal exchange begins to take place. Western Lake has constant sea water seepage so remains brackish most of the time. At 214 acres Western Lake is one of the larger dune lakes. Most are considerably smaller. These waterways have the highest occurrences of rare wildlife species in the state, some of which are found nowhere else in the world.
Visitors have found the Western Lake area attractive since timber-related businesses first settled the area in the 1800s. The unique geography of the narrow peninsula lying between the Gulf of Mexico and Choctawhatchee Bay offered unlimited access to the ocean and soon became a favorite vacation spot for those lucky enough to find it. By 1900, the little town of Seagrove Beach was filled with small, wood-framed cottages that visitors rented for a week, month or the entire season. Luckily the State of Florida wisely put thousands of acres of the peninsula under protection as Point Washington State Forest. The southern half of Western Lake lies within Point Washington State Park, affording the public access to both the Gulf beaches and Western Lake. This protected the southern portion of the lake from development that locals, as they become more ecology conscious, realized could have been detrimental to the lake. Much of the sugar-sand beach along the Gulf has been heavily developed with somewhat expensive golf and resort communities. The State Park allows all visitors to experience the Gulf and the lake as nature intended.
Western Lake itself has been spared much development due to the protective measures instituted by Walton County and the State. Salt marshes limit development on most of the northern half of the lake. The communities of Watercolor, Seaside and Grayton Corners have further self-limited with strict zoning and development limits. The South Walton area is likely one of the most ecologically-aware populations in existence. Bicycling is a favored mode of transportation around the towns and the US 30A Highway along the coast. The towns are extremely clean and well-maintained, with a great many art galleries, specialty shops and parks. Boardwalks and water features are everywhere, lending a sense of reverence for nature. Most housing is of the classic beach house style with metal roofs and second-story porches. Shopping is upscale and the arts are on display everywhere, including blown-glass cattail lighting on bridges.
But it is nature that commands center stage at Western Lake. Grayton Beach State Park maintains a boat launch ramp on Western Lake and provides canoe rentals. Both fresh and salt water fish are caught, commonly red fish, speckled and white trout, bass and bream. The water is stained dark due to tannins but is actually quite clean. The most common watercraft seen here are canoes and kayaks as residents and visitors enjoy the heavily wooded shoreline with its variety of birds and wildlife. Yoloing, a type of stand-up kayak, is popular here. Bald eagles are often seen, as are a wide variety of shorebirds. A self-guiding nature trail system gives visitors a close-up look at the varied ecological systems found both on the Gulf shore and along the lake. Campsites are located in the wooded areas on the western shore of the lake and park rangers provide campfire programs regularly. Grayton Beach State Park abuts 15,000-acre Point Washington State Forest. An extensive trail system criss-crosses the area, where visitors may see gopher tortoise, many bird species, alligators, deer quail and turkey. Point Washington State Forest extends across the peninsula nearly to Choctawhatchee Bay.
Traveling west along US 30A, Topsail Hill State Park encompasses 1,640 acres, with a 25-foot dune as centerpiece. The park holds 14 different wild plant communities, including beach dunes, pine flatwoods, coastal dune lakes, wet prairies, and maritime hammocks. Three-and-a-half miles of pristine quartz sand beach encourages surf fishing, swimming, sunning and wildlife observation. The State purchased an existing RV resort to enlarge the park and maintains all of the RV resort facilities for a comfortable and convenient camping experience.
Sailors and ocean-going boats can access public marinas on Choctawhatchee Bay at Horseshoe Bayou approximately 15 miles from Western Lake. Charter fishing can be arrange with numerous captains along the 'Emerald' (Gulf) Coast. South Walton County can be the Florida vacation of your dreams, with both luxury and untamed nature located a stone's throw in any direction. Located 35 miles west of Panama City and 70 miles east of Pensacola, Western Lake area is unhurried, uncrowded and the ideal spot to enjoy Florida beaches and wildlife.
Vacation rentals are plentiful around Western Lake. Many resort condos and townhouses, private villas and hotel lodgings can be found year-round, often with beach or lakefront. Real estate is always available in a wide range of prices and configurations. So come and visit where the crowds aren't. Visit Western Lake once – it will fill your dreams for years to come.
Things to do at Western Lake
Vacation Rentals
Fishing
Boating
Sailing
Swimming
Beach
Canoeing
Kayaking
Golf
Camping
Hiking
Biking
Wildlife Viewing
Birding
State Park
State Forest
Shopping
Fish species found at Western Lake
---
Western Lake Photo Gallery
Western Lake Statistics & Helpful Links
We strive to keep the information on LakeLubbers as accurate as possible. However, if you've found something in this article that needs updating, we'd certainly love to hear from you! Please fill out our Content Correction form.
Spread the word! Share our Western Lake article with your fellow Lake Lubbers!