Lake Jackson, Florida, USA
Also known as:  Jackson Lake
Welcome to the ultimate guide for history, statistics, local fun facts and the best things to do at Lake Jackson FL.
If you're considering Lake Jackson FL vacation rentals, we've made it super easy to explore accommodations and nearby hotels using the interactive map below. Simply click on a listing to compare similar properties, best rates and availability for your dates. Or keep scrolling to read our Lake Jackson FL guide!
Lake Jackson FL visitor and community guide
Florida has many special lakes, but none is more unique than Lake Jackson in the Panhandle East region. The 4,500-acre lake is remarkable for trophy largemouth bass, a fact known to many southern anglers. But its most unusual feature is that the lake regularly 'disappears' about every 25 years. The lake has no natural outlets on the surface, but holds two sinkholes that act as drainage outlets on the flat sandy bottom. When climate conditions are right, the lake drains into the sinkholes, seemingly overnight. This has likely been happening for hundreds of years, but the first recorded incidence of the lake going dry is in 1848.
Between dry periods, Lake Jackson attracts water sports enthusiasts and nature lovers. A total of 10 public boat launches around the lake offer easy access. An increasing number of homes near the shoreline add private watercraft to the mix, with water skiing, jet skiing, sailing, canoeing and kayaking favored boating activities. The lake is widely known for producing trophy largemouth bass and holds other favorites such as black bass and bream. One fish camp still exists on Lake Jackson, but increasingly the shoreline is either privately owned or in protected status with several different parks and facilities. Located only 10 miles north of the City of Tallahassee, the lake is a favorite among those who visit to unwind after a hard day's work.
Lake Jackson Mounds Archeological State Park along the southwest shoreline holds several large temple mounds, remnants of a Native American culture from about 1200 AD. There is no camping on-site, but the large park holds hiking and nature trails, interpretive signage, picnic areas and wildlife viewing areas. Several of the public boat landing sites around the lake also provide picnicking facilities. Bordering the eastern shore, the Elinor Klapp-Phipps Park offers 670 acres of trails for hiking, horseback riding, off-road biking, wildlife viewing, educational programs, and outings geared toward nature observation and identification. Other parts of the park owned by the City of Tallahassee contain ball fields, an athletic complex and a soccer complex. Adjacent to Elinor Klapp-Phipps Park, the Alfred B Maclay Gardens State Park provides even more biking and hiking trails, flowering gardens, interpretive exhibits, picnicking and swimming along with fishing on two more small lakes.
Several marshy wetlands along the shore of Lake Jackson offer prime habitat for Florida's many native birds and amphibians. Many rare or endangered species can be seen here including snowy egret, least tern, round-tailed muskrat, wood stork, bald eagle, little blue heron and American alligator. The variety of wildlife is one of the reasons Lake Jackson has been designated the Lake Jackson Aquatic Preserve. The other primary reason for its Preserve status is the unmodified nature of the self-draining lake. Other lakes in Florida which have the same type of feature have had seawalls constructed around the limestone 'sinks' to regulate water levels. Lake Jackson remains natural, although somewhat inconvenient for residents who enjoy boating and fishing.
The reasons for the lake's self-draining feature are complex, a result of underground aquifer levels and the amount of sediments built up above Lime Sink and Porter Hole Sink, the two sinkholes. When the aquifer is full, a result of adequate rainfall over a period of years, the pressure from below allows sediments to cover the openings and the lake to fill. When prolonged drought arrives, a regular cycle in Florida, the ground water levels lower and the heavy sediments eventually cave in. It may appear that all of the water exits into the sink holes, but experts say that usually a great amount of water has already been lost to evaporation from drought.
In recent years, water quality studies showed that Lake Jackson was beginning to suffer from degraded water quality due to more run-off from impervious surfaces caused by increased development. Additionally, the building of Interstate 10 across one of the long southern arms of the lake and US 27 across a northwest corner had allowed more sediments than previously to enter the lake. The lake was quickly becoming shallower, the sediments were polluted, and the bass weren't thriving as before.
Cleanup of the Megginnis and Fords Arms sub-basins near I-10 included the use of temporary dams and dredging across the narrow arms. Storm water retention ponds, sand filters, and a constructed marsh were created to filter the run-off problems on the Megginnis Arm. Invasive and nuisance vegetation was removed from the shoreline. In 1999, Lake Jackson drained to nearly dry. This was the moment the experts were waiting for; state and local governments, under the lead of the Northwest Florida Water Management District, stepped in to organize a massive cleanup of the polluted sediments and remediate run-off problems around the lake. Sediments were removed by the truckload, the lake bottom was scraped clear of the muck that had accumulated, and heavy rains soon began to complete the job. Within a few years, Lake Jackson was nearly full once again and cleaner than before with remediation facilities in place to see that it remained so.
One other problem worried nature lovers. When US 27 had been built across the corner of Lake Jackson, a section of the lake had been separated from the main body by the roadway. Called Little Lake Jackson, this was the normal destination for the large numbers of turtles and small amphibians who would invariably begin a mass exodus from Lake Jackson when the water began to recede. Thousands would be killed on the busy roadway as they had no other way to reach Little Lake Jackson. The Lake Jackson Ecopassage Alliance was formed to try to find a solution. The first effort was a low fence to prevent the turtles from reaching the road. Stimulus funding was eventually procured to build a passage culvert underneath US 27. Now, the fencing funnels the turtles and frogs toward the culvert area so they can reach Little Lake Jackson and return safely that same way when conditions warrant.
There are no camping or lodging facilities on Lake Jackson but with two major highways skirting the lake, a large number of lodgings can be found nearby. Both I-10 and US 27 hold a number of hotels, small motels and vacation rentals. Occasionally condos or private homes right on Lake Jackson become available for short-term rental. Real estate can be found, even along the lakefront, with a wide range of prices. With Tallahassee only 10 miles away, there is never a shortage of lodgings or restaurants. Located only a few miles from the Georgia line, Lake Jackson is easy to get to and hard to leave. Will you come and experience unique Lake Jackson?
*Statistics are for the lake at full pool.
Custom Lake Jackson FL house decor
Read our full review of these personalized lake house signs.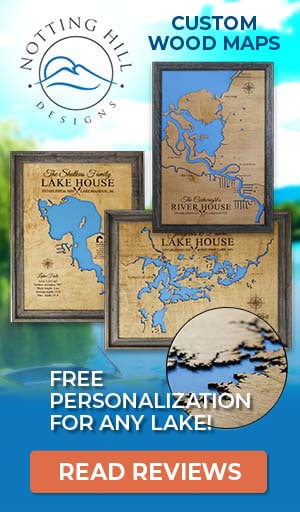 Things to do at Lake Jackson FL
Vacation Rentals
Fishing
Boating
Sailing
Swimming
Canoeing
Kayaking
Jet Skiing
Water Skiing
Camping
Picnicking
Hiking
Biking
Horseback Riding
Wildlife Viewing
Birding
State Park
Fish species found at Lake Jackson FL
Bass
Black Bass
Largemouth Bass
---
Best hotels and vacation rentals at Lake Jackson FL
The Lake Jackson FL map shown above is a simple and stress-free way to search for trip accommodations. But if you want to take a deeper dive to find the ideal waterfront home, cabin, condo, hotel or resort, visit our favorite lodging partners by clicking the buttons below.
Note: These are affiliate links so we may earn a small commission if you book through them. While there is no extra cost to you, it helps provide resources to keep our site running (thank you)! You can read our full disclosure policy here.
---
Lake Jackson FL photo gallery
New photos coming soon!
Lake Jackson FL statistics & helpful links
We strive to keep the information on LakeLubbers as accurate as possible. However, if you've found something in this article that needs updating, we'd certainly love to hear from you! Please fill out our Content Correction form.
Advertise your Lake Jackson FL vacation rental
LakeLubbers will soon offer homeowners and property managers the opportunity to to showcase their vacation rentals to the thousands of lake lovers searching our site daily for accommodations. If you'd like additional details, please contact our advertising team here.
Looking for the Lake Jackson FL forum?
LakeLubbers previously offered visitors the ability to create accounts and participate in lake forums. When we overhauled the site's content management system in 2021 we had to disable those features. We're evaluating options and welcome your comments and feedback here.
We also encourage you to join our lake-lovin' community on Facebook and Instagram!
Spread the word! Share our Lake Jackson FL article with your fellow Lake Lubbers!