Walker Lake, Nevada, USA
Lake Locations:
USA - West - Nevada - Nevada Silver Trails -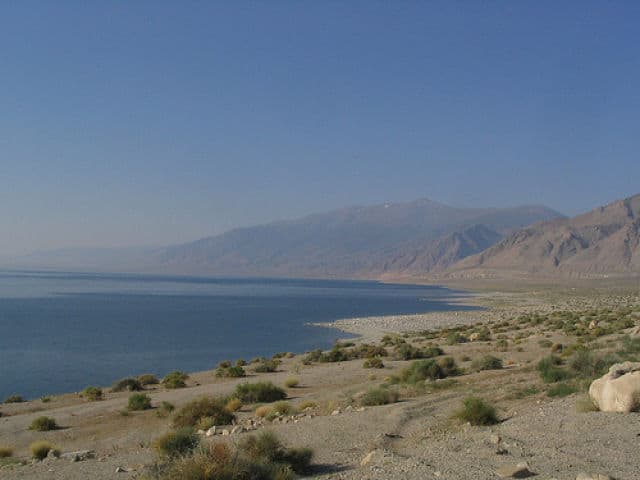 Walker Lake is a natural lake located in rural Mineral County, Nevada about 75 miles southeast of Reno, Nevada. It is one of several freshwater terminus lakes in the Great Basin, meaning it has no outflows. The lake is fed by the Walker River, and it is bordered to the west by the Wassuk Mountains. With its sparkling blue waters and scenic mountain views, Walker Lake is a popular destination for fishing, boating, camping, and nature watching.
Walker Lake has a fascinating history. It is a remnant of ancient Lake Lahontan, an inland sea that covered much of northwestern Nevada during the Ice Age. Walker Lake has dried completely up several times in its long history. The area surrounding the lake was inhabited by Native Americans as far back as 11,000 years ago. In 1874, a reservation was formed on the northern shores of the lake for the Walker River Paiute Tribe, or in Paiute, the Agai-Dicutta tribe. The Agai-Dicutta, or "trout eaters," fished both Walker Lake and Walker River for its famous Lahontan cutthroat trout. Unfortunately, the use of the Walker River for irrigation of the surrounding desert lands has caused a drastic drop in lake levels–Walker Lake has dropped 126 feet since 1882. As the lake levels drop, the salinity of the lake is increasing, putting the lake's ecosystem in danger. Today, there is a movement to try to save this unique and beautiful lake.
The lake is renowned for its population of Lahontan cutthroat trout. The lake is stocked with this large variety of trout, and anglers still have success catching them at Walker Lake. Due to the increased salinity of the lake, the perch and carp populations that flourished in the 1950s have now died out, but Tui chub, Tahoe sucker, and the occasional rainbow trout and catfish can still be found in Walker Lake. Along with increasing the lake's freshwater supply, local groups working to save the lake want to reestablish spawning runs of the Lahontan cutthroat trout population so future anglers will be able to fish for this local variety of trout.
Recreational boating is a popular pastime at Walker Lake. There are no motor restrictions on the lake, and you will find powerboats, jet skiers, and solitary canoe enthusiasts equally at home on the lake. Boat launches are available at several locations around the lake. Boaters should be aware that storms can appear suddenly from over the Wassuk Mountain Range on the west side of the lake, causing high winds and strong waves. Boaters should always check local weather reports before taking to the water.
Nature lovers can enjoy activities off the water, as well. The shoreline of Walker Lake is made up of sandy beaches on the east side of the lake, but is more rocky on the west side of the lake near the mountains, meaning there is a variety of terrain to explore. There are especially good views of Mount Grant, the 11,000 foot peak closest to the lake that is often capped with snow. As you explore the shoreline, watch for tufa formations that form when the lime-rich water covering a rock evaporates, leaving crystals protruding from the rock's surface. You may also catch a glimpse of some of the more than 100 bird species that call Walker Lake home, including the American white pelican, snowy plover, long-billed curlew, double crested cormorant, and white-faced ibis. If you visit the lake in fall or spring, you may be treated to the sight of as many as 1,400 common loons on their migratory journey–the largest group to be seen west of the Mississippi River. After a long day of exploring the lake, you can make camp at one of several local beaches. Sportsman's Beach, on the west side of Walker Lake, has over thirty developed campsites, along with picnic tables, grills, and a boat ramp. More primitive camping is available at Twenty Mile Beach, Tamarack Beach, The Cove, and East Shore Beach.
Walker Lake is a beautiful place with a rich ecosystem and an even richer history. If the legends of the Paiute Tribe are correct, Walker Lake may also be home to a more mysterious creature than its famous trout. Tribal lore tells of two sea serpents that inhabit Walker Lake; these sea serpents were once a man and woman. Some local residents have reported sightings of a large reptilian creature in the lake, affectionately known as "Cecil." Could this be a descendant of one of the ichthyosaurus that once inhabited prehistoric Lake Lahontan? Plan a visit to this natural wonder and you could discover this and much more.
Things to do at Walker Lake
Vacation Rentals
Fishing
Boating
Swimming
Beach
Canoeing
Jet Skiing
Camping
Picnicking
Fish species found at Walker Lake
Carp
Catfish
Cutthroat Trout
Perch
Rainbow Trout
Sucker
Trout
---
Walker Lake Photo Gallery
Walker Lake Statistics & Helpful Links
Spread the word! Share our Walker Lake article with your fellow Lake Lubbers!