Walden Pond, Massachusetts, USA
Welcome to the ultimate guide for history, statistics, local fun facts and the best things to do at Walden Pond.
If you're considering Walden Pond vacation rentals, we've made it super easy to explore accommodations and nearby hotels using the interactive map below. Simply click on a listing to compare similar properties, best rates and availability for your dates. Or keep scrolling to read our Walden Pond guide!
Walden Pond visitor and community guide
Part of the American psyche for over 150 years, Walden Pond belongs to us all. This 61-acre 'pothole lake' just outside of Concord, MA was the home of Henry David Thoreau when he began his writing career. Thoreau never owned the pond; it belonged to his good friend, Ralph Waldo Emerson. After visiting Walden Pond, Thoreau often walked a half-mile along the newly-built railroad tracks to get back to the town of Concord, where he lived for the majority of his life. But his solitary two years at Walden Pond allowed him to observe nature and record his findings in a way that transfixed his readers.
Thoreau is now considered the father of the conservation movement. Walden Pond, as seen though his eyes, instilled a vision of unspoiled nature in generations to come. Perhaps in mystic anticipation of Walden's future, he wrote in 1859: "I think that each town should have a park, a common possession forever, for instruction and recreation. . . All Walden wood might have been preserved for our park forever, with Walden in its midst." Walden's vision is now reality; the Walden Pond State Reservation holds 335 acres of land surrounding the pond as a protected park for the public to enjoy.
Walden Park provides swimming beaches, picnic grounds, fishing, and hiking the protected woods around the pond. The park is limited to 1000 visitors at any one time. Limits are placed on activities at the park such as no pets or grills. No sailboats or motorized boats may be launched. Canoes, kayaks, and rowboats are allowed. The trails are open year round, including trails for cross-country skiing in winter. No motorized vehicles, bicycles or horses are permitted. A year-round visitors' center dispenses information and sells gifts. A reconstruction of Thoreau's one-room cabin is an easy hike, while the marked site of the original cabin is a bit farther up the trail. Myriad paths lead across hills, through meadows and wetlands.
Many of the wonders of nature that Thoreau documented still are found within the park and the adjacent 2680 acres of mostly undeveloped, protected land called Walden Woods. Deer, coyotes, beavers, porcupines, turkeys, red squirrels, gray squirrels, chipmunks, skunks, red foxes and raccoons all inhabit the woods. The trees harbor downy woodpeckers, hairy woodpeckers, black-capped chickadees, robins, blue jays, cardinals and eastern phoebes. Walden Pond and nearby Goose Pond shelter Canada geese, mallards and wood ducks along with migrating waterfowl. The pond margins, meadows and wetlands harbor bullfrogs, northern water snakes, snapping turtles, painted turtles, garter snakes, eastern ribbon snakes, American toads, Woodhouse's toads, leopard frogs, grey tree frogs and other northern woodland natives.
Chain pickerel, common in Thoreau's day, have mostly died out. The pond is stocked by Massachusetts Wildlife in the spring and fall and harbors brown trout, rainbow trout, brook trout, smallmouth bass, largemouth bass, yellow perch, bluegill, pumpkinseed, rainbow smelt and catfish.
Walden Pond is very deep for its small size. A 'pothole lake' created by glacial ice, the pond reaches 102 feet in depth and has no inflowing streams. A spring provides most of its water. Because the pond is extremely clear, a delicate balance of pond plants grows to good depth. Much of the regulation of the park around the pond is aimed at preventing damaging runoff. One innovative project was installation of a form of permeable pavement for the parking lot. This experimental paving material allows water to soak through the pavement instead of running off and contaminating the pond. The porous pavement has worked well for nearly 30 years, although efforts elsewhere at creating porous paving have not been as successful.
Walden Pond narrowly escaped the effects of too much love. Before 1900, an amusement park was developed near the railway along the shore, and huge numbers of visitors arrived by rail to enjoy the famous pond. The amusement park burned in 1902 and was never rebuilt. Local landowners gifted about 80 acres to efforts to construct a protected reserve; the resulting park, although restrictive, ensures that the pond and surrounding reserve are protected from development. Because the pond became so popular for swimming, park visitors are now limited in both numbers and activities, to keep the pond pristine and its surrounding woods natural. Located only 20 miles from Boston Harbor, Walden Pond is indeed lucky to remain unspoiled despite 300 years of steadily growing population. Concord itself has played a major role in the history and the development of Massachusetts and the United States.
Visitors on a pilgrimage to discover the historical roots of the USA often leave Boston and travel through Lexington to Concord. The Minuteman National Historical Park is located in Concord. The Concord Museum preserves Paul Revere's famous lantern plus an excellent collection of Americana. The Colonial Inn on Monument Square dates from 1716. Wright's Tavern, also on Monument Square, was the overflow meeting area of the Provincial Congress while the larger body convened at the Meeting House nearby on the eve of the American Revolution. Nearby, the Battle of North Bridge took place. Another battle is commemorated between the Minutemen and retreating British troops at Meriam's Corner. The Old Hill Burying Ground holds the graves of many colonial families and Revolutionary War soldiers. Genealogists find the local records fascinating and richly informative.
Concord's post-war history soon filled with authors, of which Thoreau was only one. The homes of Emerson, Nathaniel Hawthorne, Louisa May Alcott and Margaret Sidney are preserved and most can be toured. Most are buried on Author's Ridge in the Sleepy Hollow Cemetery.
Historic Concord is well-appointed with lodgings and offers all necessary shopping and services. Some historic inns still greet guests, and many offer excellent dining. Antique shops, art galleries, and craft shops are plentiful. Several chain hotels operate nearby, but there is no lodging available directly on Walden Pond. Real estate is available in the area, however.
A visit to Walden Pond helps tourists to develop an understanding of and appreciation for lakes and ponds. As Thoreau so beautifully opined, "A lake is the landscape's most beautiful and expressive feature. It is earth's eye; looking into which the beholder measures the depth of his own nature. The fluviatile trees next the shore are the slender eyelashes which fringe it, and the wooded hills and cliffs around are its overhanging brows."* This was the landscape that the Minutemen were willing to lay down their lives to defend.
Walden Pond is a fitting stop on an historical New England adventure. At your first glimpse of Walden Pond, you will understand why.
* "Walden, Or Life In The Woods" by Henry David Thoreau, 1854
Custom Walden Pond house decor
Read our full review of these personalized lake house signs.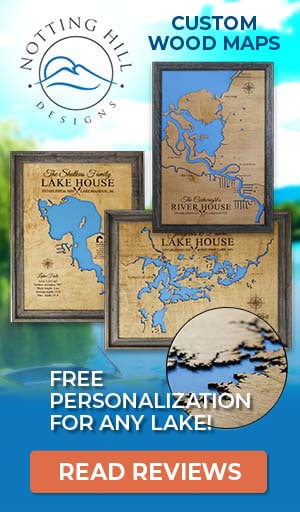 Things to do at Walden Pond
Vacation Rentals
Fishing
Boating
Sailing
Swimming
Beach
Canoeing
Kayaking
Picnicking
Cabin Rentals
Hiking
Biking
Cross-Country Skiing
Horseback Riding
Wildlife Viewing
Birding
Museum
Amusement Park
Antiquing
Shopping
Fish species found at Walden Pond
Bass
Black Bass
Bluegill
Brook Trout
Brown Trout
Catfish
Chain Pickerel
Largemouth Bass
Perch
Pickerel
Pike
Pumpkinseed
Rainbow Trout
Smallmouth Bass
Smelt
Sunfish
Trout
Yellow Perch
---
Best hotels and vacation rentals at Walden Pond
The Walden Pond map shown above is a simple and stress-free way to search for trip accommodations. But if you want to take a deeper dive to find the ideal waterfront home, cabin, condo, hotel or resort, visit our favorite lodging partners by clicking the buttons below.
Note: These are affiliate links so we may earn a small commission if you book through them. While there is no extra cost to you, it helps provide resources to keep our site running (thank you)! You can read our full disclosure policy here.
---
Walden Pond photo gallery
New photos coming soon!
Walden Pond statistics & helpful links
We strive to keep the information on LakeLubbers as accurate as possible. However, if you've found something in this article that needs updating, we'd certainly love to hear from you! Please fill out our Content Correction form.
Advertise your Walden Pond vacation rental
LakeLubbers will soon offer homeowners and property managers the opportunity to to showcase their vacation rentals to the thousands of lake lovers searching our site daily for accommodations. If you'd like additional details, please contact our advertising team here.
Looking for the Walden Pond forum?
LakeLubbers previously offered visitors the ability to create accounts and participate in lake forums. When we overhauled the site's content management system in 2021 we had to disable those features. We're evaluating options and welcome your comments and feedback here.
We also encourage you to join our lake-lovin' community on Facebook and Instagram!
Spread the word! Share our Walden Pond article with your fellow Lake Lubbers!