Upper Lough Erne, Northern Ireland, United Kingdom
Also known as:  Upper Lake Erne
Welcome to the ultimate guide for history, statistics, local fun facts and the best things to do at Upper Lough Erne.
If you're considering Upper Lough Erne vacation rentals, we've made it super easy to explore accommodations and nearby hotels using the interactive map below. Simply click on a listing to compare similar properties, best rates and availability for your dates. Or keep scrolling to read our Upper Lough Erne guide!
Upper Lough Erne visitor and community guide
Upper Lough Erne is a sparkling 8,525-acre lake on the scenic River Erne in County Fermanagh, Northern Ireland. The River Erne begins in County Cavan and flows north through Loch Gowna, Lough Oughter, Upper Lough Erne and Lower Lough Erne, a distance of 64 miles, before meeting with the Atlantic Ocean near the village of Ballyshannon. Unlike Lower Lough Erne, which offers wide open expanses of water, Upper Lough Erne is a maze of channels and islands. Exploring the many inlets, islands and bays is a boating enthusiast's dream and a wonderful destination for anglers and nature lovers.
One of our most popular areas for coarse fishing in Northern Ireland is Upper Lough Erne. Anglers from all over the world travel to the area to take advantage of the shallow reedy bays and meandering shoreline where pike, bream, perch, tench, eel, and rudd are in abundance. Fishing competitions held in the waters between Enniskillen and Newtonbutler attract some of the best anglers in Europe. Fly fishing for pike in the vast reed beds has become has a great hit with fly anglers looking for a sport during the closed game fishing season. With an abundance of streams and rivers in the Fermanagh area, opportunities abound to fly fish for salmon, wild brown trout, stocked rainbow and brown trout. Boats and fishing guides are available for rent, and marinas in the many small towns offer boat launches, public jetties, and mooring buoys.
A highlight of Upper Lough Erne is the Shannon-Erne Waterway which leaves Upper Lough Erne through the Woodford River near Belturbet. The waterway consists of a series of canals and locks linking the River Erne with the River Shannon in the Republic of Ireland. The modern waterway is based on the line of the old Ballinamore and Ballyconnell Canal. When the restoration project began, 120 years of neglect had reduced the waterway to a weed-choked channel of broken bridges and missing locks. Using the original sites and stonework, the bridges are now restored and the waterway is navigable for modern pleasure boats. The waterway has opened up an area of Ireland that was relatively unknown. Today, boaters pass under 34 stone bridges and through 16 modern locks on a scenic journey through wild, pristine countryside. Each lock takes about 15 minutes to negotiate, and total cruising time for the entire 39 mile adventure is approximately 13 hours.
Lower Lough Erne, to the north, and Upper Lough Erne, to the south, are separated by the historic island town of Enniskillen, the largest town in County Fermanagh. For centuries, Enniskillen controlled the river passageway between to the two lakes and was once the main inland route to the north of Ireland and a stopping point for pilgrims on their way to Lough Derg. The center of town offers interesting sites, including the ancient Enniskillen Castle, which today houses two museums. Other points of interest in the city are the neo-classical Castle Coole, and the eighteenth century Florence Court. Enniskillen is a great starting point for boaters and paddlers to explore the more than 200 islands in both Lower and Upper Lough Erne. Vacation and holiday rentals can be found in the town along with fine dining and shopping establishments.
Vacation rentals and accommodations on Upper Lough Erne range from five star luxury hotel resorts to cozy, country bed and breakfasts. Cottages, lodges, guesthouses, and private real estate also line the shoreline for those who prefer self-catering. Five-star caravan parks can be found throughout the area and offer space and facilities for touring caravans, motor caravans, and tents. Enniskillen offers a range of unique accommodation options including castle rooms, and Belle Isle, situated on the northern tip of Upper Lough Erne is a 470-acre estate spread over eight picturesque islands offering a wide range of self-catering accommodations to suit all tastes and budgets. Families on holiday will have no problem finding a place to stay, even in the popular summer months.
For the outdoor enthusiast, County Fermanagh is part of The National Cycle Network in Northern Ireland and offers an incredible network of trails that provide spectacular views of Lower and Upper Lough Erne and the beautiful Fermanagh area. Those looking for a bit more adventure may find the limestone Marble Arch Caves to their liking. Visitors can take an underground boat journey through an alien world of stalagmites and stalactites. For those who prefer to stay above ground, the Lough Navar Forest offers panoramic cliff-top views of the distant Donegal Mountains. For the experienced hiker, the Florence Court Hikers Trail climbs out of Enniskillen and offers visitors a spectacular view of Upper Lough Erne.
Birdwatchers will find large flocks of whooper swans, herons, and crested grebes nesting along the banks of Upper Lough Erne in the spring. Ireland's biggest heron colony can be found in a 400-year-old oak grove on the island of Inishfendra on the eastern side of the lake. The island can be reached by small boat, but public access is restricted between February and May to avoid disturbing the birds.
The area surrounding Upper Lough Erne is famous for its historic sites and castle ruins. One of the most interesting islands is Devenish Island, just a few miles north of Enniskillen on Lower Lough Erne. In the middle ages, a chain of island monasteries inhabited the lakes. Devenish Island is home to a 12th-century tower which was once an important port of call. The island also has a small church and the ruins of an Augustinian abbey. Renting a boat for the day is the best way to go island exploring, but tours and cruises of the area are also available.
Whether your interest is touring ancient castles or fishing on some of the most beautiful waters in all of Europe, Upper Lough Erne and the Lakeland area of County Fermanagh has much to offer the outdoor enthusiast. Take a leisurely pony trek through the beautiful rolling hillside of the area, or golf at some of the most scenic golf courses in the region; whatever your pleasure, Northern Ireland is the perfect location for your next holiday or vacation getaway.
Custom Upper Lough Erne house decor
Read our full review of these personalized lake house signs.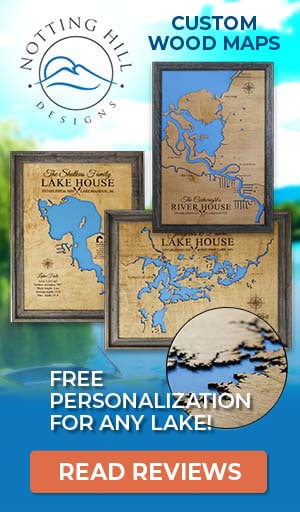 Things to do at Upper Lough Erne
Vacation Rentals
Fishing
Boating
Golf
Camping
Hiking
Birding
Museum
Ruins
Shopping
Fish species found at Upper Lough Erne
Brown Trout
Eel
Perch
Pike
Salmon
Tench
Trout
---
Best hotels and vacation rentals at Upper Lough Erne
The Upper Lough Erne map shown above is a simple and stress-free way to search for trip accommodations. But if you want to take a deeper dive to find the ideal waterfront home, cabin, condo, hotel or resort, visit our favorite lodging partners by clicking the buttons below.
Note: These are affiliate links so we may earn a small commission if you book through them. While there is no extra cost to you, it helps provide resources to keep our site running (thank you)! You can read our full disclosure policy here.
---
Upper Lough Erne photo gallery
New photos coming soon!
Upper Lough Erne statistics & helpful links
We strive to keep the information on LakeLubbers as accurate as possible. However, if you've found something in this article that needs updating, we'd certainly love to hear from you! Please fill out our Content Correction form.
Advertise your Upper Lough Erne vacation rental
LakeLubbers will soon offer homeowners and property managers the opportunity to to showcase their vacation rentals to the thousands of lake lovers searching our site daily for accommodations. If you'd like additional details, please contact our advertising team here.
Looking for the Upper Lough Erne forum?
LakeLubbers previously offered visitors the ability to create accounts and participate in lake forums. When we overhauled the site's content management system in 2021 we had to disable those features. We're evaluating options and welcome your comments and feedback here.
We also encourage you to join our lake-lovin' community on Facebook and Instagram!
Spread the word! Share our Upper Lough Erne article with your fellow Lake Lubbers!