Lower Lough Erne, Northern Ireland, United Kingdom
Lake Locations:
United Kingdom - Northern Ireland - Fermanagh -
Also known as:  Lower Lake Erne, Lake Earne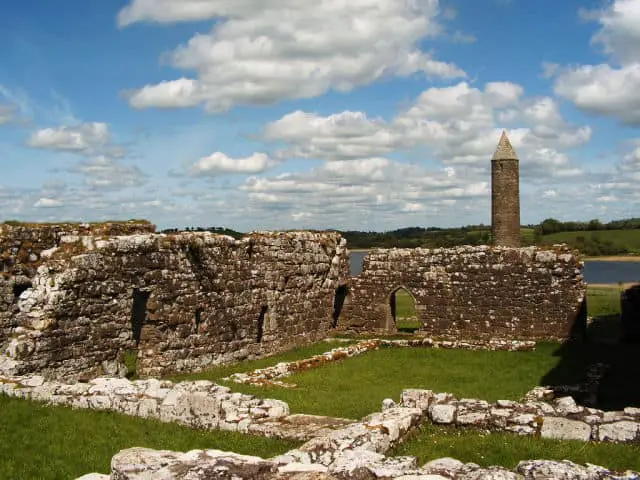 Lower Lough (Lake) Erne is one of several lakes on the beautiful River Erne in County Fermanagh, Northern Ireland. The River Erne begins in County Cavan and flows 64 miles north through Loch Gowna, Lough Oughter and Upper and Lower Lough Erne before meeting with the Atlantic Ocean at Ballyshannon. The area around Lower Lough Erne is surrounded by scenic, rolling farmland and incredible limestone mountains. Unlike some of the more popular areas of Northern Ireland, Fermanagh offers many attractions without heavy tourism and commercialism. The jewel in Fermanagh's crown is Lower Lough Erne, renowned for its beautiful shoreline scenery and ideal conditions for fishing, boating, and other water-related activities.
Lower Lough Erne covers 26,934 acres and is one of the largest lakes in Northern Ireland. The shimmering waters are located in the Lakeland area of County Fermanagh, and when combined with Upper Lough Erne, stretch 50 miles long and have the greatest area of open water per boat of any cruising lake in Europe. With the reopening of the Shannon-Erne Waterway, a canal linking the River Shannon in the Republic of Ireland with the River Erne in Northern Ireland, there are now 500 miles of navigable water to take boaters and tourists from the city of Belleek to the city of Limerick.
Bordered by spectacular cliffs rising as high as 900 feet, Lower Lough Erne is popular with boaters, anglers and outdoor enthusiasts. Both Lower and Upper Erne lakes are home to many small islands and peninsulas which helped the area survive the Irish Potato Famine in the mid 1800s. The potato blight was unable to cross the water, and the islands produced healthy amounts of potatoes while the mainland nearly starved.
Canoeing is one of the most popular recreational sports on Lower Lough Erne. With its many coves, inlets and islands, paddlers have plenty of opportunity to visit historic sites, explore castle ruins, and observe the local wildlife and waterfowl in a natural setting. Motor boating and waterskiing are also popular pastimes on the open water. Waves can make navigation a bit of a challenge on windy days, but numerous bays and inlets offer shelter and calmer water. Unlike the River Shannon and the Erne-Shannon canal, the River Erne is virtually free of lock gates. The Erne has only one lock, which is rarely used, making it a hassle-free cruising paradise. Lower Lough Erne is a more open expanse of water than the Upper Lough with contains over 90 islands clustered along the southern shore.
For anglers, the islands and bays of Lower Lough Erne provide vast areas of shallow water and rocky shores for ideal fishing grounds. The average depth of the lake is 39 feet with a maximum depth of 226 feet. Although a limited number of salmon can be found in the lake, wild brown trout are the most sought after species. BAnglers can expect to catch bream, roach, rudd, hybrids, perch, tench, pike, and eel. With an abundance of streams and rivers in the Fermanagh area, opportunities abound to shore fish or fly fish for salmon, wild brown trout, stocked rainbow and brown trout. Boats and fishing guides are available for rent, and marinas around the lake offer boat launches. There are also plenty of public jetties, mooring buoys and small marinas with waterside shops selling provisions.
Accommodations on Lower Lough Erne are as varied as the lake itself and range from five star luxury hotel resorts to cozy, country bed and breakfasts. Self-catering holiday homes and cottages also line the shoreline. Five-star caravan parks can be found throughout the area and offer space and facilities for touring caravans, motor caravans, and tents. Families on holiday will have no problem finding a place to stay, even in the busy summer months.
For hikers and bikers, County Fermanagh is part of The National Cycle Network in Northern Ireland and offers an incredible network of trails that provide spectacular views of Lower Lough Erne and the beautiful Fermanagh area. All trails are marked and vary from traffic-free and family-friendly to more challenging long-distance routes. For the adventurous soul, Fermanagh can be explored from top to bottom by first climbing to the top of Lough Navar Forest, followed by a descent into the Marble Arch Caves. The unique limestone geology of County Fermanagh is rich with caves and potholes.
The area surrounding Lower Lough Erne is famous for its historic sites, castle ruins and stately homes. One of the most interesting islands in Lower Lough Erne is Devenish Island. In the middle ages, a chain of island monasteries inhabited the lake. Devenish Island is home to a 12th-century tower which was once an important port of call. The island also has a small church and the ruins of an Augustinian abbey. Other islands of interest include Boa Island with its ancient cemetery and stone idols, and White and Inishmacsaint Island with their unique statues and religious ruins.
The historic island town of Enniskillen is located between Lower Lough Erne and Upper Lough Erne. The town offers a wide range of unique shops and pubs. Its location between the two great lakes gives the area an almost continental feel. A highlight of the town is the sprawling Enniskillen Castle, built in the 16th century.
Whether you are a first time visitor or a seasoned traveler, Lower Lough Erne is always unforgettable. Take a tour of the world famous Belleek Pottery factory, an underground boat journey through an alien world of stalagmites and stalactites, or a scenic drive to the top of Lough Navar Forest with its panoramic cliff-top views of the distant Donegal Mountains. For the golf fanatic, several golf resorts can be found in the area. Whatever your desire, you'll soon discover why so many people return year after year to this truly incredible Lakeland paradise.
Things to do at Lower Lough Erne
Vacation Rentals
Fishing
Boating
Canoeing
Water Skiing
Golf
Camping
Hiking
Wildlife Viewing
Ruins
Fish species found at Lower Lough Erne
Brown Trout
Eel
Perch
Pike
Roach
Salmon
Tench
Trout
---
Lower Lough Erne Photo Gallery
Lower Lough Erne Statistics & Helpful Links
At LakeLubbers.com, we strive to keep our information as accurate and up-to-date as possible, but if you've found something in this article that needs updating, we'd certainly love to hear from you!
Please let us know about it on our Content Correction form.
Spread the word! Share our Lower Lough Erne article with your fellow Lake Lubbers!