Upper Herring Lake, Michigan, USA
Welcome to the ultimate guide for history, statistics, local fun facts and the best things to do at Upper Herring Lake.
If you're considering Upper Herring Lake vacation rentals, we've made it super easy to explore accommodations and nearby hotels using the interactive map below. Simply click on a listing to compare similar properties, best rates and availability for your dates. Or keep scrolling to read our Upper Herring Lake guide!
Upper Herring Lake visitor and community guide
Upper Herring Lake is a modestly sized naturally occurring freshwater lake in the Traverse City Lakes area of Michigan, located in the northwestern part of the Lower Peninsula. Its sister lake, Lower Herring Lake, lies directly to the west of Upper Herring Lake. With a normal elevation of 591 feet, Upper Herring Lake is roughly 13 feet higher in elevation than Lake Michigan. With more than 11,000 lakes in Michigan, these two lakes together might be considered fairly insignificant in size and uniqueness. However, they are well loved by area residents and are an important source of drinking water as well as a good fishing area and a favorite for recreational activities.
The lakes are officially managed by the Michigan Department of Natural Resources, which considers Upper Herring Lake and Lower Herring Lake together to be a two-storey cold-water and warm-water fishery. In Upper Herring Lake, fishing for brown trout and lake trout is a favorite for those who cast their rods. Other species in this lake include largemouth bass, smallmouth bass, bluegill, walleye, rock bass, northern pike, and crappie. This lake and others in the area are known for their excellent quality fishing.
The history of Upper Herring Lake should be considered in tandem with that of Lower Herring Lake. Both lakes together make up 1,022 acres of surface area, with Upper Herring Lake contributing 542 acres to this measure. The lake basins were created more than 10,000 years ago, during the formation of dune and sand bars, with Upper Herring Lake forming first and followed by Lower Herring Lake. Originally, the lakes formed a U-shaped embayment on Lake Algonquin, which later became Lake Michigan. Although most people are not aware of Lake Michigan's old moniker, the body of water known as Lake Algonquin existed for more than 1.6 million years in that incarnation.
Upper Herring Lake is connected to Lower Herring Lake by Herring Creek, which empties from Upper Herring Lake's northwestern tip and flows northwest in a meandering path until it begins to flow southwest to enter Lower Herring Lake's northeastern tip. Both of these lakes are situated in a north-to-south direction, with water flowing east to west. From the west side of Lower Herring Lake the water continues to flow to the west and enters Lake Michigan. Although it would be easy to assume that Upper and Lower Herring Lakes were so named because of their geographic location in reference to each other, the names refer to the elevation of each lake. Upper Herring Lake rests about 13 feet higher in elevation than Lake Michigan, which is level with Lower Herring Lake's surface.
Upper Herring Lake is situated north of the village of Elberta, a small community that sits on the southwestern side of Betsie Bay on Lake Michigan. The area is known for its array of outdoor activities, including ice fishing, cross-country skiing, downhill skiing, and snowmobiling in the winter, and hiking, biking, sightseeing, bird watching, nature watching, photography, and visiting historic landmarks in all seasons. Sport hunters arrive in the fall, as do the leaf peepers. It's a landscape with something for everyone who enjoys unspoiled terrain and lush forested surroundings–and, of course, gorgeous recreational lakes.
Upper Herring Lake is fully enclosed within the township of Blaine, Michigan, a small community with a population of around 500 residents in the southwestern portion of Benzie County. This town lies within the Traverse City metropolitan area, with its nearest neighbors residing in Elberta to the northwest, Benzonia to the northeast, and Arcadia to the south. Scenic state highway M-22 runs through the area and allows easy access to the lakes for locals and visitors alike.
On M-22 just north of Blaine is a spot called Inspiration Point, which is a platform built atop a bluff that overlooks Lake Michigan. Travelers generally include this viewing area in their plans, and area residents make the trip often too. There is a parking area for those who would like a simple rest stop and chance to enjoy the wide waterscape, and there are multiple-level sturdily built viewing platforms that allow sightseers a variety of vantage points and elevations. This area is a wonderful destination for vacationers planning a trip to the Northwest Michigan tourism region.
Herring Creek, which connects Upper and Lower Herring Lakes, is navigable by kayak and canoe from the public launch on Upper Herring Lake's outlet northwest to the bridge that supports the M-22 highway, which is a leisurely paddle of less than one hour. However, for those who would like to continue on to the inlet of Lower Herring Lake, it's a better plan to walk from the M-22 bridge. The creek becomes very shallow–too shallow for even the smallest of boats–and fallen trees and other natural obstacles make the process nearly impossible. Instead, many people choose to hike through, creekside, the rest of the way to the inlet. This meandering creek offers a relaxing course to follow from the bridge between the lakes to the inlet to Lower Herring Lake.
The area around Upper Herring Lake is largely agricultural, with fruit orchards suited well for the area climate and humidity. Apple tree orchards are very common, as are the even more abundant cherry tree orchards. Tourism is a significant part of the area economy, so accommodations for travelers are in good supply and of great variety. Campgrounds and camping rentals are popular, and every area–from small towns to small cities to the most metropolitan areas–has lodging of all kinds available. Inns, bed and breakfasts, small resorts, cabins, lakeside lodges, and private vacation rentals are also in abundance.
The Herring Lakes Watershed is made up of Upper Herring Lake, Lower Herring Lake, Herring Creek, and the surrounding wetlands, forests, farm lands and orchards. Wetlands are an important feature surrounding these lakes, with more than 2,500 acres present. In 1991, the Grand Traverse Regional Land Conservancy designated a protected area near Upper Herring Lake, which was dubbed the Upper Herring Lake Nature Preserve. More than 1,800 acres of the Herring Lakes Watershed area are included in the protective measures of the Grand Traverse Regional Land Conservancy. This figure includes the Green Point Dunes National Area at 221 acres and the Fruithaven Preserve at 551 acres.
The sandy soils of the Herring Lakes Watershed are good for allowing aquifer replenishment, but the soils do not have the ability to filter toxins or clean the water before entering the lakes, rivers, and streams. Upper Herring Lake is a drinking water supply; households receive this water via private wells, not a municipal water system. The Evergreen Association is a local nonprofit lake improvement group whose goal is to protect and improve watershed water quality. This is a goal all lake lovers should keep in mind: to minimize the effects of human development on our precious watersheds.
Custom Upper Herring Lake house decor
Read our full review of these personalized lake house signs.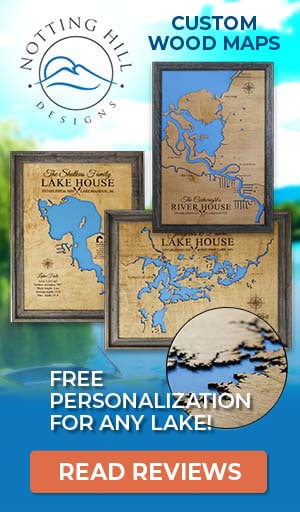 Things to do at Upper Herring Lake
Vacation Rentals
Fishing
Ice Fishing
Boating
Canoeing
Kayaking
Camping
Campground
Cabin Rentals
Hiking
Biking
Downhill Skiing
Cross-Country Skiing
Snowmobiling
Hunting
Birding
Fish species found at Upper Herring Lake
Bass
Black Bass
Bluegill
Brown Trout
Crappie
Lake Trout
Largemouth Bass
Northern Pike
Perch
Pike
Smallmouth Bass
Sunfish
Trout
Walleye
---
Best hotels and vacation rentals at Upper Herring Lake
The Upper Herring Lake map shown above is a simple and stress-free way to search for trip accommodations. But if you want to take a deeper dive to find the ideal waterfront home, cabin, condo, hotel or resort, visit our favorite lodging partners by clicking the buttons below.
Note: These are affiliate links so we may earn a small commission if you book through them. While there is no extra cost to you, it helps provide resources to keep our site running (thank you)! You can read our full disclosure policy here.
---
Upper Herring Lake photo gallery
New photos coming soon!
Upper Herring Lake statistics & helpful links
We strive to keep the information on LakeLubbers as accurate as possible. However, if you've found something in this article that needs updating, we'd certainly love to hear from you! Please fill out our Content Correction form.
Advertise your Upper Herring Lake vacation rental
LakeLubbers will soon offer homeowners and property managers the opportunity to to showcase their vacation rentals to the thousands of lake lovers searching our site daily for accommodations. If you'd like additional details, please contact our advertising team here.
Looking for the Upper Herring Lake forum?
LakeLubbers previously offered visitors the ability to create accounts and participate in lake forums. When we overhauled the site's content management system in 2021 we had to disable those features. We're evaluating options and welcome your comments and feedback here.
We also encourage you to join our lake-lovin' community on Facebook and Instagram!
Spread the word! Share our Upper Herring Lake article with your fellow Lake Lubbers!