Tally Lake, Montana, USA
Also known as:  Talley Lake
Welcome to the ultimate guide for history, statistics, local fun facts and the best things to do at Tally Lake.
If you're considering Tally Lake vacation rentals, we've made it super easy to explore accommodations and nearby hotels using the interactive map below. Simply click on a listing to compare similar properties, best rates and availability for your dates. Or keep scrolling to read our Tally Lake guide!
Tally Lake visitor and community guide
Tally Lake, in Montana's Glacier Country region, is fast becoming a favorite among the adventurous. Located 15 miles west of the town of Whitefish, the lake lies in the Salish Mountains within the Flathead National Forest, providing tons of active outdoor entertainment for hikers, campers and water sport enthusiasts. Surrounded on three sides by towering cliffs, the lake is considered to be the deepest natural lake in the State of Montana. Fed by Logan Creek, the 1200-acre lake is at low enough elevation to become warm enough for swimming. It is a favorite of recreational boaters who enjoy water skiing, tubing, wake-boarding and sailing during the summer months. The only access to the lake is via the concession-operated campground and boat launch near the mouth of Logan Creek. Only 50 miles from famed Glacier National Park, Tally Lake provides year-round outdoor activities for hikers, campers and fishermen.
The campground at Tally Lake serves as headquarters for most water-based activities on the lake, but water enjoyment is by no means limited to the designated swimming area of the park. One time-honored, although not officially-sanctioned, activity is cliff-jumping from the 100-foot cliffs into the water. A couple of generations of 'kids' have enjoyed this sport at Tally Lake, but Forest Service officials warn that noone's safety is assured and that jumpers can, and occasionally do get hurt. Tubing is also popular on Logan Creek during the short window of time when the water is neither too high from springtime flooding nor too low in late summer to avoid the rocky bottom.
The boat launch on Tally Lake greets many visitors who bring their power boats and equipment to enjoy water-skiing, while others launch their boats primarily to concentrate on fishing. The lake is reported to hold some sizable brook trout, rainbow trout, lake trout, bull trout, kokanee salmon, northern pike, perch and an occasional sturgeon; however most anglers say the fishing isn't particularly productive. At nearly 500 feet, the depth of the lake makes it quite oligotrophic, meaning it does not produce much vegetation for fish spawning and protection of the young fry. These kinds of lakes often produce a limited number of large fish rather than a large number of small ones. Fishermen here are more likely aiming to catch one of the trophy-class fish rather than a few smaller ones for a shore lunch. Fly fishing is quite popular in local trout streams in the area, with likely better success.
Tally Lake Campground is very popular with both tourists visiting the area and locals from the town of Whitefish. The picnic areas often attract groups and families to enjoy the open pavilion, horseshoe pits and volleyball courts. An interpretive trail leads to a site with a spotting scope. Other trails lead to more strenuous terrain such as the Tally Lake Overlook Trail. Accommodations are offered for both solo and group camping; reservations are suggested as the 40 campsites fill up fast. A number of trails usable by hikers, mountain bikers and horseback riders can be accessed from the campground, with other trailheads located nearby in the Flathead National Forest.
The entire area is rich in wildlife, with bald eagles, waterfowl and migratory birds often sited. The Flathead Audubon Society produces a guide to some of the more common birds seen in the area, with hints on the best times and locations to spot them. Large animals in the area include bear, elk, moose, big horn sheep, mule deer, mountain lion, whitetail deer and Rocky Mountain goat, along with the occasional wolves and a number of smaller mammals. The Forest Service warns visitors to be aware that this is grizzly bear country and that hikers should acquaint themselves with practices to avoid conflict with these huge bears.
The area around Tally Lake is often visited in winter by cross-country skiers and a few hardy winter campers. Some areas of the Flathead National Forest are open to hunting, and the Forest Service rents a a few cabins in the area to those who prefer a regular roof to a tent. Other activities in the area that draw visitors are whitewater rafting and downhill skiing. Both of these activities are centered near the town of Whitefish, with several well-known slopes just outside town on Big Mountain. Local guest ranches and outfitters around Whitefish arrange rafting and fishing trips along with guided excursions to nearby Glacier National Park.
The town of Whitefish is well-supplied with lodgings and accommodations to keep visitors comfortable and well-fed. A small town, Whitefish has managed to maintain its western atmosphere while offering such tourism favorites as local craftsmen, antique stores, eclectic shops and interesting restaurants. The Stumptown Historical Society Museum offers a glimpse into the past with many original photographs from the Whitefish area, a preserved rail depot and exhibits detailing frontier life in the Flathead Valley. Those yearning for a more artistic experience will enjoy the Whitefish Theater Company's contributions to the field of performance arts. Nearly 35 years old, the theater organization exists through the generosity of contributions from local business and ticket sales to an enthusiastic audience.
There is no private real estate for sale directly on Tally Lake. Several pockets of private land do exist in the surrounding area, many on roads approaching the lake. Those wishing to purchase real estate may well find the perfect location just a mile or so from the lake or with frontage on Logan Creek. Although the only lodgings visitors will find along the lakeshore will be campsites, the surrounding area is well supplied with resorts, guest ranches, motels, bed-and-breakfasts and private cabins and homes available for weekly rental. The Whitefish Chamber of Commerce lists a number of these facilities as a convenience. So, no matter what your interests are, Tally Lake deserves a visit. Pick your season: something is bound to catch your fancy and make you another enthused Tally Lake visitor. Come make Tally Lake your favorite vacation spot!
Custom Tally Lake house decor
Read our full review of these personalized lake house signs.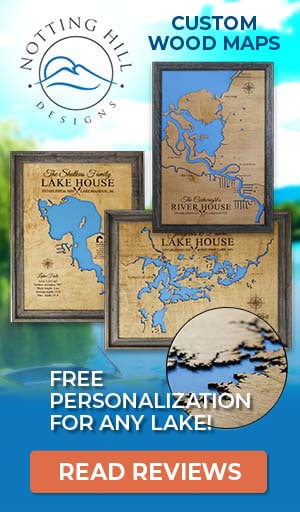 Things to do at Tally Lake
Vacation Rentals
Fishing
Boating
Sailing
Swimming
Whitewater Rafting
Water Skiing
Tubing
Camping
Campground
Picnicking
Cabin Rentals
Hiking
Downhill Skiing
Cross-Country Skiing
Horseback Riding
Hunting
Wildlife Viewing
Birding
National Park
National Forest
Museum
Antiquing
Fish species found at Tally Lake
Brook Trout
Bull Trout
Kokanee Salmon
Lake Trout
Northern Pike
Perch
Pike
Rainbow Trout
Salmon
Sturgeon
Trout
Whitefish
---
Best hotels and vacation rentals at Tally Lake
The Tally Lake map shown above is a simple and stress-free way to search for trip accommodations. But if you want to take a deeper dive to find the ideal waterfront home, cabin, condo, hotel or resort, visit our favorite lodging partners by clicking the buttons below.
Note: These are affiliate links so we may earn a small commission if you book through them. While there is no extra cost to you, it helps provide resources to keep our site running (thank you)! You can read our full disclosure policy here.
---
Tally Lake photo gallery
New photos coming soon!
Tally Lake statistics & helpful links
We strive to keep the information on LakeLubbers as accurate as possible. However, if you've found something in this article that needs updating, we'd certainly love to hear from you! Please fill out our Content Correction form.
Advertise your Tally Lake vacation rental
LakeLubbers will soon offer homeowners and property managers the opportunity to to showcase their vacation rentals to the thousands of lake lovers searching our site daily for accommodations. If you'd like additional details, please contact our advertising team here.
Looking for the Tally Lake forum?
LakeLubbers previously offered visitors the ability to create accounts and participate in lake forums. When we overhauled the site's content management system in 2021 we had to disable those features. We're evaluating options and welcome your comments and feedback here.
We also encourage you to join our lake-lovin' community on Facebook and Instagram!
Spread the word! Share our Tally Lake article with your fellow Lake Lubbers!