Spring Hollow Reservoir, Virginia, USA
Welcome to the ultimate guide for history, statistics, local fun facts and the best things to do at Spring Hollow Reservoir.
If you're considering Spring Hollow Reservoir vacation rentals, we've made it super easy to explore accommodations and nearby hotels using the interactive map below. Simply click on a listing to compare similar properties, best rates and availability for your dates. Or keep scrolling to read our Spring Hollow Reservoir guide!
Spring Hollow Reservoir visitor and community guide
Spring Hollow Reservoir is a prime example of planned water supply storage in Virginia's southern Shenandoah Valley region. The 158-acre reservoir was created by building a dam across a valley southwest of the city of Roanoke. The dam encloses water pumped from the nearby Roanoke River. Called an off-stream storage reservoir, over three billion gallons of water can be held behind the Clifford D. Craig Memorial Dam. The lake created is 220 feet deep in places, nestled beneath green and forested rolling hills in a picturesque natural setting. It's hard to believe that this lake is entirely man-made.
Beautiful Spring Hollow Reservoir lies within a 540-acre watershed owned and managed by the Western Virginia Water Authority. Those lucky enough to enjoy the lake and surrounding hills are the campers attending Camp Roanoke, a children's camp owned by Roanoke County and operated by the Department of Parks, Tourism and Recreation. All summer long, camp weeks organized for different age groups allow county children to enjoy a traditional overnight camp with canoeing, archery, campfire sings, disk golf, a challenge course and skill-building activities. The county-operated camp maintains the tradition of the original Camp Roanoke for boys begun in 1925. Long before there was Spring Hollow Reservoir, Camp Roanoke helped build fond summer memories. When the original camp closed in the 1980s, Roanoke County purchased the large property to build Spring Hollow Reservoir and planned a new generation of memory-making for area children.
Adults also get a chance to enjoy Spring Hollow Reservoir if they take advantage of the camp rentals offered to organized groups on weeks when a children's camp is not scheduled. Rental of camp facilities include the bunkhouses, camp kitchen, catering, large pavilion and long stretches of hiking trails. Nothing indicates that fishing is available, or that motorized boating is allowed. Because this is drinking water supply, access to the lake is strictly limited. However, the views over the natural-appearing reservoir are available to all visitors. Occasionally the Parks, Tourism and Recreation Department opens the site to the public for a walking adventure around the four miles of shoreline. On these excursions, binoculars for bird-watching are suggested.
Spring Hollow Reservoir is an innovative system designed to supply drinking water to large areas. The dam is constructed with rolled-compact concrete, a building method proven to be extremely stable and not likely to need a great deal of maintenance. Pumped off-stream storage of water is considered less disruptive to the watershed and fish as the river's flow is not re-directed. Biological studies of the fish and aquatic life forms have resulted in agreements to reduce pumping at specified times of the year to prevent withdrawing too much water during spawning seasons. The reservoir acts as its own settlement pond to filter sediments before water enters the treatment plant. After treatment, the water is stored in a two million gallon storage tank for distribution. The current capacity of treated water can be doubled in the future as the need arises.
The reservoir's recent construction and isolated watershed have allowed the system to be used for many studies exploring water quality. Because of the extreme depth of the lake and the lack of a natural river current, water tends to stratify, leaving water carrying more oxygen in the upper zone. When algae forms in the oxygenated upper layer with its plentiful sunlight, it tends die and fall toward the bottom, only partially decaying due to lack of oxygen in the lower layer. A new form of oxygen-diffuser pumps compressed air into the lower oxygen-starved zone, facilitating more complete biodegradation and leaving the resulting drinking water taste and odor free. Such experiments in new reservoirs allow a better understanding of how to improve the health of compromised water systems, hopefully leading to better and cheaper methods of water quality management.
There are other lakes in the Roanoke area where public access is encouraged, such as Carvins Cove northeast of Roanoke. The area is blessed with plentiful opportunities for outdoor recreation, and the sightseeing is spectacular. The county offers four different entry points to the Blue Ridge Parkway with numerous venues for hiking, fishing, scenic viewpoints, picnicking and camping. South near Salem, Dixie Caverns allows entry to some of the few caves in southwestern Virginia. Nearby, Smithfield Plantation preserves the home, outbuildings and beautiful gardens of a pre-Revolutionary War plantation. Southeast of Roanoke, the Booker T. Washington National Monument near Smith Mountain Lake preserves the birthplace of this famed and history-changing former slave.
The City of Roanoke holds a number of museums and arts venues. The Science Museum of Western Virginia provides hands-on exhibits that will delight children as they learn about the past and their natural world. Mill Mountain Zoo protects and breeds endangered species while offering a seldom-seen glimpse at the life habits of some of these rare creatures. The Harrison Museum of African American Culture preserves and showcases the cultural, historic and artistic legacy of African-Americans. And the Taubman Museum of Art displays the best of contemporary and modern art. The city holds numerous hotels, motels, inns and bed & breakfasts, with campgrounds, guest cabins and other unique forms of lodgings found in the surrounding area. All types of nightlife, antique shops, one-of-a-kind shopping and the offerings of local artisans will keep every member of the family busy during a visit.
So, plan a leisurely drive along the scenic Blue Ridge Parkway and make Roanoke a must-stop location. Bring hiking boots, binoculars and plenty of free time for visiting all there is to see and do in these misty mountains. And check the Parks Tourism and Recreation website to get the opportunity to visit beautiful Spring Hollow Reservoir.If they schedule that four-mile lakeshore hike, jump at the chance.
Custom Spring Hollow Reservoir house decor
Read our full review of these personalized lake house signs.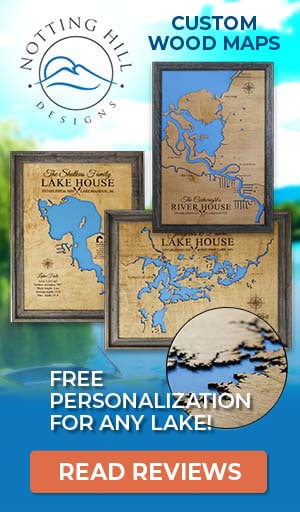 Things to do at Spring Hollow Reservoir
Vacation Rentals
Fishing
Boating
Canoeing
Golf
Camping
Campground
Picnicking
Cabin Rentals
Hiking
Birding
Museum
Antiquing
Shopping
---
Best hotels and vacation rentals at Spring Hollow Reservoir
The Spring Hollow Reservoir map shown above is a simple and stress-free way to search for trip accommodations. But if you want to take a deeper dive to find the ideal waterfront home, cabin, condo, hotel or resort, visit our favorite lodging partners by clicking the buttons below.
Note: These are affiliate links so we may earn a small commission if you book through them. While there is no extra cost to you, it helps provide resources to keep our site running (thank you)! You can read our full disclosure policy here.
---
Spring Hollow Reservoir photo gallery
New photos coming soon!
Spring Hollow Reservoir statistics & helpful links
We strive to keep the information on LakeLubbers as accurate as possible. However, if you've found something in this article that needs updating, we'd certainly love to hear from you! Please fill out our Content Correction form.
Advertise your Spring Hollow Reservoir vacation rental
LakeLubbers will soon offer homeowners and property managers the opportunity to to showcase their vacation rentals to the thousands of lake lovers searching our site daily for accommodations. If you'd like additional details, please contact our advertising team here.
Looking for the Spring Hollow Reservoir forum?
LakeLubbers previously offered visitors the ability to create accounts and participate in lake forums. When we overhauled the site's content management system in 2021 we had to disable those features. We're evaluating options and welcome your comments and feedback here.
We also encourage you to join our lake-lovin' community on Facebook and Instagram!
Spread the word! Share our Spring Hollow Reservoir article with your fellow Lake Lubbers!