Carvins Cove Reservoir, Virginia, USA
Lake Locations:
USA - South - Virginia - Shenandoah Valley -
Also known as:  Carvin Cove Reservoir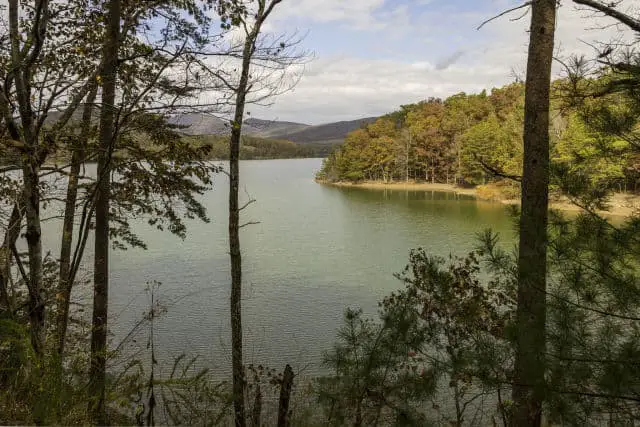 Nestled among the Blue Ridge Mountains, Carvins Cove Reservoir is a precious natural treasure for the State of Virginia. The reservoir never ceases to bring sheer delight as it offers an abundance of recreational activities for every age group. Popular pastimes at Carvins Cove include mountain biking, hiking, picnicking, golfing, and horseback riding. There are several birding and boating spots offering exciting venues for wildlife watching.
Carvins Cove Reservoir, created by the damming of Carvin's Creek, is the main water source for the city of Roanoke. Carvins Cove Natural Reserve is the second largest city park in the United States. The terrain at the Reserve has an elevation gain of more than 1,000 feet from the reservoir to the tips of the mountains. The Reserve is extensively forested with several natural communities, perennial and intermittent streams, and wetlands. Carvins Cove Natural Reserve harbors many rare species including bald eagles and shale barrens.
The Reserve also has several wonderful trails, a boat launch, an excellent picnic area, and fishing platforms. A multitude of trails crisscross the watershed at Carvins Cove. Enjoy a bike ride or a hike along the Curry Creek Trail, or choose the beautiful North Mountain Trail. Great hiking amidst beautiful scenery is also available along the Fenwick Nature Trail. The Enchanted Forest Trail is one of the most favorite trails at Carvins Cove, featuring huge hardwoods and gigantic pines towering over riders who eagerly pass through the trail. The environment sustains wonderfully diverse wildlife habitats for animal lovers.
One-of-a-kind boating and fishing experiences are also plentiful at Carvins Cove Reservoir. Numerous species of fish are abundantly available whether you prefer fishing from land or from boat. The variety consists of largemouth and smallmouth bass, striped bass, yellow and white perch, chain pickerel crappie, muskellunge, pike, and walleye.
The vast, sparkling waters and extensive mudflats at Carvins Cove Reservoir provide unique views of migrating waterfowl and shorebirds. Belted kingfishers, gulls, tern, green heron, double-crested cormorants, spotted sandpipers, and fly-over barn swallows flock to the reservoir. Buffleheads, common loons, common mergansers, and bald eagles can often be seen magnificently flying overhead. Horned owls, wild turkeys, and red-tailed hawks find their home in the surrounding woodlands. In the summer, you can take a peek at scarlet tanagers, worm-eating warblers, whip-poor-wills, yellow-breasted chats, and great crested flycatchers at Carvins Cove Reservoir.
The colorful butterflies and dragonflies floating around Carvins Cove Reservoir are simply amazing. Gazing at the magnificent creatures should definitely be an item on your "To Do" list. The rare varieties of butterflies include eastern tiger swallowtail, red-spotted purple, and silver-spotted skipper.
Amidst the Blue Ridge Mountain's bright, beautiful scenery, Carvins Cove Reservoir offers a reliable water supply as well as extensive outdoor recreation in a refreshingly natural setting. It is truly a haven for both anglers and outdoor enthusiasts alike.
Things to do at Carvins Cove Reservoir
Fishing
Boating
Golf
Picnicking
Hiking
Biking
Horseback Riding
Wildlife Viewing
Birding
City Park
Fish species found at Carvins Cove Reservoir
Bass
Black Bass
Chain Pickerel
Crappie
Largemouth Bass
Muskellunge
Perch
Pickerel
Pike
Smallmouth Bass
Striped Bass
Walleye
White Perch
---
Carvins Cove Reservoir Photo Gallery
Carvins Cove Reservoir Statistics & Helpful Links
Spread the word! Share our Carvins Cove Reservoir article with your fellow Lake Lubbers!