Snowbank Lake, Minnesota, USA
Lake Locations:
USA - Midwest - Minnesota - Northeast -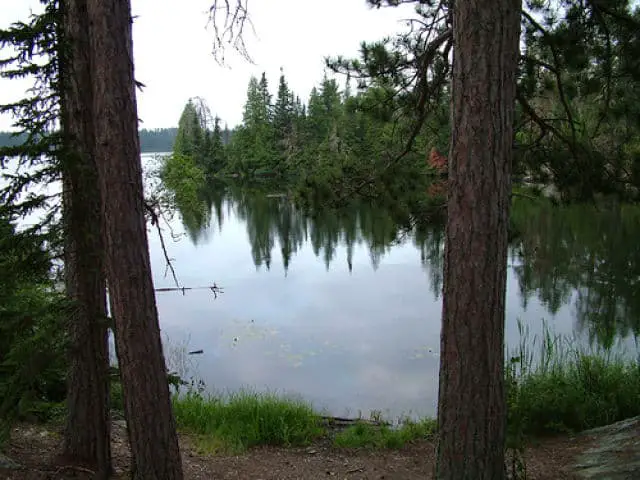 Remote Snowbank Lake in northeast Minnesota borders the Boundary Waters Canoe Area Wilderness and serves as a gateway to this popular outdoor adventure-land. Enveloped within Superior National Forest, there is little private property along the lakeshore. The few private homes are clustered in areas near the southwest end of the 4,655-acre lake, and some are located on leased land. Most visitors come to Snowbank Lake either as a fishing day-trip or as guests at one of the few resort lodges located along the shore. Because half of the lake lies within the Boundary Waters Area, the lake serves as an entry point into the wilderness beyond. Many canoeists arrange to spend the night at one of the resort lodges and get an early start into the Boundary Waters at the crack of dawn.
Snowbank Lake allows gasoline motors only on the portion outside of the Boundary Waters zone. A 25 HP maximum electric boat motor limit restricts powered boating on the portion designated BWCA. A BWCAW permit is required for those using the BWCA portion of the lake and for visitors planning to canoe and camp along the routes. Entrants are subject to a quota system to prevent over-use and crowding. The permit system is administered by the US Forest Service, and it is a good idea to consult a local ranger for information on restrictions and acceptable uses. Carved by glacier action, Snowbank Lake is irregular in shape and dotted with islands. The shoreline holds many bays and coves ideal for canoeing and fishing.
Fishing here is very productive, with walleye, lake trout, northern pike and smallmouth bass being the usual targets. The lake is managed by the Minnesota Department of Natural Resources (DNR) primarily for lake trout and walleye, with lake trout showing good natural reproduction rates. Both smallmouth bass and largemouth bass can often be caught in the shallow bays at the south end of the lake. Anglers often make day-trips to the lake in search of walleye and lake trout, but many will settle for the bass if the 'big boys' aren't biting. Newcomers often engage an outfitter to provide the boat and guide them to the more productive fishing holes. Ice fishing for lake trout is a favorite activity here.
Although there are no designated beaches on Snowbank Lake, resort lodges have sandy swim areas for their guests. The resorts also rent boats, canoes, ice fishing houses and snow shoes. Two public launch sites are available; the lake can also be accessed by a short portage from Parent Lake, Boot Lake, Grub Lake, Flash Lake and Disappointment Lake within the BWCA. The resorts offer a variety of lodgings from motels and suites to private housekeeping cabins to accommodate any size group. In addition, several US Forest Service (USFS) primitive campsites are located along the lakeshore but require a BWCA permit.
Nature is always near at hand, both for resort and lodge guests and to visitors who wish to explore the many trails on National Forest land. Many of the trails leading into BWCA regions are little-used and therefore not well-maintained. This makes for some rather difficult wilderness hiking, but the scenic views and natural vistas are well worth the effort. One trail leads into a section of old-growth pines with an average age of 300 years. Primitive camping is allowed along many of these trails, both at scattered campsites with pit toilets and fire rings and at undeveloped sites. Regulations and permit requirements vary according to jurisdiction, so it is advised that the USFS be consulted and necessary permits be obtained before planning a hiking/camping trip.
A more widely-known trail is the Snowbank Trail, a strenuous 24-mile loop hike in the Boundary Waters Canoe Area. This trail joins the Kekekabic Trail in the south back to the trailhead. Accessible year-round, the trail contains numerous camping sites and great rocky overlooks. Snowbank Trail crosses beaver dams, creeks and granite ridges and is not well-marked. Some trails outside of the BWCA are accessible to snowmobiles and ATVs, and all are available to snowshoeing and cross-country skiing.
Snowbank Lake is 130 miles northeast of Duluth and 265 miles north of the Twin Cities. The nearest settlement is the town of Ely, 23 miles to the west. Ely serves as the home location for many resorts and outfitters in the area. Ely enjoys its status as headquarters for the many nearby lakes and trails and provides tourism-friendly activities. Ely has a number of attractions to excite visitors, such as the North American Bear Center offering exhibits, education on bears and a trio of captive bears living in a two-acre natural enclosure. The International Wolf Center is also located at Ely and available for visits on the weekends much of the year. Primarily a research facility, the International Wolf Center maintains an exhibit pack of 'ambassador wolves' to familiarize the public with the little-known facts of life for North American wolves. Ely's Whiteside Park is the location of the International Snow Sculpting Symposium during the Ely Winter Festival-a celebration of winter for snow-lovers. Ely offers a number of restaurants and entertainment opportunities and is a great place to stay when not 'at the lake'.
Occasionally private cottages at Snowbank Lake can be found for short-term rental. Real estate is available in the area, both existing housing and lots awaiting development. Plenty of short-term lodgings can be found at the resort lodges on the lake, and many of these are reserved year after year by repeat visitors. Here among the towering old-growth pines, the sounds of nature perform a background chorus accompanying days spent fishing and nights around the campfire. It's a great place to visit-and an even better place to stay.
Things to do at Snowbank Lake
Vacation Rentals
Fishing
Ice Fishing
Boating
Swimming
Beach
Canoeing
Camping
Cabin Rentals
Hiking
Cross-Country Skiing
Snowmobiling
Wildlife Viewing
National Forest
Fish species found at Snowbank Lake
Bass
Black Bass
Lake Trout
Largemouth Bass
Northern Pike
Perch
Pike
Smallmouth Bass
Trout
Walleye
---
Snowbank Lake Photo Gallery
Snowbank Lake Statistics & Helpful Links
Spread the word! Share our Snowbank Lake article with your fellow Lake Lubbers!