Sakinaw Lake, British Columbia, Canada
Lake Locations: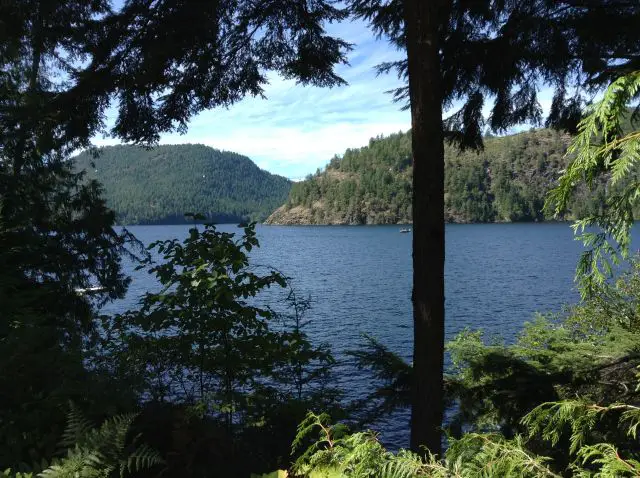 Located two hours northwest of Vancouver, Sakinaw Lake is a 1,695-acre lake located on the Sechelt Peninsula of the Sunshine Coast, between Pender Harbour and Earl's Cove in British Columbia, Canada. If you enjoy being on the water, you'll love boating, waterskiing, or just plain swimming in the pristine, clear waters of this lake with the summer water temperatures often reaching near 80 degrees F.
There are numerous points of access to Sakinaw Lake off Highway 101. Most of the shoreline is dotted with vacation rentals of all kinds and private residences, but there are several public boat launches for those wishing to cruise the lake. Be sure to bring your fishing gear; Sakinaw Lake is known for its large Cutthroat trout which can reach over 4 pounds. Kokanee, Sockeye and Coho salmon are also found in the lake. The best fishing is from April to July, and September to October
Sakinaw Lake is unique in that the water in the deepest section of the lake (98 feet and below) is salt water, a souvenir of geological times when there was a direct connection between Sakinaw Lake and the Pacific Ocean. The upper layer of the lake is freshwater.
In the early 1900s, Sakinaw Lake was dammed at its outlet (Sakinaw creek) for log and water storage. In 1952, a permanent dam and fishway were built near the outlet. The fishway allows fish past the dam which lets spawners to return to the lake, and seaward migrating smolts to migrate to sea. The smolts will spend two summers in the Pacific before returning to Sakinaw Lake by the same route. An initial problem with the fishway was that fish were vulnerable to predators such as river otters and seals, and also illegal fishing. In 1995 the passage to the fishway was improved by creating two large rock overflow dams below the fishway which created large pools in the creek. These pools reduced the height salmon needed to jump from six feet to three feet. These pools also provide protection from predators and illegal fishing.
The area around Sakinaw Lake is a nature lover's paradise. The Sunshine Coast is known for its mountain biking and hiking trails. Directly across the lake is Mount Hallowell and Spipiyus Provincial Park. These mountains contain Canada's oldest forest and one of the oldest closed canopy forests in the world. A hike to the peak of Mount Hallowell and British Columbia's last remaining fire lookout tower offers an incredible view.
Northeast of Sakinaw Lake is Skookumchuck Narrows Provincial Park. From two viewing areas in the 100-acre park, you can watch the incredible power of turbulent tidal rapids. Twice a day at the change of tide, the flow of saltwater switches, reversing the direction and power of the rapids. The flow of the Skookumchuck Rapids can reach up to 14 knots in spring and summer as up to 200 billion gallons of water flow through the narrows connecting the Sechelt and Jervis Inlets. Visitors should plan their trip to this park to coincide with the change in tides. The best viewing times are posted at the entrance of the trail and at Visitor Information Centers along the Sunshine Coast. The waters near the Skookumchuk Rapids are a favorite for experienced divers and extreme kayakers.
1161-acre Ruby Lake is north of Sakinaw Lake on the northern end of the Sechelt Peninsula, just south of Earl's Cove on Highway 101. Ruby Lake offers hiking and biking trails, boat rentals, boat launches, fishing, and camping. Trout fishing is also excellent in this Lake.
If you're looking to get closer to the great outdoors, Sakinaw Lake with its old growth forests, swimming, hiking, mountain biking, fishing, bird watching, and horseback trail riding has an abundance of opportunities.
Things to do at Sakinaw Lake
Vacation Rentals
Fishing
Boating
Swimming
Kayaking
Water Skiing
Camping
Hiking
Biking
Horseback Riding
Wildlife Viewing
Birding
Provincial Park
Fish species found at Sakinaw Lake
Coho Salmon
Cutthroat Trout
Kokanee Salmon
Salmon
Trout
---
Sakinaw Lake Photo Gallery
Sakinaw Lake Statistics & Helpful Links
At LakeLubbers.com, we strive to keep our information as accurate and up-to-date as possible, but if you've found something in this article that needs updating, we'd certainly love to hear from you!
Please let us know about it on our Content Correction form.
Spread the word! Share our Sakinaw Lake article with your fellow Lake Lubbers!