Shadow Mountain Lake, Colorado, USA
Lake Locations:
USA - West - Colorado - Front Range -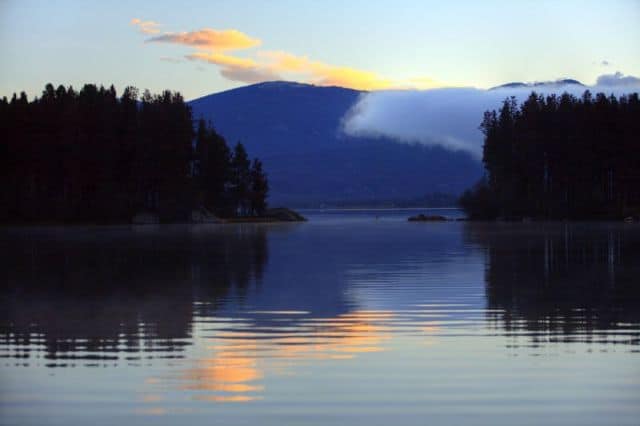 Set against the backdrop of the majestic Rocky Mountains in Colorado's Front Range region, Shadow Mountain Lake is a picture-postcard Colorado getaway. Bordered by the Rocky Mountain National Park on one side and the Arapaho National Recreation Area on the other and connected to the clear deep water of Grand Lake, Shadow Mountain Lake calls outdoor enthusiasts from across the world.
Shadow Mountain Lake is part of the Colorado-Big Thompson Project. The reservoir is an impoundment of the Colorado River by the Shadow Mountain Dam. Construction on the earth fill dam began in 1944 and was completed in 1946. It is one of a hundred structures that make up the Colorado-Big Thompson Project. Operated by the Bureau of Reclamation, the Project was designed to divert water from the Colorado River on the western slope of the Continental Divide to the east slope of the Rocky Mountains. Shadow Mountain Lake is directly connected to Grand Lake, Colorado's largest and deepest natural lake. It also receives water from Lake Granby which is 1.8 miles away. The three lakes are referred to as sister lakes and together make up the "Three Lakes" region of Grand County. Water flows from Shadow Mountain Lake through the Alva B. Adams Tunnel to the eastern slope where it is used for irrigation and to meet municipal and industrial needs.
With 1,346 surface acres of water, Shadow Mountain Lake is much larger than Grand Lake. Its maximum depth, however, is just 24 feet making it much shallower than Grand Lake's 265 feet. By law Grand Lake must remain full, and occasionally water from Shadow Mountain Lake is allowed to flow into Grand Lake, causing some concern over water quality.
Most boats, with the exception of sailboats, can also move from one lake to the other. There are marinas and public boat launches on both lakes. Power boats are popular, and there is plenty of room to jet ski and water ski. The fishing is very good, and Shadow Mountain Lake has healthy populations of brown trout, rainbow trout, and salmon.
Shadow Mountain Lake is surrounded by the Arapaho National Recreation Area. The 36,000 acre recreation area near the west entrance to Rocky Mountain National Park was established in 1978 and is part of the Arapaho National Forest in the upper Colorado River Valley. The Arapaho National Recreation Area includes four other lakes, Meadow Creek Reservoir, Monarch Lake, Granby Lake, and Willow Creek Reservoir. Along with Grand Lake the lakes are often referred to as the "Great Lakes of Colorado."
There are miles of trails for hiking, biking and horse back riding in the Arapaho National Recreation Area including the Continental Divide National Scenic Trail. Although not specifically groomed, snowmobiling and cross-country skiing are popular in the winter. Wildlife includes but is in no way limited to elk, deer, moose, coyote, and bear, and there are also golden and bald eagles. Hunters will find plenty of large and small game animals and waterfowl.
Dedicated in 1915 by Woodrow Wilson, the Rocky Mountain National Park is the nation's tenth national park. With elevations ranging from 8,000 feet to 14,259 feet at Longs Peak, the scenery is unsurpassed. The wildflowers explode in early summer, and in the winter visitors can snow shoe or cross-country ski through the park to see the abundant wildlife.
The East Shore Trailhead runs 3.5 miles from the dam on Shadow Mountain Lake to the suburbs of the Town of Grand Lake. Established in the late 1870's, Grand Lake is the oldest resort community in Colorado and it maintains its historic charm. There are shops, restaurants, and galleries. Accommodations range from hotels and bed and breakfasts to vacation rentals. There are plenty of camping options around Shadow Mountain Lake and in the Rocky Mountain National Park.
The area around Shadow Mountain Lake has a long, rich history as a resort and recreation community. With the majestic backdrop of the Rocky Mountains and abundant wildlife, this Colorado Great Lake has something to please everyone.
Things to do at Shadow Mountain Lake
Vacation Rentals
Fishing
Boating
Sailing
Jet Skiing
Water Skiing
Camping
Hiking
Biking
Cross-Country Skiing
Snowmobiling
Horseback Riding
Hunting
Wildlife Viewing
Birding
National Park
National Forest
Fish species found at Shadow Mountain Lake
Brown Trout
Rainbow Trout
Salmon
Trout
---
Shadow Mountain Lake Photo Gallery
Shadow Mountain Lake Statistics & Helpful Links
At LakeLubbers.com, we strive to keep our information as accurate and up-to-date as possible, but if you've found something in this article that needs updating, we'd certainly love to hear from you!
Please let us know about it on our Content Correction form.
Spread the word! Share our Shadow Mountain Lake article with your fellow Lake Lubbers!