Shadow Lake, Vermont, USA
Lake Locations:
USA - New England - Vermont - Northeast Kingdom -
Also known as:  Lake Shadow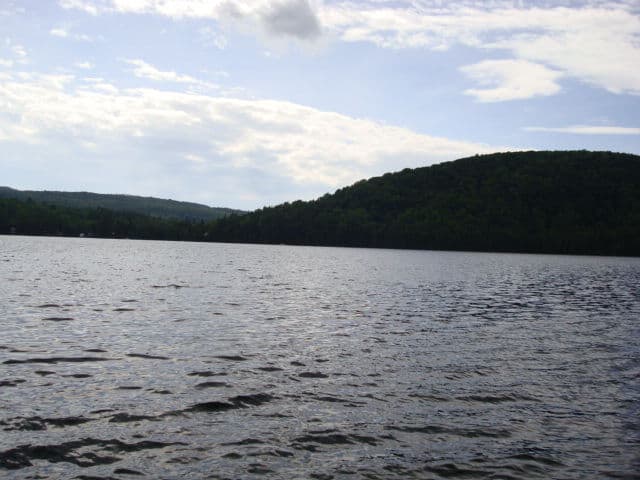 Nestled in the heart of Vermont's Northeast Kingdom, Shadow Lake is encased in beauty all year long with dazzling autumns and stunning springs. Shadow Lake is located in Orleans County in the Town of Glover, Vermont. Originally charted to 62 Grantees, the Town of Glover was named in honor of General John Glover who was the commanding officer to many of the grantees during the Revolutionary War. Owned by the Town of Glover, Shadow Lake is used for recreational purposes. A dam was constructed on the lake in 1929 to help regulate water levels. The normal surface area of Shadow Lake is about 200 acres.
Shadow Lake is the most accessible of Glover's three lakes since it offers free parking, a swimming beach and other facilities. Cottage style homes that date back to pre-1950s can be seen along the shores of Shadow Lake alongside of newly constructed homes. Real estate is highly desirable with the lake's limited shoreline. Many of the homes around Shadow Lake are used as vacation rentals, B&B and camps. Visitors and residents alike can enjoy a host of recreational activities on and near the lake. Kayaks, canoes and fishing boats can be seen dotting the waters of Shadow Lake in the summer. Although personal watercrafts and jet skis are not permitted, gas motor boats are allowed as long as motors speeds are kept to five miles per hour or less, 200 feet of shore. Summertime will also find sunbathers and swimmers enjoying the Shadow Lake Beach. When Vermont turns cold in the winter, outdoor enthusiasts enjoy snowshoeing, skiing, and snowmobiling. Autumn in the Northeast Kingdom is breathtaking, while spring offers its own pleasure of freshly made maple syrup. Lake residents and visitors can enjoy watching a magnificent sunset on their lakeside decks and let the stresses of their lives ease away.
Anglers will find the cool waters of Lake Shadow a perfect environment for brook trout, brown trout, and lake trout. Anglers do not have to put their tackle away during the winter; instead, they can try their hand at some ice fishing. With Shadow Lake's location in the Northeast Kingdom region of Vermont, visitors and residents will be able to spot an abundance of wildlife. Moose, deer and beaver roam the woods, making this the ideal spot for hunting. Bike trails provide more opportunities for outdoor adventure.
When the weather is less than perfect, take some time to visit area museums. The Northeast Kingdom is home to Vermont's only public planetarium, located in St. Johnsbury. The Fairbanks Museum and Planetarium opened in 1891 and also offers stately architecture and wildlife exhibits that will keep visitors fascinated for hours. Another unique museum is the Bread and Puppet Theater and Art Museum located in a 100 year old barn in the town of Glover and contains the world's largest puppet collection. Visitors young and old will be intrigued with the theatrical puppet performances that are staged during the summer, and will enjoy the guided tours of the museum year round.
Whether visitors want to watch vibrant fall colors encase the shoreline, catch the first glimpse of snow, or witness summer sunsets a dozen times, Shadow Lake the perfect place to be. After a day of outdoor sports, visitors and residents can unwind by a warm cozy fire and let the tranquil atmosphere wash away their cares. After one visit, the beauty of Northeast Kingdom and Shadow Lake will beckon visitors to come year after year.
Things to do at Shadow Lake
Vacation Rentals
Fishing
Ice Fishing
Boating
Swimming
Beach
Canoeing
Kayaking
Jet Skiing
Hiking
Snowmobiling
Hunting
Wildlife Viewing
Museum
Fish species found at Shadow Lake
Brook Trout
Brown Trout
Lake Trout
Trout
---
Shadow Lake Photo Gallery
Shadow Lake Statistics & Helpful Links
Spread the word! Share our Shadow Lake article with your fellow Lake Lubbers!