Sabattus Pond, Maine, USA
Lake Locations:
USA - New England - Maine - Lakes & Mountains -
Also known as:  Sabattus Lake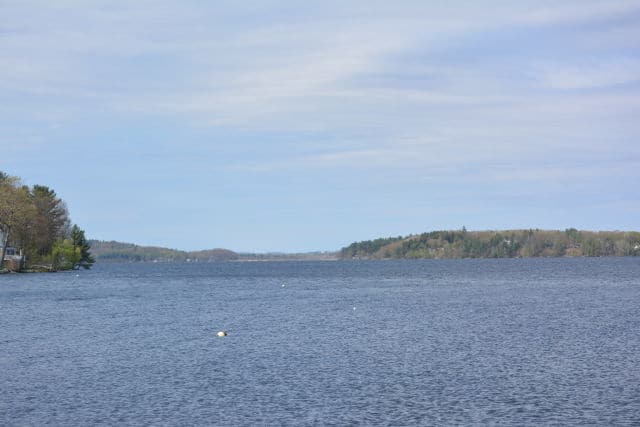 Sabattus Pond in the Lakes and Mountains region of Maine is a success story in the making. The 1,973-acre lake has a history of very poor water quality and algae blooms. However, Sabattus Pond has made a remarkable comeback. The combined efforts of concerned lake residents and the Sabattus Pond Watershed Partnership have had a real and positive effect on the water quality of this now beautiful south central Maine lake.
Sabattus Pond is a shallow lake with a maximum depth of 19 feet and an average depth of 14 feet. The Sleeper Dam originally constructed in 1860 impounds the Sabattus River, which is also Sabattus Pond's outflow. The dam, owned by the Town of Sabattus, was rebuilt between 1979 and 1980 to allow water levels to be drawn down every year to help improve the lake's water quality. The lake is drawn down three feet starting every October 15th and maintained at two to three feet below normal pool until spring. The lake's water completely turns over approximately one and a half times a year.
Sabattus Pond supports healthy populations of fish including chain pickerel, white perch, yellow perch and northern pike. Anglers can challenge themselves against Sabattus Pond's largemouth bass and smallmouth bass, and the Maine Department of Game and Inland Fisheries periodically stocks the lake with alewives. In the winter, ice huts pop up all over the lake for ice fishing.
The Town of Sabattus maintains a public boat launch and there is more than enough water for swimming, canoeing, boating, water skiing and jet skiing. Nearby, winter sports including cross country skiing, alpine skiing, and snowmobiling round out four seasons of recreation.
Sabattus Lake is in Androscoggin County downstream from Little Sabattus Pond. It is near the towns of Sabattus, Greene and Wales and has easy access to any amenities a visitor might need. The residential development around the lake is almost evenly divided between year round residents and vacation rentals, and there is lakefront real estate available for sale.
Loons and other migratory birds make their home on Sabattus Pond. The lake is just a few miles from the Thornecrag Nature Sanctuary which is home to a wide variety of birds. The sanctuary is 357 acres on the highest point in Lewiston. In the 1800's the crag was owned by the Thorne family, hence the sanctuary's name. Visitors can bird watch, picnic and hike at Thornecrag, and in the winter there is sledding, skating and cross country skiing. The sanctuary is also a very popular place for photographers, both professional and amateur.
Sabattus Pond is a shining example of the positive impact concerned citizens can have on the environment. The water quality on Sabattus Lake is sure to continue to improve with careful management, making it a year round recreation destination and a treasure for generations to come. Boating and fishing combine to make the lake a fantastic Lakes and Mountains region getaway.
Things to do at Sabattus Pond
Vacation Rentals
Fishing
Ice Fishing
Boating
Swimming
Canoeing
Jet Skiing
Water Skiing
Picnicking
Hiking
Downhill Skiing
Cross-Country Skiing
Snowmobiling
Birding
Fish species found at Sabattus Pond
Bass
Black Bass
Chain Pickerel
Largemouth Bass
Northern Pike
Perch
Pickerel
Pike
Smallmouth Bass
White Perch
Yellow Perch
---
Sabattus Pond Photo Gallery
Sabattus Pond Statistics & Helpful Links
Spread the word! Share our Sabattus Pond article with your fellow Lake Lubbers!